Whenever you forget your password to access your Windows 10, a password reset tool always comes in handy. They are used to recover or reset lost user or administrator passwords used to log on to Windows operating systems.
So basically, you are hacking into your own computer when you use these tools! But don't worry, as long as it is on to your own computer this is completely legal. In this article we will be focusing on Windows 10 password reset tools because you are spoilt for choice! Find below our top 5 best Windows 10 password reset tools of 2021.
Top 1: WinPassKey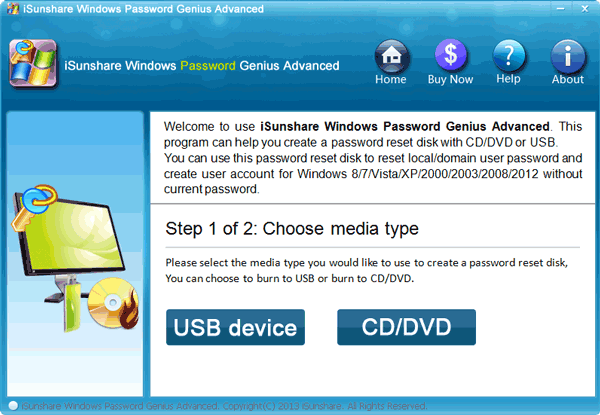 The first Windows 10 password reset tool we'll cover is WinPassKey. With this Windows Password Recovery you can recover forgotten, administrator or user passwords or create a new administrator account easily without having to log in to your locked computer. Most importantly, it makes creating a password reset disk easy, allowing you to reset forgotten passwords for Windows 10 in just a few steps. Mostly, all there is to this program is advantages:
It works on all different Windows devices.
Recovers passwords with a CD, DVD or USB.
Recovers local and domain administrator and user passwords.
Removes and resets all passwords.
What are you waiting for? Download WinPassKey now.
Free Download
Buy Now
Top 2: Windows Password Recovery Tool Ultimate
Another useful free Windows 10 password recovery tool is Windows Password Recovery Tool Ultimate. This is an easy to reset administrator and user passwords on any Windows without having to reinstall the whole operative system. With Windows Password Recovery Tool Ultimate you can recover various different password from the local admin to the Windows Domain Administrator password. As happens with a free tool, there are always some pros and cons to it though.
Pros:
Works with the newest Windows 10.
Incredibly fast recovery speed.
No technical requirements.
Cons:
Free trial version does not offer many important features.
Top 3: Offline NT Password & Registry Editor
Not convinced yet? Another password reset tool for Windows 10 is Offline NT Password & Registry Editor. With this tool, you delete your Windows password instead of recovering it, so it's more of a password reset tool. Again, you can burn in into a CD or USB. The pros of this tool is that it works in all Windows systems and that you can make up whatever password you like and remember after deleting it with the program. The disadvantage: you have to write a fairly long command line for it to work.
Top 4: Ophcrack
A lot of people consider Ophcrack the crown's jewels of Windows 10 password recovery tools. It's free, fast and easy to use. It works with something called rainbow tables, precomputed tables you can use to recover credit card numbers or, most importantly, your password. As it happened before, there are some pros and cons for this tool too.
Pros:
No need to install any software to recover the passwords.
You don't need to remember the password at all.
Apart from Windows 10, you can also use it with Mac and Linux.
Cons:
You need to know how to burn a bootable CD.
The tool might be identified as a virus, forcing you to pause your antivirus program.
Top 5: Password Genius
To finish with this article, we can't ignore the wonderful Windows 10 password recovery tool that Password Genius is. A bundle pack can be downloaded here. It is an all-in-one password recovery tool. With it, you can add a new user, remove passwords without data loss or reset your forgotten password for your locked user account. Of course, there are pros and cons to this tool too, but very few of the latter.
Pros:
Fast and reliable password recovery.
Works in all Windows operating systems including your Windows 10.
Cons:
The user interface could do with an update.
Summary
In this post, we showed you our top 5 best windows 10 password reset tool 2021. Now it's up to you to decide which one to use! Don't forget to like the post if it was useful and don't hesitate to contact us if you need more info.
Free Download
Buy Now