If you found that you can not access your computer for any reason and felt very frustrated, don't worry, in this article we will introduce 4 methods to let you get into the locked computer without password.
Method 1. Use Safe Mode to Get Into a Locked Computer
Locked out of computer and don't know how to log into computer without password? You can simply reset Windows password in Safe Mode. Follow the step by step guide below:
Step 1. Turn on the computer and press the "F8" button. If you are in the boot menu, you have several options to boot Windows. Select the "Safe Mode" option and press Enter.
If for some reason the boot menu does not appear, do as the following: Turn on the computer and cancel the boot process with the reset button as soon as the Windows logo appears. As soon as the computer wants to reboot, switch it off and then on again. This will automatically take you to the boot menu. Select the option: "Safe Mode".
Step 2. Windows starts in "Safe Mode" now, which is only accessible to the administrator. By default, no password is required for this access and you will enter the system unhindered. Windows looks awful in "Safe Mode", so do not panic, that's normal.
Step 3. Press the Start button on the taskbar and select the "Control Panel" menu. There you will find a folder called User Accounts. Open this with a double click. You will now see all configured accounts on this computer. Select the appropriate account and change the password to your liking.
Restart your computer and power up as usual. When your account appears, enter the new password and you just get back into your locked computer now.
Method 2. Use Password Reset Disk to Get into a Locked Computer
If you have a password reset disk created before your computer is locked out, you can also unlock the locked computer with this reset disk. Take Windows 7 as an example:
Step 1. In the logon screen of Windows 7, click on the link "Reset password". It will appear just below the password box after a failed login attempt.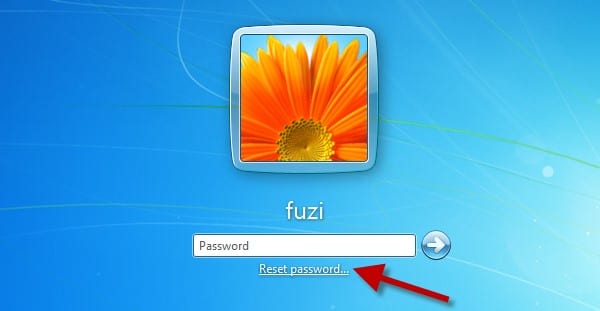 Step 2. Insert your password reset disk. Click "Next" when the Reset Password Wizard appears.
Step 3. Select the drive where the password reset disk is located. Enter your new password and password hint and then click "Next".
If successful, you will receive a confirmation window saying: "You have successfully reset the password for this user account". Now you can get into your locked computer with the new password you just created.
Method 3. Use Windows Password Recovery Tool to Get into a Locked Computer
The first two techniques of how to get into PC without password involve using Safe Mode as well as a password reset disk. There are downsides to these methods. First, to use the password reset disk, you need to have created a password reset disk before the computer got locked, if not, the method will not work.
Also, the Safe Mode option may not sit well with you. Third-party software usually eliminates these challenges, so you might want to try one out. An industry-standard tool for unlocking Windows computers is Windows Password Recovery Tool. It has lots of innovative features that make the entire process a breeze. Continue reading to learn how to get into a locked computer using this headache-relieving software.
Key features:
Windows Password Recover Tool creates a (USB or CD/DVD) Windows password reset disk for you. Therefore, you need no extra tools to make it work.
Compatible with all versions of Windows – Windows 10/8.1/8/7/Vista/XP/2000/NT.
Also works perfectly with Window Server versions 2016, 2012, 2008 (R2), 2003 (R2), 2000, and NT.
This tool can help you create admin accounts without having to log into Windows.
The unlocking operation is fast and easy to use, even for people with zero tech skills.
Free Download
Buy Now
How to use Windows Password Recovery to get into locked computer:
Step 1: Create a Windows password reset disk
Install the program on a computer you can access and click the type of disc you want to create. For a USB password reset disk, click "USB device," but for CD/DVD, select "CD/DVD."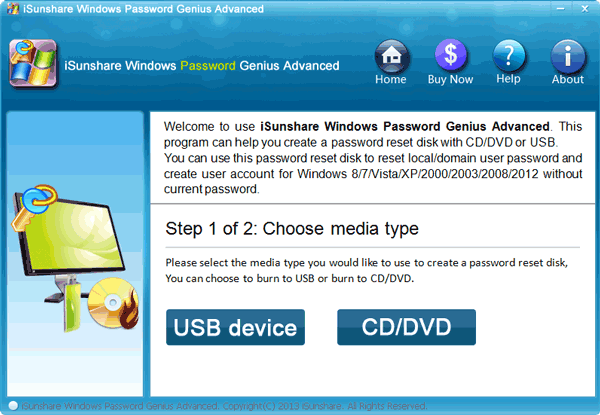 Next, to start making the password reset media, insert your disk or attach your USB and click "Begin Burning." When this operation is complete, and you get the "Successful" prompt, proceed with the next steps on the computer you are locked out of.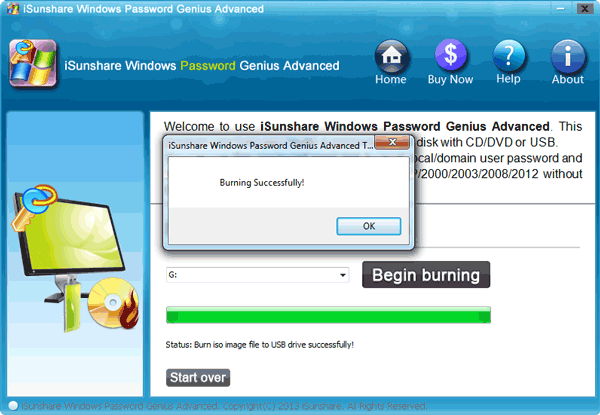 Step 2: Boot from Windows password reset disk
Insert or connect the password reset disk to the locked computer and configure it to boot from the reset disk. Here is how to do it:
1. Boot the machine and wait for the vendor logo to appear. Once it does, quickly press your boot menu key continuously until you see a list of all the bootable devices connected to your computer.
2. Scroll down till you highlight your password reset disk. Select it by pressing "Enter."
Step 3: Reset the forgotten password
After the machine boots, it will load the Windows Password Recovery program. Here, you select the user account that you want to unlock and hit "Reset Password." To create a new account, instead of choosing a user account, click "Add User" and hit "Reboot." Your computer will restart, and you can then log in with the new password you made in the previous step.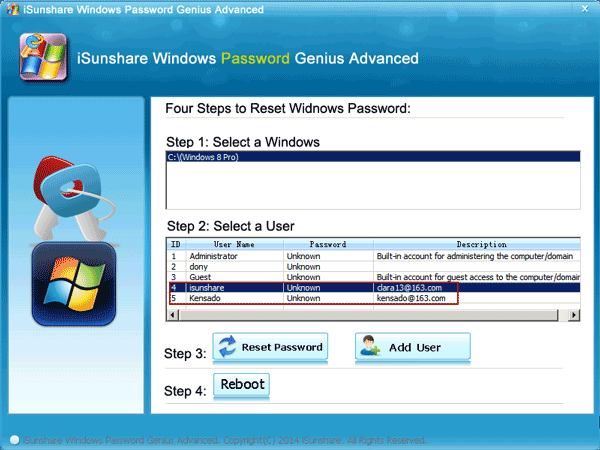 Conclusion
If you got this far, you now know how to open computer without password. The methods above work ideally, but please follow them carefully to avoid complications. In summary, you have learned techniques for unlocking a computer PC using Safe Mode, a Windows password reset disk, and the easiest option, which is using the tool Windows Password Recovery Tool.
Free Download
Buy Now