Experiencing locking an Acer laptop is frustrating. This often happens with travelers' notebooks because they remain inactive for months before you access them again. During that period of time, you forget your password. Fortunately, unlocking an Acer laptop forgot password is simple as long as you use an appropriate method.
Method 1. Unlock Acer Laptop Forgot Password with Password Reset Disk
The easiest way to unlock Acer laptop forgot password is to use a password recovery disk. But this is useful only if you remembered to create a reset disk before losing the password; if not, please jump to the next method.
Step 1. Restart the Acer laptop. When you start Windows, select the user name you want to unlock the password and press the "Enter" key.
Step 2. Click on "Use your password reset disk" (for Windows XP) or "Reset Password" (for Windows 7 or later) to run the password reset wizard. This wizard enables you to create a new password for your user account.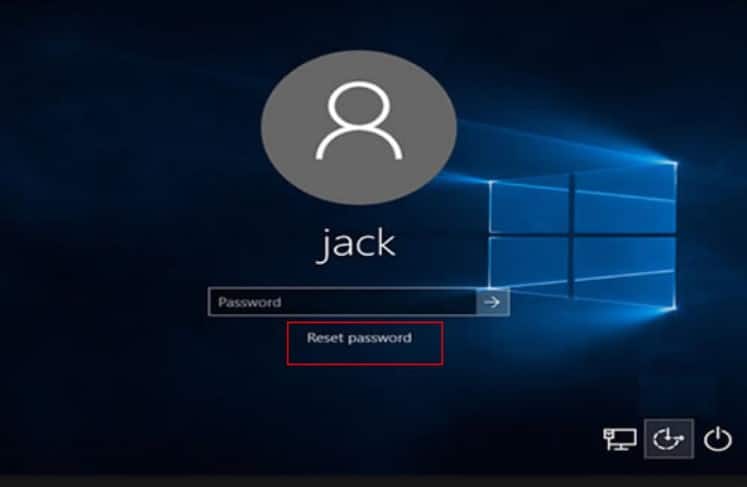 Step 3. Click "Next" in the wizard to reset the password and insert the password reset disk. Click on "Next" and enter your new password in the "Type a new password" box and write it again in the confirmation box.
Step 4. Type a password hint that you can use next time in case you forget your password again. Click "Finish" to activate your new password. Restart your Acer laptop and enter Windows using your new password.
Method 2. Unlock Acer Laptop Forgot Password with an Installation CD
If you don't have a created password reset disk, you can still unlock Acer laptop forgot password with Windows installation CD. Take Windows XP as an example (Unlocking Acer Laptop password in Windows 7 or later with installation CD is too complicated, not recommended) :
Step 1. Insert the Windows installation disk. The manufacturer usually provides this CD along with the laptop.
Step 2. Press any key when you see a screen that has the caption: "Press any key to boot from the CD." While the configuration starts, you will see a screen asking if you want to install the operating system completely or if you want to "Repair Windows."
Step 3. Press the "R" key to repair the Windows system. While the process is complete, the computer will restart, and a new screen will appear showing the process called "installing devices."
Step 4. Press "Shift + F10," and a Command Prompt window pop up; type in "nusrmgr.cpl" and press "Enter."
Step 5. Choose "Change an account" >> "Change my password" to create a new password to unlock your Acer laptop and exit the command window.
Step 6. Restart your computer and log in with your new password.
Method 3. Unlock Acer Laptop Forgot Password without Disk
If you don't have an Acer laptop password reset disk or installation CD and don't want to reinstall the operating system, you still can use Windows Password Recovery Tool to unlock Acer laptop. The program can burn a password reset disk with another computer to reset Acer laptop forgot password. It is guaranteed that no data loss will occur and supports all versions of Windows: Windows XP, Windows 7, Windows 8/8.1, Windows 10.
Key Features:
It can recover forgotten password for all Windows in a few minutes.
It can create a new administrator account easily without logon.
It can create USB flash drive disk or CD/DVD Disc.
Support Windows 10, 8.1, 8, 7, Vista, XP, 2000, NT.
Support Windows Server 2016, 2012, 2008(R2), 2003(R2), 2000, NT.
Step 1. First of all, download and install Windows Password Recovery Tool on any accessible PC or laptop.
Step 2. Launch the program and insert an empty USB device or CD/DVD on that computer, select the USB device or CD/DVD from the drop-down list and click the "Begin burning" button to initiate the burning process.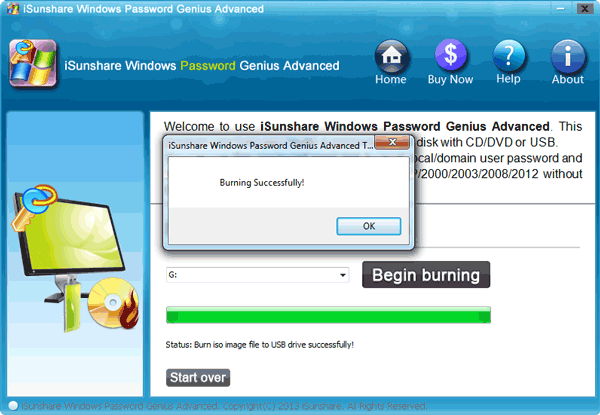 Step 3. When it is finished, eject the USB device or CD/DVD and insert it into the locked Acer laptop. Set the locked computer boot from the USB device or CD/DVD.
Step 4. Windows Password Recovery Tool will appear on the main screen; now, you should select the system and user account you want to reset the password, then click on the "Reset Password" button.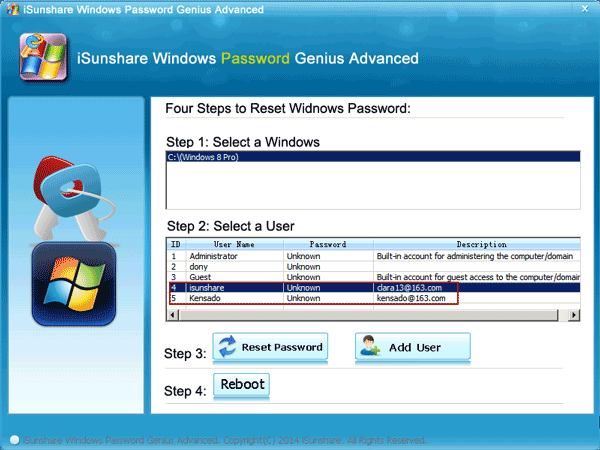 Finally, click on the "Reboot" button to normally restart your Acer laptop and log in without a password.
Make sure to create a password reset disk for your Acer laptop, so you can reset the Acer laptop password if you forgot it. But it is OK if you failed to do that because Windows Password Recovery Tool is always there to unlock Acer laptop forgot password no matter with or without disk.
Free Download
Buy Now