Word Password Recovery
Word Password Recovery is not only the quickest but is the safest recovery tool that will retrieve your Encrypted word documents without being harmful to your computer and without losing any data.

Try It Free


Buy Now

https://www.youtube.com/watch?v=cOKTSkdqDi4
What is Word Password Recovery and Who should get it
Word Password Recovery is a software which decrypts the encrypted document files to make it a user accessible file again. This is a tool which is renowned for its Word document password recovery, which swiftly recovers the lost or forgotten passwords regardless of the length and complexity of it.So if you are looking for a software that can help you in retrieving and recovering your Microsoft Word file's password without having any data loss then this Word Password Recovery is the best option for you as it can recover forgotten passwords accurately and quickly. The Word Password Recovery software is available online for $19.95 but before you buy it you can download the trial version which allows you to retrieve the password of the Microsoft office files with up to maximum length of three characters.
Key Features of Word Password Recovery
Word Password Recovery is the most advanced password recovery tool for Microsoft Word files. Some of its key features are:
A comprehensive and user-friendly designed interface so a person with less computer knowledge can easily use it.
It can support all version of Microsoft Word documents which includes Microsoft Word 2019/2016/2013/2010/2007/2003/2000 (*.doc, *.docx) document.
Regardless of password length or complexity, it can recover password efficiently and quickly.
It can recover Word document password in Read-Only mode without resulting in any data loss.
It provides 4 powerful password recovery types, Normal, Mask, Dictionary and Smart. One of the types can be selected before making a recovery which will help to recover the password in minimal time.
It supports a multi-core technology which checks the power of CPU and NVIDIA-GPU that can help it to further accelerate the password recovery speed of the word document, no matter how long and complex the password is.
Made with an advanced algorithm which ensures fast and 100% password recovery rate.
Guarantees it is 100% secure and recovers the password without losing of harming your data.
How to Recover Word Password with Word Password Recovery
In order to retrieve your lost or forgotten word document password, download and install Word Password Recovery on your PC. Bear in mind that the trial version only allows you to recover word file passwords that are of three characters, for passwords more than three characters, you have to purchase the software. After a successful installation, open the Word Password Recovery to start it. Once it is launched up you can see an interface, now follow the steps below.



Step 1
To recover forgotten password from Word document, first you need to download and install Password Recovery Bundle on your PC, Word Password Recovery is one of functions in Password Recovery Bundle. Launch the program and choose "Recover Passwords for Files and Archives".



Step 2
As you can see, there is an option "Word Password Recovery" at the top of the list. Just click on it.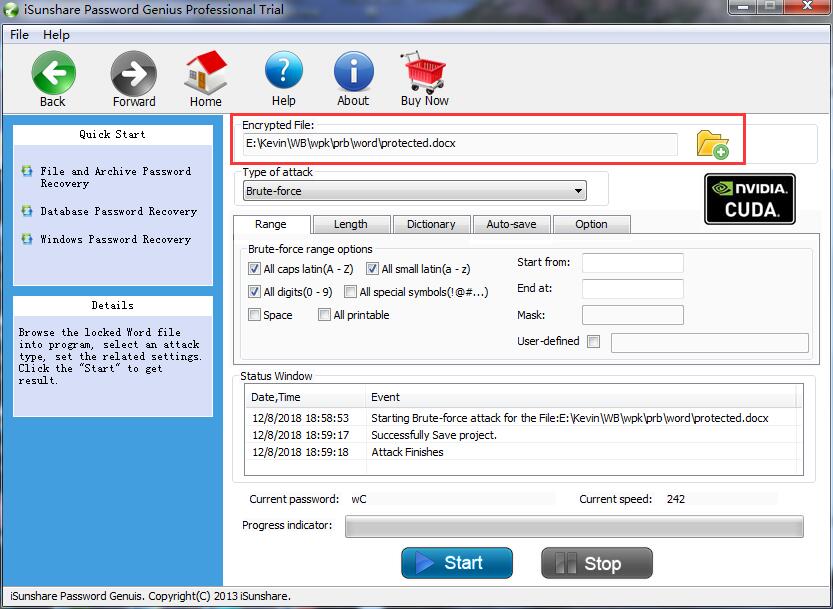 Step 3
Click open file icon next to Encrypted File box, from the Open File dialog box, maneuver towards the folder where you have stored your password protected Word document. Now simply select the document and then click on the Open button.



Step 4
After selecting the right file, you will be taken back to the Word Password Recovery interface, you can see that your file has been selected under the Encrypted File section now next to it you can locate a Recovery Type dropdown menu. From the menu, you can select the attack type from, Brute-force, Mask, Dictionary or Smart options. After selecting the recovery type, click on the Start icon button located at the menu item as shown in the figure. Now, wait for a few seconds or minutes.



Step 5
After a few seconds or minutes a "Word Password Recovered" dialog box will pop up. Simply click on the copy button to copy the password on the clipboard, then open up the document and paste the recovered password to open up the encrypted MS word file.
Some Users Review for Word Password Recovery
I have been wondering if I could ever reopen my word document, my friend introduced me to Word password Recovery and it Word like a charm. Thanks
Sam Ken
Word Password Recovery is a software that I will always trust because it helped me recover my personal word files.
Smith
I needed a password recovery tool for my encrypted word file, after a lot of searches I discovered Word password recovery and it was worth a gamble.
Alicia
Get Word Password Recovery Now
Word Password Recovery software is safe to download and install on your computer as it 100% clean from any forms of malware or virus in the tool. It recovers the password in Read-only mode which is safe to use as it guarantees you to recover your word password without losing your data or harming your PC.

Try It Free


Buy Now

Hot Guides: