There are a huge number of Windows PC users around the world. We use our computers for various purposes. From professional to personal life, everywhere we are using our Windows computers. So we keep all of our most important files, documents, pictures, songs, videos, notes etc. in our PC to access them whenever needed. But what happens when you forget your computers administrative login password? It's really painful and unwanted for anyone. If you have also faced this issue and you need help to solve it, then you have come to the right place. In this article you are going to learn about Kon Boot for Windows 10/8/7 which is an advanced password recovery tool and the best 2 alternatives that can be used if your Kon Boot is not working. You will get proper information on Kon Boot Windows 10/8/7 and step by step guideline on how you can use the alternatives of Kon Boot.
Part 1. What is Kon Boot?
Kon-Boot Windows 10/8/7 is an application that can silently bypass the authentication process of Windows based operating systems in computer. It doesn't overwrite your old password. Which means you can login to your Windows profile without knowing your password. It's really user friendly and excellent for tech repairs, data recovery and security audits. This tool is fast, small and gets your job done efficiently. Go to this link for Kon Boot iso download.
Part 2. Why Kon Boot is not Working?
If your Kon Boot Windows 10/8/7 is not working then there can be various reasons behind that. Here are some of those reasons:
The behaviour of Kon Boot with the computers BIOS can encourage your antivirus to identify it as a boot virus. So you need to disable your antivirus.
If you are trying to bypass hard drive encryption, then Kon Boot will not work.
If the BIOS memory of your computer is too small for Kon Boot to run, then it won't be compatible with that computer.
If your hard drive is encrypted by using tools like TrueCrypt or PGP then Kon Boot won't work.
If you have disabled CDROM and USB boot while password protecting your BIOS then Kon Boot won't work.
Part 3. Kon Boot Alternative 1. Offline NT Password and Registry
Offline NT password & registry editor is a Kon Boot alternative for Windows 10/8/7 that can reset your Windows computer password. It has an interesting and advanced system in its core. If you don't have any previous experience in using this software then you may find this tool complicated. If you follow a correct guideline and understand that it's just answering some questions, choosing the right option, then it will become easier to you. It supports all Windows versions from NT3.5 to Win8.1, also 64 bit and the Server versions such as 2003, 2008, 2012 etc.
A lot of people don't know that if Kon Boot is not working then you can use Offline NT password & registry editor as a suitable alternative. Here is a step by step guideline for using it:
Create a bootable disk by using another PC and insert that disk into your locked computer. Next boot up your locked computer. When the booting process is finished, the software will load. You will see the word "Boot" on your computer screen and you need to press the "Enter" button after that.
Next, the software will detect all the disk partitions in your computer and you need to choose the one that contains your Windows installation files.
Then you can just leave the default choice as it is and press the "Enter" button. This means, you are selecting which part of the registry you want the software to load, and also choosing the edit option for user data and passwords. Just type in your username and hit the "Enter" button.
Select the default user account that you want to delete the password from and press "Enter".
The password will be deleted automatically but you need to exit the process now. Press "!" and "Enter" button, then press "q" and "Enter" button again.
Now confirm the changes that you have made. Press "y" and then press "Enter". Again press the "Enter" button to confirm that further actions are not required. Remove the CD/DVD/Drive and restart your computer.
You can now login to your computer without any password.

Part 4. Kon Boot Alternative 2. Windows Password Recovery Tool
There are various reasons that Kon Boot Windows 10/8/7 may not work on your computer. But you can easily recover your password by using Windows Password Recovery Tool as the best Kon Boot alternative software. It can safely reset Windows administrator and user password in Windows 10/8.1/8/7/XP/Vista and Windows Server 2012/2008(R2)/2003(R2). You'll get a guaranteed recovery rate from this software because it's the best thing on the internet. You will never lose any data during the password recovery process so there is nothing to worry about. Here is how you can use this software:
Key Features:
It can recover forgotten password for all Windows in a few minutes.
It can create a new administrator account easily without logon.
It can create USB flash drive disk or CD/DVD Disc.
Support Windows 10, 8.1, 8, 7, Vista, XP, 2000, NT.
Support Windows Server 2016, 2012, 2008(R2), 2003(R2), 2000, NT.
1. Download, install and run the software on a PC and insert an empty USB drive on that computer. From the main interface of the software you need to click on the "USB device" and select that USB drive from the drop down list.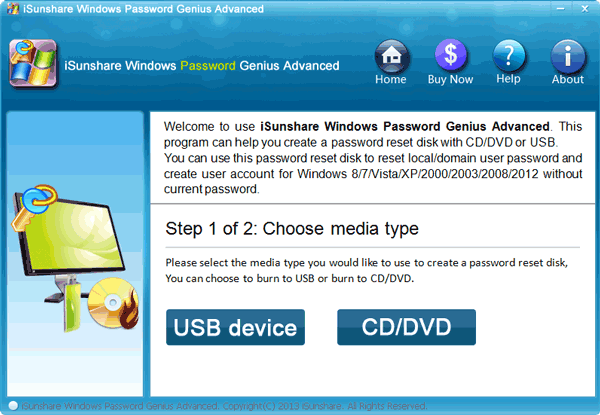 2. Next you need to click on "Begin burning" button to burn the password resetting drive. It will take almost one minute time.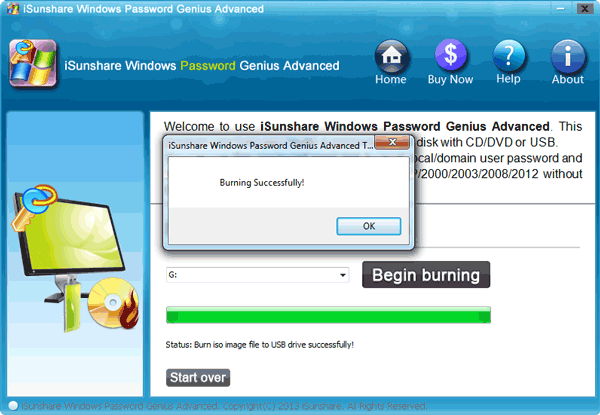 3. Then click on the "OK" button to finish this burning process.
4. Next, insert the bootable USB flash drive into your locked computer. Then you need to restart it and press "F12" or "ESC" button to enter the boot menu.
5. Now choose the USB drive as your boot device and press "Enter" to proceed.
6. Next you will see the interface of the recovery software in your computer screen.
7. From here you need to select the Windows system and user account that you want to reset the password from. Then click on the "Reset Password" button.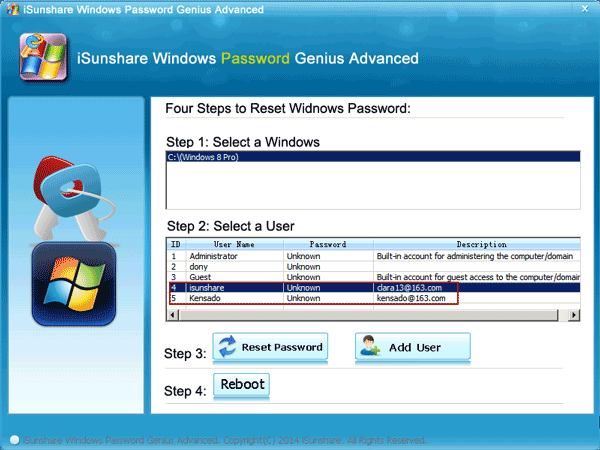 8. After the process ends, click on the "Reboot" button to restart your computer. You will be able to log into your computer without a password now.
After reading this article, you will get the full idea about Kon Boot for Windows 10/8/7 and everything about Kon Boot download. But if your Kon Boot is not working properly then you can easily pick the best Kon Boot alternative from here to recover your computer login password. So without worrying too much, just follow the guideline from here and choose Windows Password Recovery Tool to solve your issue.
Free Download
Buy Now