RAR Password Recovery
RAR Password Recovery can easily and quickly recover passwords from encrypted RAR/WinRAR archives. Simply select your password-protected RAR/WinRAR file and wait for a few minutes while your password is recovered.

Try It Free


Buy Now

https://www.youtube.com/watch?v=kvAOLsFUtT0
Who Should Get RAR Password Recovery
We all need RAR files because without them we won't be able to keep so many files compress together inside a single pack. This is really helpful when you are trying to send someone a lot of files together and you want to easily send all the files together with lower size. But when you lock a RAR file and forget or lose the password to unlock it ever again, it becomes really painful. That's when you need the RAR Password Recovery. So people who forgot their RAR/WinRAR file password should get this efficient RAR password recovery tool to solve RAR password recovery issue.
Key Features of RAR Password Recovery
There are various advanced features that will help you to understand how easy and effective it is, to use this tool. Here are some of them:
It has a user friendly interface and advanced technology for recovering any RAR file password.
It will give you a guaranteed no data loss security when you want to recover RAR archive password.
It supports (.rar) files created by all kinds of RAR archiver software.
It can recover RAR file passwords by using 4 types of powerful and smart attacks.
It has GPU acceleration algorithm and Multiple-core technology to give you fastest RAR password recovery.
If you give this tool the proper CPU power it needs, it will give you a faster and more effective solution every time.
It will save all stopped or unfinished password recovery process and you can start again from just where you left off.
It can recover RAR file passwords in just 4 steps.
Windows Compatibility
RAR Password Recovery is compatible with Windows 10/8/7/Vista/XP/2000/2003/2008/2012/2016 (32 bit & 64 bit). So there is nothing to worry about if you are using any of these versions of Windows.
RAR Version Compatibility
It has a very little drawback in RAR version compatibility but it's obviously best for everyone. Actually the full version of this software can recover any RAR password and it doesn't matter if the password is long, short or too complex. But the trial version can only recover three characters length of a RAR file password.
Security & Ease of Use
If we talk about security, you will find this tool to be the most secured and safest thing ever. It has a non-shell window in it and it also ensures 100% recovery rate without losing any data.
How to Recover RAR/WinRAR Password with RAR Password Recovery

Step 1
RAR Password Recovery is a powerful tool in Password Recovery Bundle, so if we want to recover lost or forgotten password for RAR/WinRAR files, we need to download and install Password Recovery Bundle on your computer first. Then launch the program and there are three options, just choose "Recover Passwords for Files and Archives" to enter.



Step 2
Then you can see many password recovery tools for files or archives. Choose "RAR Password Recovery" to enter.



Step 3
Import the RAR or WinRAR files you want to recover password.



Step 4
Choose a password attack type and make the attack settings to make RAR password recovery better. Then click "Start" button to begin.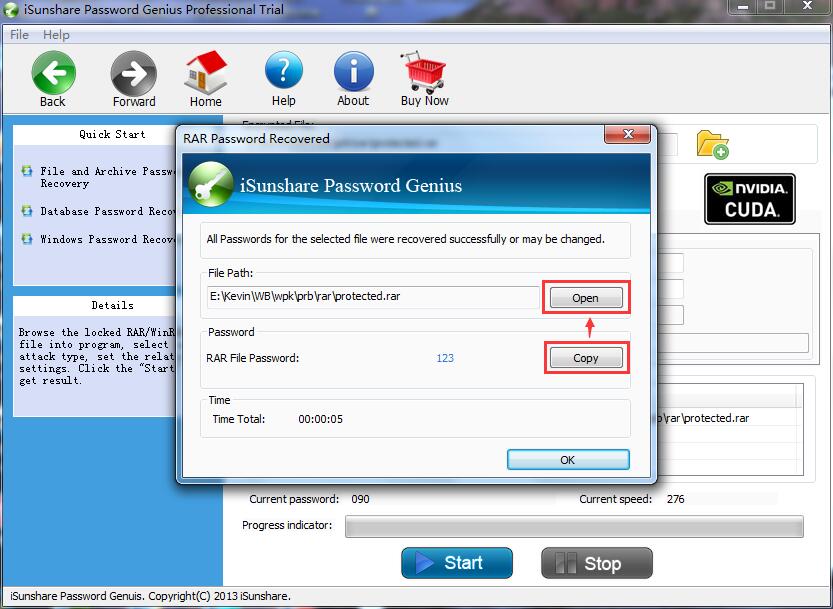 Step 5
Once the password is successfully recovered, a window will pop up the recovered password. All you need is to click "Copy" button and open your encrypted RAR document with the password.
User Reviews of RAR Password Recovery
Wow! I am really surprised by the performance of this software. The trial version couldn't help me much but I trusted my instincts and bought the full version. I recovered my lost RAR file password within minutes. This is an amazing tool.
Mike
This is the most helpful and effective RAR file recovery software that I have ever used. I forgot a very important RAR file password and I was going insane about it. This tool helped me to get the password back and unlock that RAR file. I am so happy and relieved right now, I can't explain. Thank you so much.
Ellena
I wanted to recovery my RAR file password but I was really scared. I never really thought that I will be able to use this tool because I am not an expert when it comes to using software and techy things. But as soon as I followed the guideline, I ended up successful within a very short time. The interface and whole process was so easy. It felt like I was just clicking through things and it happened just like that. I really appreciate it, thanks!
Joana
Get RAR Password Recovery Now
RAR Password Recovery is one of the most powerful RAR password bypass tool. It can recover forgotten or lost RAR file password. It can also help you to extract files from encrypted RAR archive easily in no time.

Try It Free


Buy Now

Hot Guides: