Lenovo laptops are one of the best laptops in the market, they are powerful and cheaper than many other brands. But, what to do when you forget your password for your Lenovo laptop? It's normal, we have so many things stored in our head that everyone tends to forget something. We've got you covered, read below to discover 4 easy ways to reset your password on your Lenovo laptop Windows 10/8/7.
Way 1: Reset Lenovo Laptop Password with Another Administrator Account
If you can't remember your password, one way to reset Lenovo laptop password without having to use a CD is to try to login with another user that has administrative power. Usually the first account you created will have it. When you log in:
Type "cmd" in the search bar and press enter to open "Command Prompt".

Type the command: net user <user name> <new password> and press enter to run the command.
After the command is completed, log out and then log in your previously blocked account with your new password.
Way 2: Reset Lenovo Laptop Password with Install Disk
Another way to reset your password on your Lenovo laptop is to use an install disk. But you need to have an install disk first. To use it follow these steps:
Insert the installation disk into your PC and restart it. When the screen displays "Press any key to boot from CD or DVD", press it.

In the Windows Setup screen, press "SHIFT + F10" to launch Command Prompt.

Type copy d:\windows\system32\sethc.exe d:\ and press enter.
Now, type copy /y d:\windows\system32\cmd.exe d:\windows\system32\sethc.exe and press enter.

Finally, close Command Prompt, cancel Windows Setup, restart your PC and remove Windows install disk.
When your PC restarts, press "SHIFT" 5 times and it will launch command prompt again. There type: net user username newpassword. Don't forget to change username for your account's name and newpassword for the password you want to set for your account.

You can now log into your Lenovo laptop with the new password.
Way 3: Reset Lenovo Laptop Password with Password Reset Disk
Do you have a password reset disk? If the answer is yes, then you can use it to reset Lenovo laptop password. Read below to learn how to do it:
Type in your password to access you account. Obviously, it will be incorrect because you can't remember it. Click "OK" when the message "The password is incorrect" pops up.
Now insert your password reset disk and click on "Reset password" just below the login box.

When the "Password Reset Wizard" message is displayed, click "Next".

Now you only have to decide on a new password and write a hint so that you don't forget your password in the future! Tap "Next".

Click "Finish". You can now log on to your Lenovo laptop with Windows 10/8/7.
Way 4: Reset Lenovo Laptop Password with Windows Password Recovery Tool
Are you looking for how to reset password on Lenovo laptop? Do you know that very few tools out there will be able to do this effectively? This is why you need Windows Password Recovery. It has been able to make a difference when it comes to recovering user/administrator passwords which have been forgotten. Even if you want to create a new user account without any need for login, this tool makes the process look very easy.
Key features:
Windows Password Recovery has got some impressive features. These ensure that any issue about how to reset password on Lenovo laptop is a walk in the park. Some of them will be listed below:
It supports all Windows operating systems such as Windows XP, 7, Vista, Windows 10, 8, 8.1 and others.
Windows server is fully supported like 2000, 2003(R2), 2008, 2011, 2012, 2016, NT and more.
SCSI, SATA, IDE hard disk as well as RAID are all fully supported.
Different laptop brands are supported. These could be Lenovo, IBM, Asus, Sony, Samsung, Toshiba, Acer, HP, Dell and more.
Windows password can be easily removed or created.
Windows local administrator password as well as other user passwords can be recovered.
Free Download
Buy Now
How to use Windows Password Recovery to reset Lenovo laptop password:
Step 1. Get Windows Password Recovery downloaded and installed on another computer.
Step 2. Get an empty flash drive plugged into your computer. It should be burnt as bootable drive for the Lenovo laptop password reset process.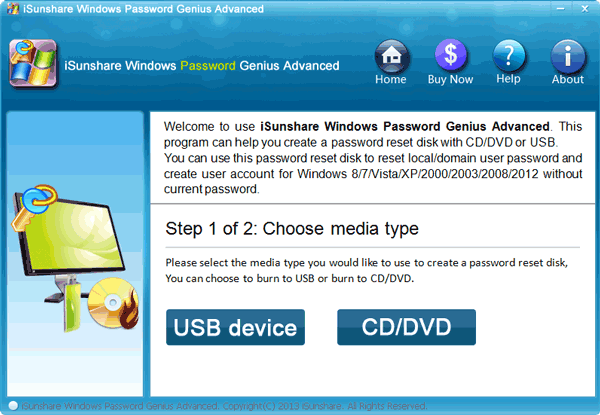 Step 3. The bootable USB drive should get inserted into the locked Lenovo laptop.
Step 4. After doing the above, the option which says "Reset Password" should be clicked on. Your Lenovo laptop password will then be reset to blank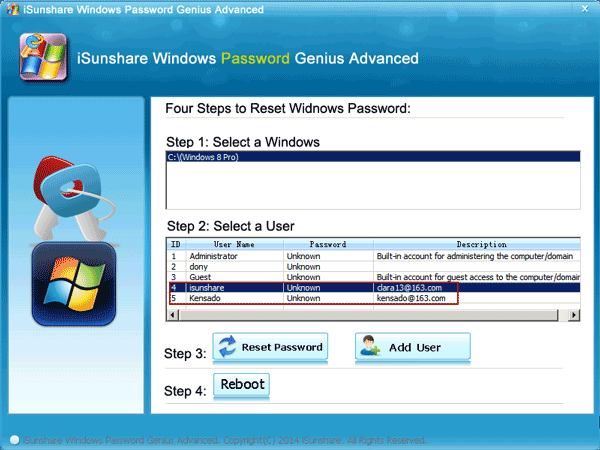 Step 5. Once you've successfully reset the Lenovo laptop, the next step will be to get it restarted. Choose the "Reboot" option to do that.
Summary
Based on the above, it is very obvious that when it comes to any issue related to Lenovo laptop forgot password, such can be easily resolved without stress. This has been made possible through the use of an effective tool like Windows Password Recovery. It will ensure that your Lenovo laptop password is easily reset without hassle. You only need to go through 3 steps before this can be possible.
Free Download
Buy Now