Getting locked out of Windows is nothing new! It is a very common problem and happens to most of the Windows users who add an extra layer of protection on their Windows system. But the Windows security is very strict and encryption level is very high. So, without the proper tools, you won't be able to bypass the lock. But we have got you covered! Here are 3 best tools described below which are considered the best Windows 8 password reset tool and they are capable of many things. So, let's get started.
Top 1 Windows 8 Password Reset Tool: Windows Password Recovery Tool
The first Windows 8 password reset tool you can go for is Windows Password Recovery Tool. It is a very popular and effective recovery program that will recover the forgotten password in no time at all.
There are a lot of third-party recovery tools available on the Internet but not all of them provide a good service or a safe experience. There is a bit of risk involved in all cases. So, we took the privilege of selecting the best Windows 8 password reset tool for you. It has some terrific features like:
It is an all-in-one Windows Password Reset Tool. It can recover the lost or forgotten Windows password for every available version of Windows OS.
It is capable of resetting or removing any type of Windows accounts, including Administrator account.
You will be able to reset or remove the User and Administrator password.
You can also reset Microsoft Account password on Windows 10 and 8.
Finally, you can also create a new local domain account to unlock your computer.
These are the few things Windows Password Recovery Tool is capable of. So, if you need to use this Windows 8.1 password reset tool, just follow the steps below:
Free Download
Buy Now
Step 1: So, get the program and launch it. Select a medium from the menu below, preferably USB.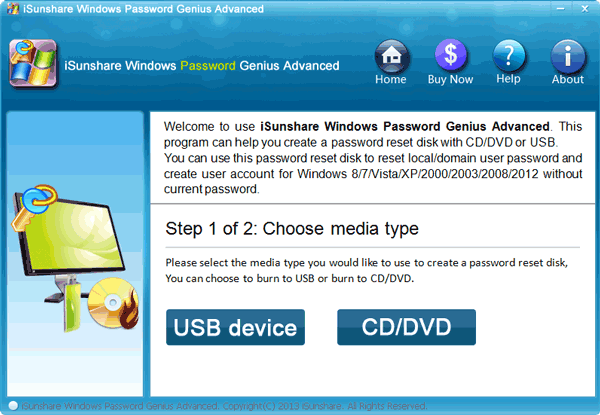 Step 2: Then, connect the USB and click Begin Burning.
Step 3: After the burning is complete, the password reset disk will be created and click OK to exit the wizard.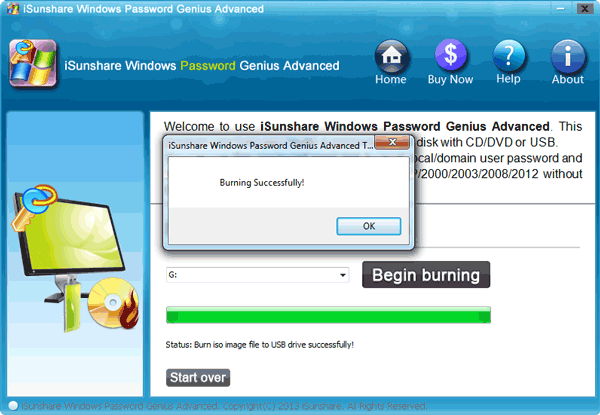 Step 4: Now, you have to connect that USB drive to the locked computer and restart.
Step 5: Now, you have to enter the Boot Menu, so, tap the ESC or F12 key.
Step 6: When you are in the Boot Menu, you will find a lot of choices but select the USB. Use the Arrow keys to highlight the option and then press Enter to select. Then, Windows will load the recovery tool.
Step 7: In the program, you have to select the Windows System and then the locked account, then click Reset Password.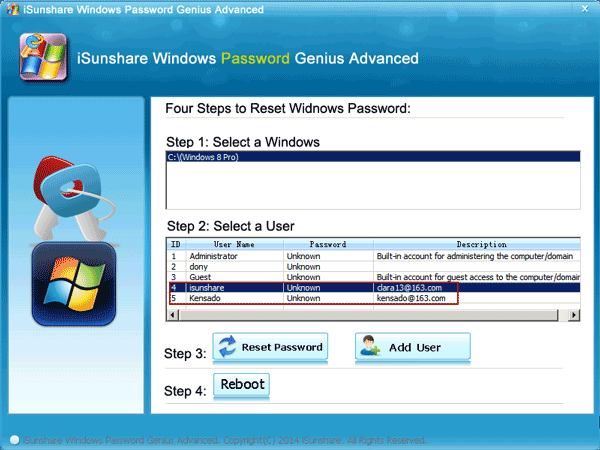 Step 8: After the reset is successful, you can click Reboot.
After the computer is rebooted, the Windows password will be reset and you will have no issues getting into your Windows account anymore.
Advantages:
Feature packed.
User-friendly.
Can recover passwords for any version of Windows.
You can remove/reset Administrator account.
Capable of creating new local domain accounts.
Top 2 Windows 8 Password Reset Tool: Ophcrack
There are several Linux CDs available that can help you to reset Windows password and Ophcrack is probably the best out of all of them. It is a good Windows 8 password recovery tool and has some interesting features:
Ophcrack uses a brute force attack to recover the password.
The passwords can be recovered in minutes, depending on its complexity.
Also works on Mac and Linux.
It is available for free on the Internet.
The file only takes 650 MB of your space.
Here's how to use Ophcrack to bypass Windows 8 password:
Step 1: Obviously you have to download Ophcrack CD image from the website, it's about 650 MB.
Step 2: Then, burn that image into a black CD and insert it into the locked computer.
Step 3: Restart the computer and access the BIOS. Change the First Boot Device to that CD.
Step 4: Next, you will be asked to select the graphics mode. So, choose Ophcrack Graphics Mode-Automatic.
Step 5: Boot the CD and the computer will start to mount the hard drive and Ophcrack will be launched automatically and start the attack.
Step 6: Now, it all depends on the complexity of your password. It can take minutes or even hours to recover the password. You will find the recovered password under NT Pwd.
This is a very effective Windows 8 password reset tool to reset Windows password but the program usually takes hours to recover the password.
Advantages
You can download it for free, online.
Passwords are recovered very easily using the LiveCD method.
It also works with other OS like Mac, Linux.
Disadvantages:
If the password is longer than 14 characters then it can't be recovered with Ophcrack.
You have to burn the image onto a CD to start.
Does not work well with Windows 10, 8 and 8.1.
Top 3 Windows 8 Password Reset Tool: Hiren's BootCD
Now, the last one is Hiren's Boot CD and it is a capable Windows 8 password reset software. It is an old program but very effective. It has several features like:
It can boot into an OS easily.
Old and reliable.
Comes with different in-built tools in Recovery Utilities like Windows Memory Diagnostic, Offline Password Changer, and MemTest86+ etc.
Easily available on the internet.
So, here's how to use Hiren's Boot CD to reset Windows 8 Password:
Step 1: Visit hirensbootcd.org from a computer and download. A Zip file will be downloaded, extract the image from it. It is named Hirens.BootCD.15.2.iso. You need to extract the file into a folder, the extracted files is a .iso file.
Step 2: Now, burn than into a black CD and insert it into the locked computer.
Step 3: Boot the computer and wait for the Hiren Boot CD interface. There will be several utilities available for you but select Offline NT/2000/XP/Vista/7 Password Changer and then press Enter. Now, wait for it to load.
Step 4: Now, the Linux Kernel Boot options will be available on screen, press Enter and select the partition where the Windows is installed.
Step 5: Now, press Enter to select the default path, afterward select Password Reset and press Enter.
Step 6: Then, the Chntpw Utility will come on the screen. So, select the default choice, which is Edit user data and passwords and press Enter.
Step 7: Then, type "1" to Clear user password and then press Enter. After that, type "!" to quit the editing user and then press Enter.
Step 8: Now, just type "q" and press Enter. Exit Offline NT Password & Registry Editor and enter a new password. Enter "y" for Yes and press Enter.
Step 9: Now, extract the CD from the computer and press Alt + Ctrl + Delete to Reboot.
After your computer is rebooted you will be able to access the Windows account.
Advantages:
User-friendly program.
Works well with the older version of Windows.
Available for free and small in size.
Disadvantages:
Way too complicated.
Hasn't been updated in a long time.
Does not work on new Windows 10.
Conclusion
At their own rights, these Windows 8 password reset tool are the best you can ever get. But there will always be some issues with any type of programs. So, after going through the pros and cons it is very clear that if you are looking for a way to reset Windows 8 or 8.1 password then Windows Password Recovery Tool is the best and safest choice. Go for it and you won't be disappointed!
Free Download
Buy Now