The amount of Windows users are undoubtedly the highest operating system users in the world. With time, Microsoft has improved the versions of Windows and the latest Windows 10 is the reflection of advanced Windows operating system that ensures smooth user experience and security. But a lot of Windows PC users still prefer Windows 7 because of its customizable system and easy to use process for everything. If you have lost or forgot your Windows 7 administrator or login password then this article can be the best solution for you. In this article, you are going to learn about 5 of the best Windows 7 password reset tool available on the internet. There are a lot of Windows 7 password reset utilities available on the internet but how do you know which one will be best for you. That's when you need to read this article to clear all your confusion. So follow this article till the end which will be helpful for you if locked out of Windows 7.
Top 1: Windows Password Recovery Tool
Windows Password Recovery Tool can reset Windows administrator and user password with 100% successful recovery rate. It supports Windows 10, Windows 8.1, Windows 8, Windows 7 (32/64 bit), Windows Vista (32/64 bit), Windows XP, 2000, NT and Windows Server 2012 (R2)/2008 (R2)/2003 (R2) etc. File systems like FAT16, FAT32, NTFS and NTFS5 etc. are also supported. So it's obvious that this is the best Windows 7 ultimate password reset software.
Features:
It can remove or reset Windows administrator and any other user password.
It can reset and remove domain administrator and other user password.
It creates a new local admin account to easily unlock your computer.
It can create a new domain admin account if someone hacked your account.
It can delete Windows administrator, domain administrator, Windows 10/8 Microsoft account and other user passwords easily.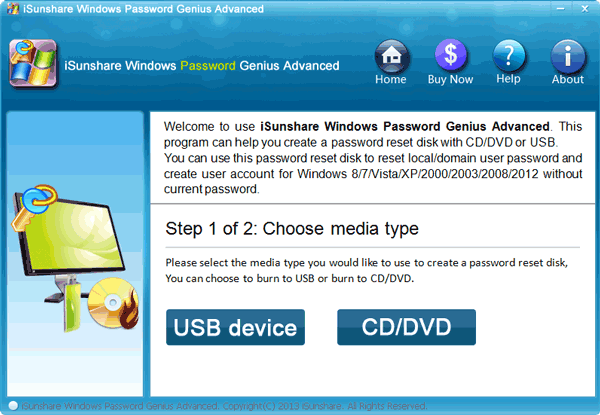 How to reset Windows 7 password with this amazing software:
Step 1. Download, install and launch the program on a computer and insert an empty USB drive on that PC. From the main interface of the software, click on the "USB device" and select that USB drive from the drop down list of your computer screen.
Free Download
Buy Now
Step 2. Click on the "Begin burning" button to burn the password resetting drive. It will take one minute or less time to finish.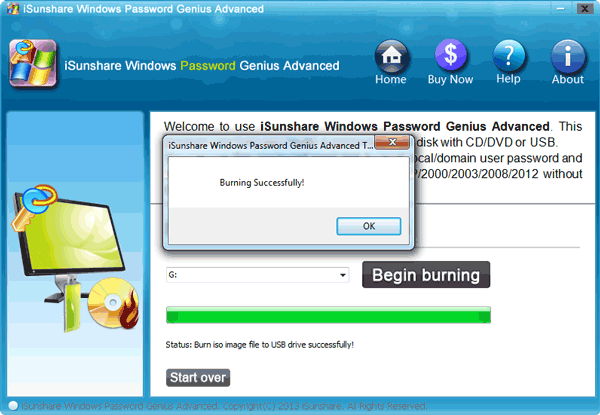 Step 3. Now click on the "OK" button to finish the burning process.
Step 4. After that, insert the bootable USB flash drive in your locked Windows 7 computer. Then restart it and press "F12" or "ESC" button to enter the boot menu.
Step 5. Now select the USB drive as your boot device and press "Enter" to go to the next step.
Step 6. You will see the interface of the recovery software in your computer screen.
Step 7. From here you need to choose the Windows system and user account that you want to reset the password from. Next click on the "Reset Password" button to proceed.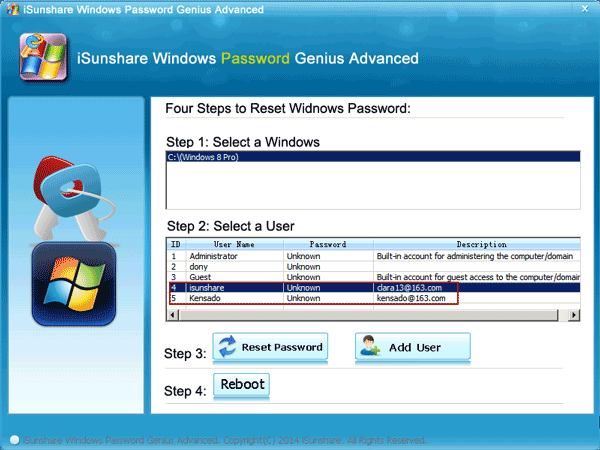 8. Finally, click on the "Reboot" button to restart your computer. You will be able to log into your Windows 7 computer without any password from now.
Top 2: Ophcrack
Ophcrack is a great Windows 7 user password reset software that is based on rainbow tables. It is totally efficient and it can implement rainbow tables which are done by the inventors of the method. An easy to understand Graphical User Interface and running on multiple platforms makes this software a Windows 7 professional password reset tool.
Features:
It runs on Windows, Linux/Unix, Mac OS X etc.
It can crack LM and NTLM hashes.
It has free tables that are available for Windows XP and Vista/7.
Contains Brute-force module for any kind of simple passwords.
It has Audit mode and CSV export system.
Provides real-time graphs to analyze the passwords.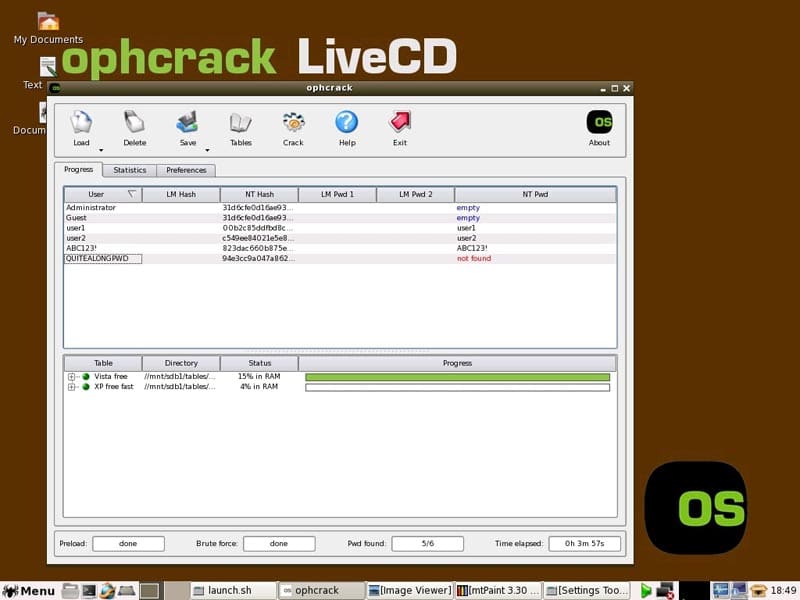 Pros:
You don't need to install the software.
Apart from Windows, you can use it on Mac and Linux also.
Cons:
You must know how to burn a bootable CD.
You need to stop your antivirus program before using this tool.
Top 3: Offline NT Password & Registry Editor
Offline NT Password & Registry Editor is an advanced Windows 7 password reset program. If you are an advanced user, then this tool can help you in various Your Windows system can crash and all the data can be lost immediately, so you can't make any mistake when using this tool. You can use this advanced tool at your own risk. It has a registry editor and other registry utilities that work under Linux/Unix and you can use it for other issues with password editing.
Features:
It can reset the password of any user that has a valid local account on your Windows computer.
It supports all Windows from NT3.5 to Win8.1. It also supports 64 bit and the Server versions (like 2003, 2008, 2012).
You don't need to know the old password to use this tool for setting a new one.
It works offline. That means, you have to shut down your computer and boot off a CD or USB disk to complete the password resetting process.
It can detect and unlock any locked or disabled user accounts!
Pros:
It deletes the password completely.
You don't need to install the program to computer.
Works on all versions of Windows.
Cons:
You need to boot the disc or flash drive to run the software.
It works from the CMD line so everything is text based.
Top 4: LCP Windows Password Cracker
LCP Windows Password Cracker is another free Windows 7 password reset utility. To use this tool you need to install this program to that computer so you will have to access a user account to log into that computer. This is also an advanced tool so you must know what you are doing to avoid any kind of big problems in your computer.
Feature:
Supports newest versions of Windows.
User friendly interface but advanced process.
Helps you to reset the password in a short time.
Pros:
It installs in a very quick speed.
You won't have to put the software in a disc.
Cons:
It doesn't work on new operating systems.
It doesn't have any newer version, the last version is very old.
Top 5: John The Ripper
John The Ripper is another free Windows 7 Administrator password recovery tool that can help you to solve Windows 7 forgot Administrator password no reset disk. It has also got some interesting features that might come in handy.
Features:
The wordlists used by the software is not free and you need to buy them before the software to work.
It's operated in the command line so it's an advanced tool.
All popular versions of Windows are supported by the program.
Pros:
The program is free.
It has a very small download size.
Runs quickly in Windows.
Cons:
It has the last updated version from 2013 so it's old.
Required wordlists are not free.
Works from command line so only advanced users can use it.
This article is a proper guideline for the best Windows 7 password reset tool on the internet. There are 5 best Windows 7 administrator password reset tool described here, but there is always the best one. If you want guaranteed result with 100% recovery rate, then you need to start using Windows Password Recovery Tool.
Free Download
Buy Now