There are a huge number of Windows PC users around the world. If you are a Windows PC user, this article is the best help you can get for a problem faced by a lot of computer users. In this article we are going to talk about a common problem. A lot of us including me sometimes forget our administrative login password for our computer. Forgetting things is a very irritating problem but when it comes to your computers password, it causes various problems and even makes you panic about it. But if you are reading this article, you don't have to panic anymore because you will get all the information you need about the best PC Unlocker alternatives from here. So stay tuned and keep reading till the end.
Part 1. What is PCUnlocker?
Generally, PCUnlocker is a bootable software tool that can be used to reset your Windows computer's password which was set for an administrator or other user accounts. When your PC is locked and you forget the password, PCUnlocker can work like a life saver for you. It's designed to help various users to remove the forgotten Windows passwords by burning a bootable CD/DVD or USB flash drive on their computer. Honestly, if you are the one of them who frequently forgets the PC password, then you need to keep a bootable copy of PCUnlocker with you. It will help you to instantly unlock your system if you have forgotten Windows password or user account is locked out or disabled.
Part 2. Why PCUnlocker Not Working?
The main reason that your PC Unlocker is not working is because of the recent updates and high quality security of Microsoft Windows. Microsoft has upgraded all Windows versions to newer service packs that have fixed all the issues and bugs. These upgrades prevent your PC Unlocker to decrypt the login screen password. If your PC Unlocker is not working, then you can use these 3 PC Unlocker alternatives from below:
Part 3. PC Unlocker Alternative 1 – Windows Password Recovery Tool
Windows Password Recovery Tool can reset Windows administrator & user password in no time. Also it has a 100% recovery rate that proves its successful performance. It's an all in one tool that can give you the best result among all other password recovery tools. So it's the first choice if you are confused on which PC Unlocker to download.
Free Download
Buy Now
Features:
It can remove or reset Windows administrator and any other user password.
It can reset and remove domain administrator and other user password.
It can reset Windows 10/8 Microsoft account password.
It creates a new local admin account to easily unlock your computer.
I can create a new domain admin account if someone hacked your account.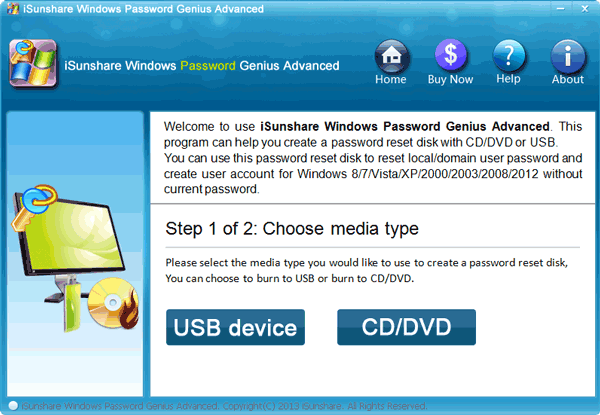 User Guide: How to Use Windows Password Recovery Tool
Part 4. PC Unlocker Alternative 2 – Ophcrack Password Recovery
Ophcrack Password is a great Windows password cracking tool based on rainbow tables. It can efficiently implement rainbow tables which are done by the inventors of the method. It has an easy to understand Graphical User Interface and this tool runs on multiple platforms. It has some great features that can make your choice easier for PC Unlocker downloading.
Features:
It runs on Windows, Linux/Unix, Mac OS X etc.
It can crack LM and NTLM hashes.
It has free tables that are available for Windows XP and Vista/7.
Contains Brute-force module for any kind of simple passwords.
It has Audit mode and CSV export system.
Provides real-time graphs to analyze the passwords.
Download From Here: http://ophcrack.sourceforge.net/
Part 5. PC Unlocker Alternative 3 – Windows Password & Registry Editor
If you have forgotten your Windows password, then Windows Password & Registry Editor is an advanced PC Unlocker to download. This amazing tool can help you in many ways but it can be used by advanced users only. Because if you make any mistake to use this tool, your Windows system can crash and all the data can be lost immediately. So use this advanced tool at your own risk. It has a registry editor and other registry utilities that work under Linux/Unix and it can be used for other issues with password editing.
Features:
It can reset the password of any user that has a valid local account on your Windows computer.
It supports all Windows from NT3.5 to Win8.1. It also supports 64 bit and the Server versions (like 2003, 2008, 2012).
You don't need to know the old password to use this tool for setting a new one.
It works offline. That means, you have to shut down your computer and boot off a CD or USB disk to complete the password resetting process.
It can detect and unlock any locked or disabled user accounts!
Download From Here: https://pogostick.net/~pnh/ntpasswd/
It's obvious that you Windows computer contain all the information that you need in your everyday life. All those documents, important files, music, movies, pictures and any other data files are very important to every user. But if you are unable to log into your Windows PC because you forgot the login password, then there is no need to panic anymore. With the help of this article, you already know the best PC Unlocker alternative tool that you can use. Windows Password Recovery Tool can be the best PC Unlocker to download if your PC Unlocker is not working. So stop wasting your time on any other tools and start using the best one.
Free Download
Buy Now