Lost your password to your Windows computer? What a loss… All those files and data lost forever. Or is it? If you a looking for a way to crack your Windows password and access your pc, you've come to the right place. Read below to learn more about Hiren's BootCD 16.2 ISO free download and how this will help you recover your forgotten password.
Hiren's BootCD 16.2 is a free to download boot CD that contains various diagnostic programs. Among them, you can find some that will help you solve problems like virus infection, HDD failure, data recovery, hard disk partitioning and, most importantly for this article, forgetting your password. So, how to use it? Check Way 1.
Way 1: Free Download Hiren BootCD 16.2 ISO to Reset Windows Password
Ready to start?
The first thing you need to do is to free download Hiren's BootCD 16.2 iso from here.
Next, burn the ISO to your CD or USB, you decide.
Now, switch off your computer and insert the BootCD and start your computer with Hiren's BootCD.
You will see a screen pop-up. Even if you are using Hiren BootCD 16.2 to unlock a Windows 10 or Windows 8, make sure to choose "Offline NT/2000/XP/Vista/7 Password Changer" and hit Enter.
Next, hit Enter when you see the boot prompt in "System Configuration".
Select the partition where Windows is installed.
In the next screen, just press Enter.
Then, when the program asks you what registry it should load press 1. This is the default choice.
Again, press Enter to accept the default choice of "Edit user data and passwords" so you will be able to reset your Windows password.
Now the screen displays a list of the user accounts on your computer. If, for example, you want to recover the password for the account named "Tom", type "Tom" and press Enter.
Type "1" and press Enter. This will remove the password of your selected account.
Type "!" to quit editing user and press Enter.
Finally follow, these commands: type "q" and press Enter, then type "y". This way your password reset changes will be saved.
That's it! Problem solved. Hiren's BootCD 16.2 ISO has removed the password for your selected account. You can now access it and set another password for it if you choose. But make sure it will be something you'll remember next time!
Way 2: Reset Windows Password Using WinPassKey
Part 1. Best Hiren Boot CD 16.2 Alternative: WinPassKey Windows Password Recovery
For a relatively smoother and quicker recovery, I recommend that you research other Hiren Boot CD 16.2 Alternatives. For example, Windows Password Recovery is a great choice. With Windows Password Recovery, you can get back your password within a few minutes.
This Hiren Boot CD 16.2 Alternative also has other additional features for solving related issues, such as being locked out of an Administrator account. With this tool, you can create a new user account, even without having to log into Windows first. There's a free trial version, but it's not practical, only for testing purposes. WinPassKey Windows Password Recovery made it available so that you can try out their fantastic utility before making a purchasing decision.
Part 2. Reset Windows Password with Windows Password Recovery
Now that you know about a Hiren Boot CD 16.2 Alternative that is probably better than Hiren Boot CD go ahead and purchase it. This program is fully compatible with Windows 10/8/7/vista/xp/2016/2012/2008/2003/2000. You need little or no guidance to use it efficiently. Just follow the simple guide below:
Step 1: The first step is to create a password reset disk, and so, it should be carried out on a computer that is not locked. To do this, you do not need additional software; Windows Password Recovery can take care of it. Double-click the icon to start Windows Password Recovery. Click "CD/DVD." If you want to create the password reset disk on a USB drive, click "USB device" instead.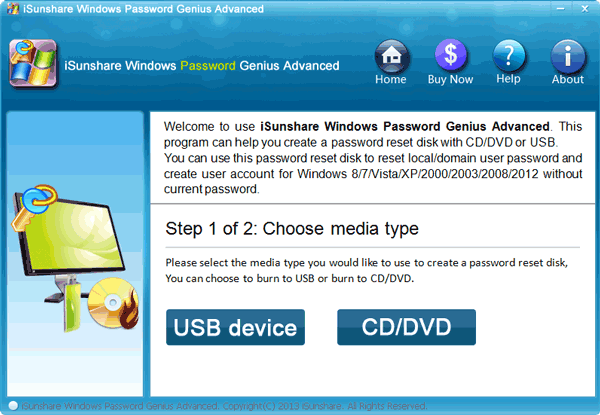 Step 2: Insert the CD/DVD or connect the USB device and click "Begin burning" to kick off the process of creating a password recovery disk.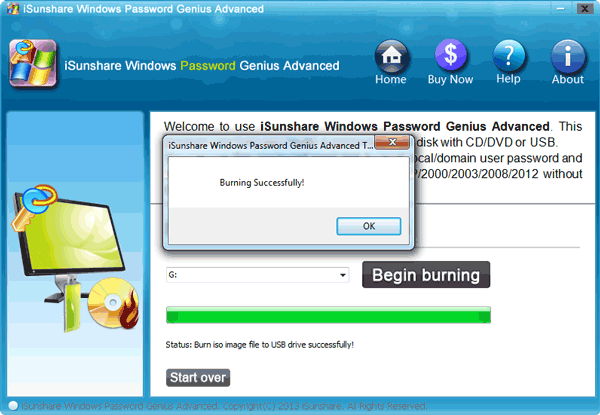 Step 3: When the operation finishes, you will get a message notification saying, "Burning Successfully!"
Step 4: After some minutes, the process will be done, and at this point, you now have a password reset disk. Next, take this password reset disk to the locked computer; insert the CD/DVD or plug in your USB device. Now, boot the laptop and continually press your BOOT Menu Key until you are taken to the Boot menu.
Step 5: From the Boot menu, use your arrow keys to scroll the list of boot devices, until you find the newly created password reset disk. Hit "Enter" to select it, and your machine will boot using this disk.
Step 6: Windows Password Recovery will run automatically on boot. On the home page, select a Windows user and click "Reset Password." That is all you have to do, and the tool takes it from there.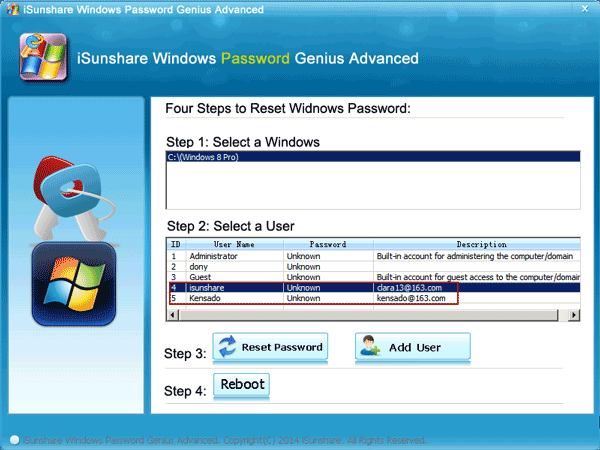 Step 7: When the process is successful, click "Reboot," and your machine will restart. You can then log in with the user's account you chose in step 5.
Summary
In this post, we have shown you what Hiren's BootCD is and how to free download Hiren's BootCD 16.2 ISO and also given you an alternative for recovering the password for your locked Windows computer. Don't forget to like the post if it was useful and if you still have problems with your device don't hesitate to contact us.
Free Download
Buy Now