We all know that previous versions of Windows come up with a default Administrator account that is not visible to all users. Only they can see who have enabled it. The Administrator password is something that has access to Windows core settings. So, you must have access to the Admin account if you are looking to make any change within the Windows settings.
You can easily show Administrator password using CMD, which opens a Command Prompt in front of you. By entering multiple commands you can see it on your screen. In this article, we will be discussing how to view admin password using cmd in Windows 10/8/7 and how to see the Admin password using CMD in case you are unable to get it through.
Part 1. Is It Possible to Show Administrator Password using CMD in Windows 10/8/7?
Before proceeding, you must have knowledge about is it possible to show Administrator password using CMD or not. Well, the answer would be an absolute no if you want to show an Admin account with username as well as password. Windows are not allowed to show the default Administrator account password.
If it is some kind of necessity, the better and effective way is resetting your default Windows Admin account password. After that, you can use that password to access Windows system files.
Part 2. Steps to Show Administrator Password using CMD in Windows
As mentioned above, it is impossible to display the Windows Administrator account password on CMD. It can only be displayed after cracking the password to a new one. Besides displaying the password, it can show you huge information about the Administrator account and all other accounts installed on Windows.
Type the CMD in the Windows search bar and run as Administrator.
You can run the following command to show the Administrator account using CMD and press the Enter key.
net user
A list of all the accounts will appear in front of you in less than a second.
Part 3. Failed to Show Admin Password using CMD? Use Windows Password Recovery to Reset Windows Password
Windows Password Recovery is an utter solution to reset the Windows Administrator account password in case if you are failed to show administrator password using CMD. Windows can't reveal the password, so the only solution is to use a third party software to reset the Windows password. Windows Password Recovery can efficiently reset, remove, recover the Windows passwords within minutes. Either you are looking to reset local account password or Administrator account password, the software can effectively do the job.
Features:
Retrieve Windows local Administrator as well as other user passwords.
Restore domain Admin account password and other Admin user passwords.
Create a new Admin account right away.
Incredibly easy to use.
Remove or reset Windows 7/8/10 passwords in three simple steps.
Reset Microsoft account passwords of supported Windows-like 8/8.1/10.
How it works
Free Download
Buy Now
Download and launch the Windows password reset tool on your Windows operating system and hit the "USB device" option if you want to proceed with the bootable USB else, you can press the DVD/CD option to continue with it.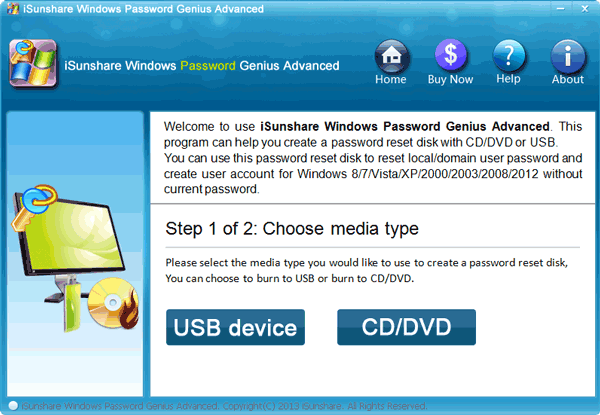 Insert the device whatever you choose to continue with and choose it from the dropdown menu. Hit the "Begin burning" once you have selected the right device.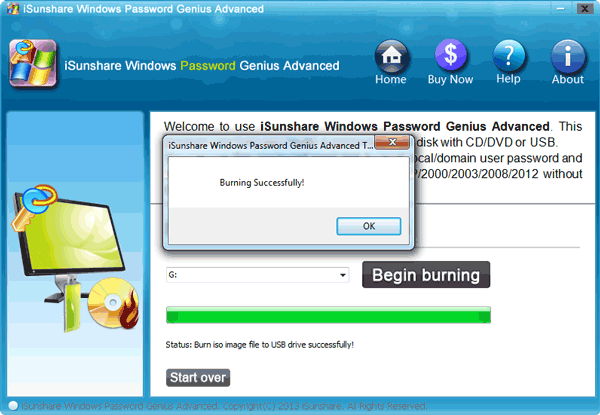 It will start creating a bootable device. Press "OK" once you see the "Burning Successfully" prompt.
Restart the operating system and press the boot key multiple times to enter into the Windows boot menu.
Finally, choose the Windows OS that you are using, select a user account that is supposed to be reset, and click on the "Reset Password" option.
Hit the "Reboot" button when you see a "Successfully reset the password" prompt.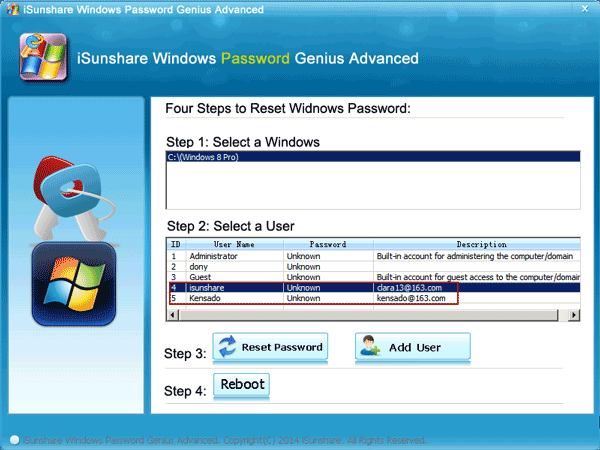 Conclusion:
You can definitely use the above-discussed guide if you are looking for how to get admin password with CMD in Windows 7/8/10 and if you are unable to get the password using CMD, you can use the Windows Password Recovery to reset your Windows 7/8/10 password. If you have any other suggestions, you can share them with us through the comment section.
Free Download
Buy Now