Many users have been faced with the situation of forgot password to access Windows. This means that we can not enter the computer or even block it if we repeatedly enter the password of our administrator account in the wrong way. Therefore, we will show how to change the Windows 10 login password if we have forgotten it.
In both Windows 10 and Windows 8, it is possible to set up a local account or a Microsoft account to log in to the system. If we use a Microsoft account and we forget the password, we just have to recover it from the Microsoft page, but in the case that we can not recover it or have blocked our administrator account, things get a bit more complicated. However, we will show all the steps below to change the password in Windows 10 if we have forgotten in these cases.
Step 1. Reset Windows 10 password to Blank
In the case that we forget the Windows 10 password to access the system, what we can do to change the password of Windows 10 is to create a boot drive to reset the old password to blank, and setup a new password for the administrator account.
For this, the first thing we are going to do is download and install Windows Password Recovery Tool to an accessible computer and then we will burn the program to a CD, DVD or USB flash drive. Next we will go to our locked computer, insert the CD, DVD or USB flash drive in which we have burned the bootable program, when starting the computer and access the BIOS to indicate from which disk we want the system to start.
Key Features:
It can recover forgotten password for all Windows in a few minutes.
It can create a new administrator account easily without logon.
It can create USB flash drive disk or CD/DVD Disc.
Support Windows 10, 8.1, 8, 7, Vista, XP, 2000, NT.
Support Windows Server 2016, 2012, 2008(R2), 2003(R2), 2000, NT.
Therefore, the computer will start from the selected CD, DVD or USB flash drive and a window will appear where we can choose the system and Windows account in which we want to change the password. Then click the "Reset Password" button and the password will be remove. We will only have to click on Reboot button for Windows to restart. At this moment, we remove the CD, DVD or USB flash drive that we have used as a boot disk with Windows Password Recovery Tool so that the system starts normally.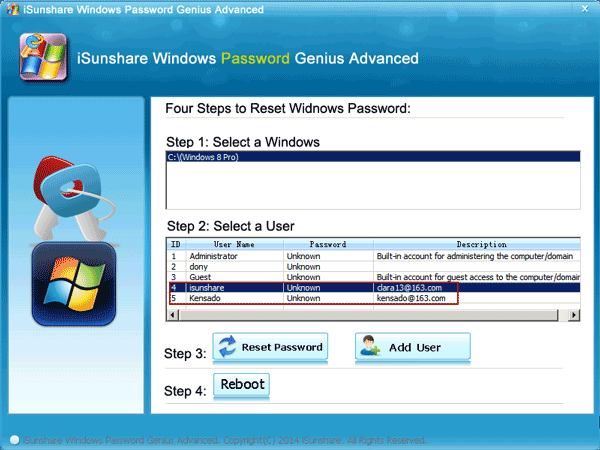 Step 2. Create a New Password for Windows 10
1. Open up the Start menu and go to "Settings".
2. Go to "Accounts".
3. In the "Accounts" section, go to "Sign-in Options".
4. Click "Add" button to create a new password.
5. Type in the new password, reenter it, and provide a hint about the new password.
Now you have changed your Windows 10 password successfully, you can open the start menu, go to Power and restart your computer to test if the password works.
Free Download
Buy Now