"Since I have not used my Windows computer for a long time, I forgot the password of user account. I tried to access it with the name, the date of birth, the phone number and the password of my credit card. It is not possible to log in to my computer. In addition, I am not an expert in the computer field. Can you offer me an easy and effective method to reset Windows 10 password?"
Don't worry. In this article, we will show you 3 different methods to help you reset the forgotten Windows 10 password with or without disk.
Method 1. Reset Windows 10 Password with Password Reset Disk
Microsoft has inserted a feature in the Windows operating system to reset password. It's called the password reset disk. In the Windows login window, you can plug this disk into your computer and reset password. The process ends in a few minutes. You can create this kind of disc with a CD/DVD or a USB flash drive.
But it should be noted that you need to create a Windows 10 password reset disk in advance. In other words, you can not create one when your computer is locked. If you have a password reset disk, just follow the steps below to reset Windows 10 password.
1. Insert the password reset disk into the locked Windows computer.
2. Start your computer and try to type in a password, after it remind you that the password is incorrect. Click "OK" button.
3. Then you are shown a link that says "Reset password". Click or tap on it.
4. The Password Reset Wizard is now started and you can use it to reset your local user account password.
If you don't have a password reset disk, you can refer to Method 2 to create a new password reset disk by a third-party software which is no harm to your data. Or you can refer Method 3 which will format all your data.
Method 2. Reset Windows 10 Password without Password Reset Disk
If you don't have a password reset disk, with the help of third-party software is the only way to reset Windows password and protect your data simultaneously. Here we recommend Windows Password Key (Windows Password Genius), one of the best Windows 10 password reset tool to help you reset Windows password without data loss.
Key Features:
It can recover forgotten password for all Windows in a few minutes.
It can create a new administrator account easily without logon.
It can create USB flash drive disk or CD/DVD Disc.
Support Windows 10, 8.1, 8, 7, Vista, XP, 2000, NT.
Support Windows Server 2016, 2012, 2008(R2), 2003(R2), 2000, NT.
1. Download and install Windows Password Key into an accessible computer
Since the computer whose password is forgotten, you must install this software in another computer with the Windows system.
2. Create a bootable CD or USB
You can insert a CD/DVD or USB flash drive to your PC and create a CD/DVD or USB password reset disk.
3. Start your locked computer and set to boot from CD/DVD or USB
4: Reset the Windows password
Enter the program and select the Windows system you used and choose an user account you want to reset the password.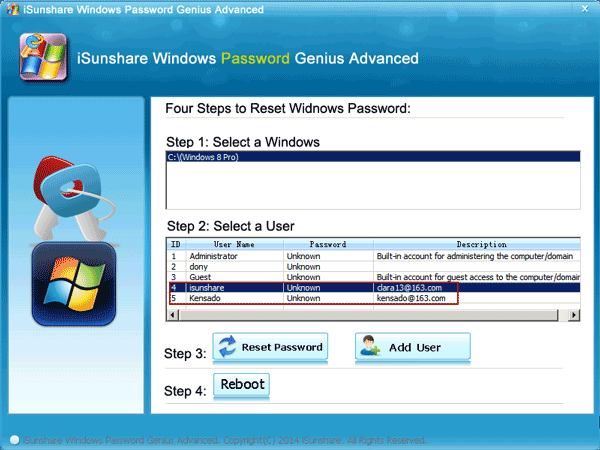 Click on "Reset Password" button, reboot the PC and get into the locked computer without password.
Method 3. Reinstall Windows 10 System to Get Access to Your Windows Again
In case it is impossible to reset password with the password reset disk or other tools, reinstalling the Windows system would be your last choice, allowing you to reuse the operating system. However, before you start reinstalling Windows, you should know that all data in the system partition will be erased and unrecoverable. It's an irrevocable step.
Windows Password Key is compatible with Windows 10/8.1/8/7/Vista/XP/2000. Download the free trial version of Windows Password Key and save the Windows operating system as well as expensive files!
Free Download
Buy Now($19.95)