Windows administrator passwords are important because they help us restrict the usage of our personal computers. We never want anyone else to log into our computer and access our personal sensitive information. So password protecting your Windows 8/8.1 PC is a wise decision. But some of us don't access our computer that often, as a result we forget Windows 8 password. But if you are reading this article, you have come to the right place to find the solution. In this article, you are going to get the best 3 methods that will help you to reset Windows 8 password without disk. A proper guideline and useful information will always help you to reset Windows 8/8.1 password without disk. So keep reading this article till the end.
Method 1: Reset Windows 8 Password with Other Administrator
It's really easy to use multiple accounts to reset Windows 8 password without disk, if you have more than one administrative account in your computer. If you forgot Windows 8 password no reset disk, then here is how to reset password with other administrator:
1. First restart your PC and get into in to your computer system by using any other administrator account. So it's obvious that you need to have another user account before.
2. Then you need to right-click on the "My Computer" icon and choose "Manage" option.
3. A new computer management window will open now with various options on your computer screen. You need to look at the left sidebar of the management window and select "Users and Local Groups" option. It will expand the folder and then click on "Users" option which will display all the accounts linked with your Windows computer.
4. Next you need to right-click on the locked username and choose "Set Password" from the right sidebar of the window.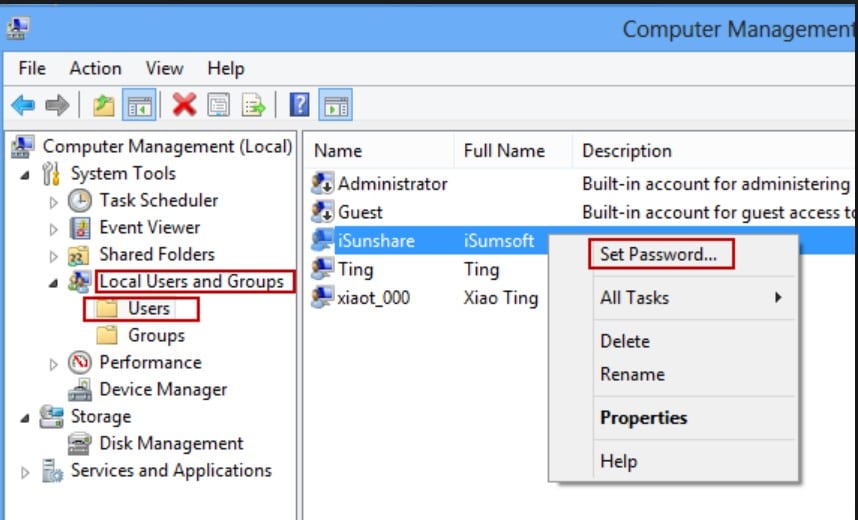 5. Then provide a new password and remember it or write it down on a paper so that you can use it in future.
6. Finally restart your computer and use the new changed password to access your Windows 8 PC again.
Method 2: Reset Windows 8 Password via Microsoft
When you are setting up your computer for the first time, you must use a Microsoft account to log in to your PC. This method will help you to bypass Windows 8 password without disk if you have used a Microsoft account to log into your computer. The following steps will help you to reset your Microsoft password online:
1. Start a browser from your computer or smartphone and visit this link to begin the process: https://account.live.com/password/reset.
2. From the first page, choose "I Forgot My Password" and then click on the "Next" button.
3. Then you will find a page where you need to provide the email or phone number that you have used to sign up in your Microsoft account before.
4. You will two options on the next page (Email or phone number) to receive a one-time password that you will have to provide Microsoft to successfully reset your Microsoft account.
5. Wait for some time to receive the code, then provide the code on that web page and choose new password for your account. You must remember the new password for future uses.
6. Finally, turn on your computer and use the new changed Microsoft password to login easily.
Method 3: Reset Windows 8 Password via Windows Password Recovery Tool
If you want to get a guaranteed result to reset Windows 8/8.1 password without disk then this method will help you the most. Only the best quality software that has proper features and mechanism, can offer you success to reset Windows 8/8.1 password without disk. Windows Password Recovery Tool can reset Windows administrator and user password with 100% successful recovery rate. It supports Windows 10, Windows 8.1, Windows 8, Windows 7 (32/64 bit), Windows Vista (32/64 bit), Windows XP, 2000, NT and Windows Server 2012 (R2)/2008 (R2)/2003 (R2) etc. File systems like FAT16, FAT32, NTFS and NTFS5 etc. are also supported. Here is how to reset Windows 8 password with this amazing Windows 8 password reset tool:
Key Features:
It can recover forgotten password for all Windows in a few minutes.
It can create a new administrator account easily without logon.
It can create USB flash drive disk or CD/DVD Disc.
Support Windows 10, 8.1, 8, 7, Vista, XP, 2000, NT.
Support Windows Server 2016, 2012, 2008(R2), 2003(R2), 2000, NT.
1. Download, install and launch the program on a computer and insert an empty USB drive on that PC. From the main interface of the software, click on the "USB device" and select that USB drive from the drop down list of your computer screen.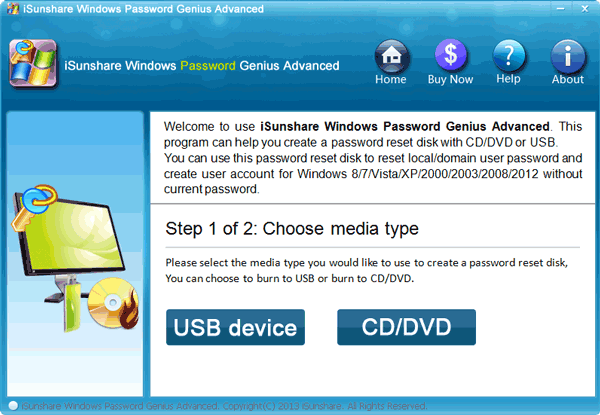 2. Click on the "Begin burning" button to burn the password resetting drive. It will take one minute or less time to finish.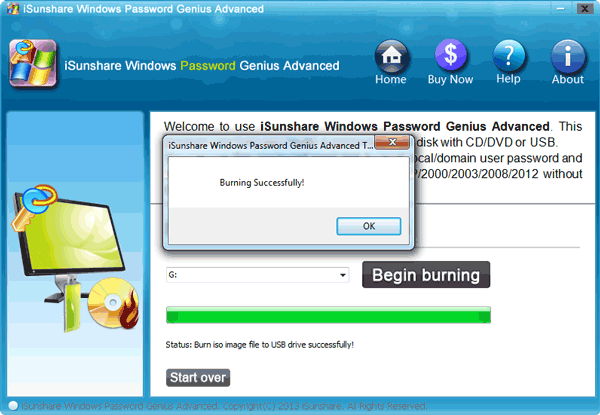 3. Now click on the "OK" button to finish the burning process.
4. After that, insert the bootable USB flash drive in your locked Windows 8/8.1 computer. Then restart it and press "F12" or "ESC" button to enter the boot menu.
5. Now select the USB drive as your boot device and press "Enter" to go to the next step.
6. You will see the interface of the recovery software in your computer screen.
7. From here you need to choose the Windows system and user account that you want to reset the password from. Next click on the "Reset Password" button to proceed.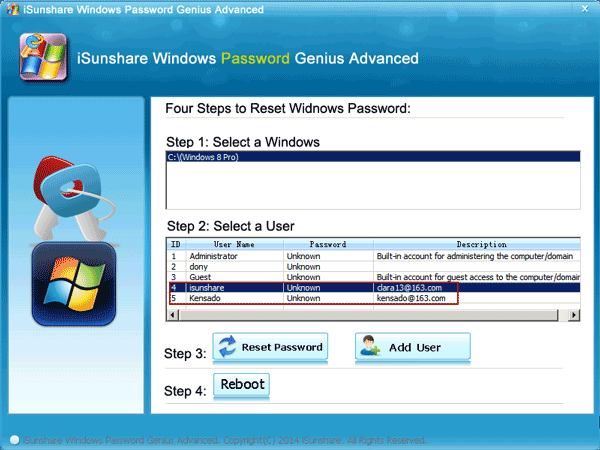 8. Finally, click on the "Reboot" button to restart your computer. You will be able to log into your Windows 8 computer without any password from now.
You now know the 3 best methods to reset Windows 8 password without reset disk all the methods are not that much easy without proper guideline and they are not hard also. All you need to do is follow the guideline in proper step by step process and you will be able to easily reset password of Windows 8 no password reset disk. If you ask which method will be best suitable for you that can give you a guaranteed result, then you can start using Windows Password Recovery Tool from now on.
Free Download
Buy Now