The role of passwords in the computing world can never be underestimated. In terms of security and privacy, we give it a thumbs up. However, forgetting your password can truly present an unfortunate sucking experience. You will always get logon screen but can't access your user account. This is no doubt a common problem to multitude of users across the globe. Fortunately, there are practical handy solutions that helps remove Windows 7 logon screen and Admin password. They range from using system provided options to incorporation of a third tool software. Generally, the choice of the tinker option depends on the magnitude of the problem as to whether you took the right password-related precaution prior the password loss.
Solution 1. Remove Windows 7 Logon Screen While Logged In
Step 1. Navigate to the "Start" menu and select the "Control Panel" to begin how to remove password Windows 7.
Step 2. When the Control Panel opens, hit the "User Accounts and Family Safety" link then "User Accounts" link as well.
Step 3. A window shall open prompting that you make changes to your account. Go through the list of options and choose "Remove the password" link.
Step 4. In the next screen, you shall be receiving a text box where you are supposed to enter your current password so as to authorize to remove password in Windows 7.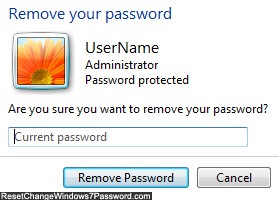 Step 5. Once you have entered the right password, simply click the "Remove Password" button and you have succeeded on how to remove password Windows 7.
Solution 2. Remove Windows 7 Logon Screen from Command Prompt via Installation CD (Forgot Password)
Step 1. Insert an installation CD and set up your Windows 7 computer to boot from this CD.
Step 2. Once booted from the CD, select "repair your computer" option and from the options displayed, click the "Command Prompt" to open the CMD.
Step 3. To begin Windows 7, remove password, enter the following commands one after the other and pressing the Enter key in your keyboard at the end of each command.
Command 1: copy c:\windows\system32\sethc.exe c:\
command 2: copy /y c:\windows\system32\cmd.exe c:\windows\system32\sethc.exe
After entering these commands, eject the installation disk used to remove password in Windows 7 and reboot your PC.
Step 4. Once you have restarted your windows 7 PC and the login screen is displayed, simply press the Shift key on your keyboard 5 times to open the command interface. Enter the command "net user username new password".
Your admin password shall be set to null and hence logon screen shall be removed.
Solution 3. Remove Windows 7 Logon Screen with Windows Password Recovery Tool (Forgot Password)
If you forgot Windows 7 password no reset disk and you are logged out of your computer, Windows Password Recovery Tool is the ultimate solution. The guide on how to remove Windows 7 password is as stipulated below.
Key Features:
It can recover forgotten password for all Windows in a few minutes.
It can create a new administrator account easily without logon.
It can create USB flash drive disk or CD/DVD Disc.
Support Windows 10, 8.1, 8, 7, Vista, XP, 2000, NT.
Support Windows Server 2016, 2012, 2008(R2), 2003(R2), 2000, NT.
Step 1. Get an accessible computer and install Windows Password Recovery Tool. Insert a reset disk like a bootable CD-ROM/DVD or USB.
Step 2. Launch Windows Password Recovery Tool on this computer and select the media type on the program's interface. This is done by clicking either of "USB device" or "CD/DVD" depending on the inserted media drive.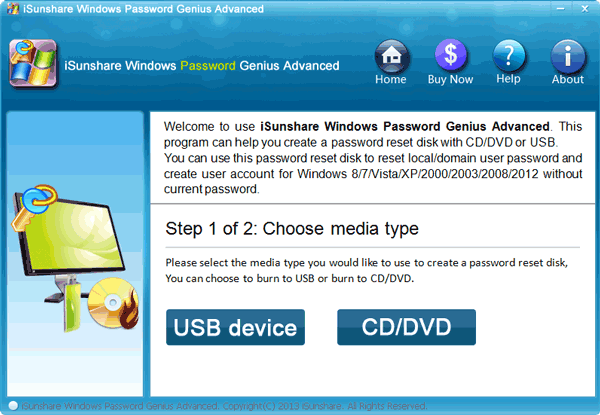 Step 3. From the subsequent screen, choose the reset disk and click "Begin burning". Monitor the disk burning process and remove the drive once it is successful.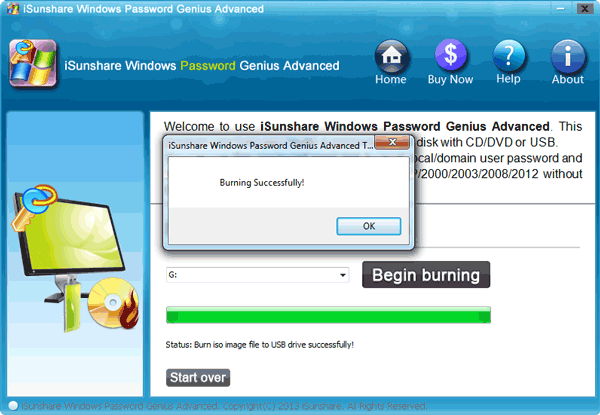 Step 4. Insert the burned reset disk into the locked computer and boot this Windows 7 computer from the disk. When the Windows Password Recovery Tool opens, just select the target user account to proceed on how to remove administrator password Windows 7.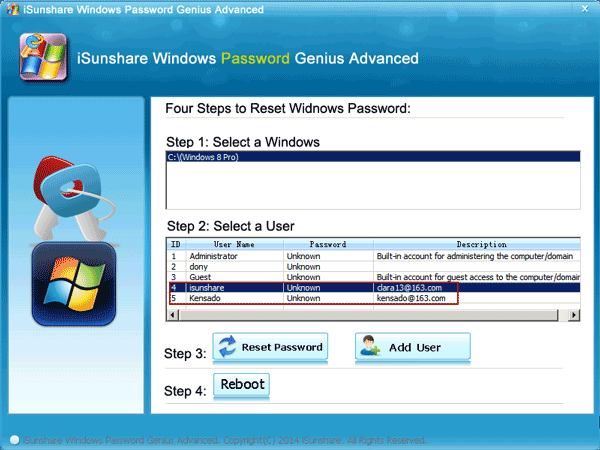 Step 5. Now hit the "Reset Password" button and then click "Yes" from the pop-up to remove password Windows 7.
Step 6. Finally, click on the "Reboot" button at the bottom of the program to restart your locked Windows 7 computer. Make sure you eject the reset disk to ensure that the system boots normally.
You are now through on how to remove password from Windows 7 if forgotten.
Conclusion
Removing logon screen and admin password on Windows 7 is definitely a flawless elementary task. However, the best experience is only realized with the best tinker option. Windows Password Recovery Tool is the king of the jungle in this field. Just try this amazing tool and be sure to make it indispensable.
Free Download
Buy Now