No one can underestimate the role of passwords in our daily lives as far as security comes into play. Passwords have definitely shown us the light in the way we control access to our systems. If you are a HP laptop user, you definitely understand how disgusting the feeling is when you forget your administrator password. The obvious solution would to find a way how to reset password on HP laptop without disk or how to reset administrator password on HP laptop easily.
Part 1. Reasons That May Lead to Forgetting HP Laptop Password
Forgetting password is just like forgetting that only key designated to your lock. There are definitely a host of reasons why people would forget password for HP laptop.
The primary cause is having an inconvenient password- a password that is difficult to remember, maybe too long or mix-up of weird characters. Also, if you have too many accounts with specific passwords, then there is a high chance of forgetting the right password for each account. At times being in a hurry or being relatively new to computer world may downplay on your side the importance of a password.
Part 2. What Happens If You Forgot HP Laptop Password
In all these cases, forgetting HP laptop password becomes quite hectic and may inconvenience or even cost you more than you imagined. In fact, with the current world where every transaction has shifted to computing, your business and other management roles may come into a standstill. At the end, you will have to run up and down looking for the best way to reset forgotten password for HP laptop. The stress of halting your transactions will definitely hit you. It is therefore crucial to keep your password safe as much as you can.
Part 3. How to Reset Password on Hp Laptop Using Windows Password Recovery Tool
Windows Password Recovery Tool is a magnificent Windows password recovery software which happens to be a top pick for multitude of users across the globe. The program is simple in design and hardly gives any navigation challenges. With your locked HP laptop, this program has the capability to bypass the administrator password and let you access your account once again. Here are the steps on how to reset forgotten password on HP laptop without disk.
Key Features:
It can recover forgotten password for all Windows in a few minutes.
It can create a new administrator account easily without logon.
It can create USB flash drive disk or CD/DVD Disc.
Support Windows 10, 8.1, 8, 7, Vista, XP, 2000, NT.
Support Windows Server 2016, 2012, 2008(R2), 2003(R2), 2000, NT.
Step 1. Install and open Windows Password Recovery Tool on any of an accessible computer. Now plug a bootable USB/DVD/CD-ROM drive in this accessible computer.
Step 2. Select either of the "USB device" or "CD/DVD" option depending on the media drive inserted.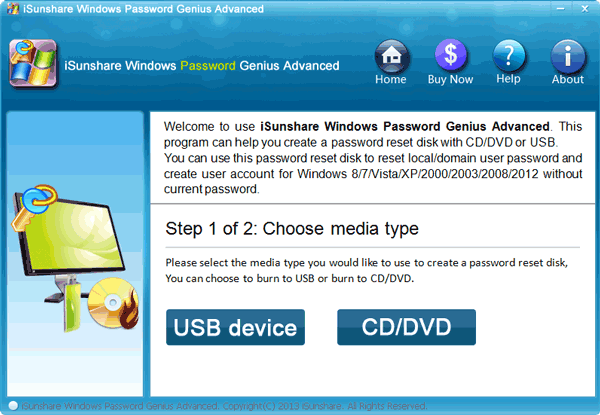 Step 3. On the new window, select the drive in the drop-down list and click "Begin burning" button to create a password reset disk. When the windows password reset disk is finally created, a pop-up bearing the confirmation message is displayed. Click "OK" to finish.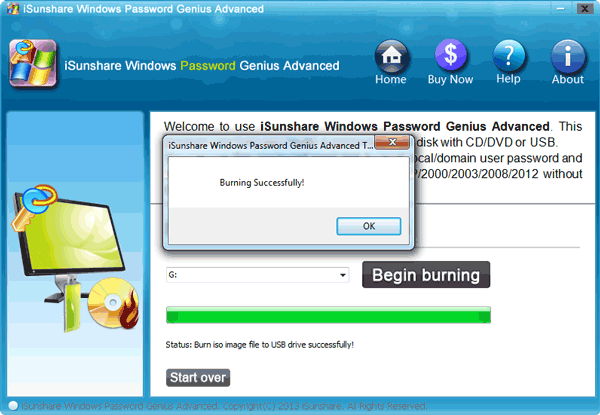 Step 4. Now eject the media drive from the accessible computer and insert it in your locked HP laptop. Set-up your locked HP laptop for reboot from the media drive inserted and the Windows Password Key should start.
Step 5. Choose the windows system and the user account you wish to reset the password. Once highlighted, hit the "Reset Password" button at the bottom of the window. You can as well click the "Add User" button if you want to create a new user account. Again click "Yes" on the pop-up window to confirm.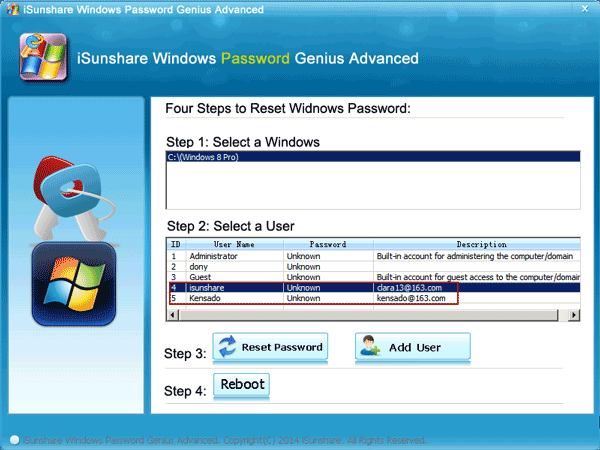 Step 6. Finally, click on the "Reboot" button located at the bottom of this window and instantly eject the media drive. Now navigate to the login screen and unlock your HP laptop using the reset administrator password.
Part 4. How to Reset Password on Hp Laptop with HP Recovery Manager
This is a way to reset password on HP laptop without disk but with HP Recovery Manager:
Step 1. Turn on your HP laptop. Now press F11 key severally until you see the "Recovery Manager" window.
Step 2. This window is partitioned into 3 sections. Under the "I need help immediately", hit the "System Recovery" option.
Step 3. Now if you had not backed up your files, just choose to backup. Otherwise, choose the "Recover without backing up your files" options and hit "Next".
Step 4. Stick to the subsequent on-screen instructions to complete the recovery process. Remember, depending on the windows version. Visit the official HP site and get more details.
Step 5. Once the system recovery is complete, your HP laptop password is reset without disk. Now your HP laptop is set up as new. You will therefore have to configure the initial settings and then reinstall all the applications you require.
Conclusion
As you can see, all the aforementioned methods can be applied when you want to perform hp laptop password reset without disk. However, a more superior option is the use of Windows Password Recovery Tool. With this program, you can bypass the administrator password on locked HP laptop without data loss. This is not the case with other options as you can risk erasing all your data to get access a locked computer.
Free Download
Buy Now