"Is there any way to get access to my Windows PC without password? I got myself locked out of my computer, I set the new password last night but I was not paying attention. So, I kind of forgot the new password and now I can't unlock it to access my files. Is there any way to unlock it?"
Getting access to a locked Windows PC is easy but you will need the appropriate tools for that. Offline NT password & registry editor Windows 10, is one of the oldest ways to unlock Windows user account and it is effective but it is also considered as a bit complicated. So, I have also come up with two best alternatives to it. So, let's get started.
Reset Windows 10/8.1/8/7 Password with NT Password
The first method is called NT password recovery. It is a very effective method and you can use NT password Windows 8.1 and NT password Windows 8 easily. The NT password Windows 10 is also very effective and all of them works well if it is executed right! Let's have a look at how to use Offline NT Password & Registry Editor:
Step 1: Download the ISO from the official website and burn it on a USB drive.
Step 2: After the bootable disk is created, connect it to the locked computer. Reboot the computer and NT Password will load automatically.
Step 3: When you see "Boot" on the screen, just press "Enter" to start the procedure.
Step 4: The program will list all the partitions on your hard drive but you need to select the one that contains Windows.
Step 5: Then, just make the default choices and press "Enter". You will select the edit option when you are asked for the user data and passwords. Enter the username but the password is deleted, press "Enter".
Step 6: Again, select the default option and choose to clear the password for the locked account. Now, the password is gone.
Step 7: Now, exit the wizard. First, tap "!" and then hit "Enter" and then press "q" then "Enter".
Step 8: In the final stage you need to confirm the changes, press "y" and hit "Enter". Also, hit "Enter" again to make sure that no other actions are necessary.
Step 9: Now, just disconnect the USB and restart your computer.
Now, you will be able to access Windows without typing any password. It is effective but many users claim that this is a very complicated method and rightfully so! If you also feel that you need to read the alternatives discussed below.
Best Alternative to Reset Windows 10/8.1/8/7 Password – Windows Password Recovery
Unfortunately, NT password reset is too complicated for most people. I used NT password Windows 7 and it was way too complicated even for me, even though I am very much acquainted with such procedures. So, I was looking for a suitable alternative and came up with Windows Password Recovery.
Key Features:
It can recover forgotten password for all Windows in a few minutes.
It can create a new administrator account easily without logon.
It can create USB flash drive disk or CD/DVD Disc.
Support Windows 10, 8.1, 8, 7, Vista, XP, 2000, NT.
Support Windows Server 2016, 2012, 2008(R2), 2003(R2), 2000, NT.
If we just stop thinking about NT Password for a moment, this by far the best tool I have ever used. It supports Windows 7, 8 and 10, also capable of bypassing Administrative account password. Let's have a look at its operating procedure:
Step 1: Windows Password Recovery Tool uses a simple but elaborate procedure. So, you need to use another computer, where you will download and install the program and then connect a USB drive.
Step 2: Now, run the program and choose your USB drive.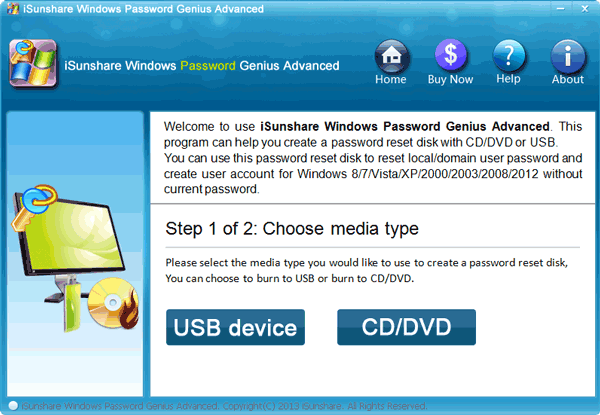 Step 3: Then, in the next window tap on "Begin Burning".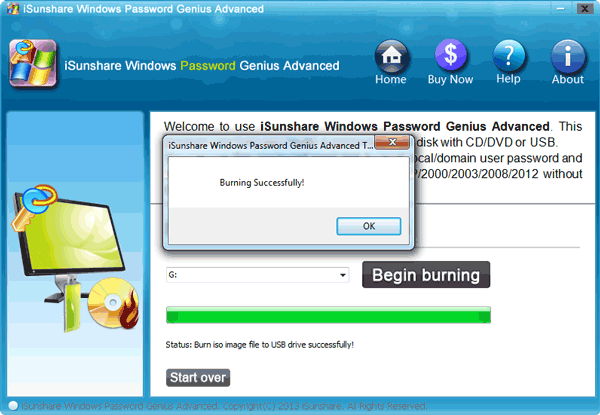 Step 4: After a minute the procedure will complete, click "OK" to exit the wizard. Now, you have a bootable USB drive in your hands.
Step 5: Connect that USB drive to the locked computer and restart it.
Step 6: Tap "ESC" to "F12" until you enter the Boot Menu. Here, you need to use the Arrow keys to highlight the USB drive and then press "Enter".
Step 7: Now, all you have to do is to select the windows system and the locked user account and click "Reset Password".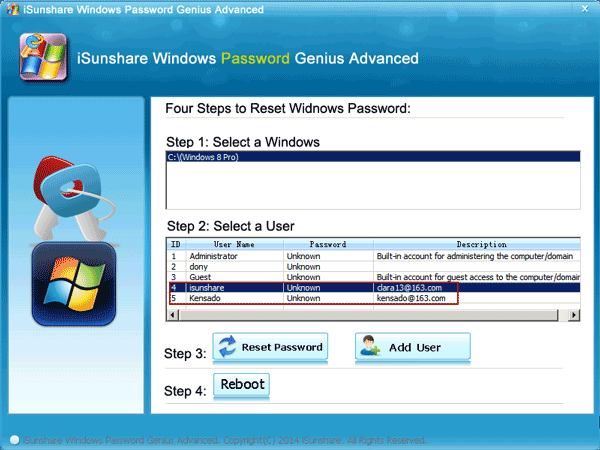 And it is done. It is as easy as that! The password will reset successfully and afterwards you need to click "Reboot". The computer will restart but you won't have to provide any password to access Windows without password.
Another Alternative to Reset Windows 10/8.1/8/7 Password – PC Unlocker
If you want another way to get the job done, PC unlocker can help you. It is another exclusive alternative to NT password reset/Offline NT Password Reset. This is also a third-party program that you need to install on the computer in order to make a Recovery Disk. Let's have a look at its operating procedure:
Step 1: Download PC Unlocker on your computer and then extract the file. The extracted ISO file must be burnt into a USB drive.
Step 2: Now, reboot the locked computer. When the computer is starting up press "Delete" or "F8" to enter BIOS!
Step 3: In the boot menu, set the USB drive as a 1st boot device and then press F10 to save changes.
Step 4: Now, connect the USB drive and restart it; the boot screen will appear immediately after the restart and then the program will load automatically.
Step 5: Choose the Windows SAM registry file and all the user accounts will be listed automatically.
Step 6: Now, just select the locked user account and click "Reset Password".
After the password is reset, you need to click on the "Reboot" button to restart the computer and you will have unrestricted access to Windows.
Conclusion
Although you were introduced to NT password recovery with the help of Offline NT Password program and without a doubt it is very effective, it is a very complicated and elaborate method. Those who are first time users will definitely have problems. So, the alternates will be a much better option. Especially, if you take a look at Windows Password Recovery, you will see how easy it is to operate, and quite effective too. I use it myself and I highly recommend it from my side.
Free Download
Buy Now