Have you forgotten the administrator password of your Windows 7 computer and have been rejected for entering the wrong password a thousand times when trying to access the computer? Is there any way to recover access to the equipment? Don't worry, this article will tell you how to reset Windows 7 password with USB password reset disk.
Method 1. Reset Windows Password with Created USB Password Reset Disk
Step 1. Turn off the locked PC, insert the created Windows 7 password reset disk and turn it on again.
Step 2. When Windows asks for your password, press Enter or click on the button with an arrow.
Step 3. There will be a message saying that the password is incorrect (nothing that surprises you). Press OK.
Step 4. Now you will see the "Reset password" link under the password field. Click on it.
Step 5. Click Next in the wizard. If there is more than one connected USB, choose from the drop-down list which is the one to reset the password. If there is only one, just click Next.
Step 6. Write a new password and confirm it by repeating it. Do not put any indication of password. Advance with Next and end with Finish.
Method 2. Reset Windows Password with Windows Password Recovery Tool
If you need to reset your Windows 7 password without created password reset disk, the Windows Password Recovery Tool can help you solve this problem.
It is the world's first Windows password recovery software that creates a bootable CD/DVD or USB flash drive and allows you to reset password for Windows 7, Windows 8, Windows 10. The program is designed to work in different disk configurations such as IDE, SCSI, SATA, USB, SAS and RAID. Supports system files in FAT, FAT32 and NTFS.
Key Features:
It can recover forgotten password for all Windows in a few minutes.
It can create a new administrator account easily without logon.
It can create USB flash drive disk or CD/DVD Disc.
Support Windows 10, 8.1, 8, 7, Vista, XP, 2000, NT.
Support Windows Server 2016, 2012, 2008(R2), 2003(R2), 2000, NT.
To start you will need another computer where you can download the program and create the password reset disk from it.
The program has a very simple design, so that anyone can understand it.
The program gives you different options for you to choose, such as what kind of boot you want, on CD/DVD or USB? After choosing what kind of boot you want, we select the inserted CD/DVD/USB, then click on the "Begin Burning" button. Please note that the program will format all the information you have in the CD/DVD or USB to create the boot disk, so be sure to make a backup before using it.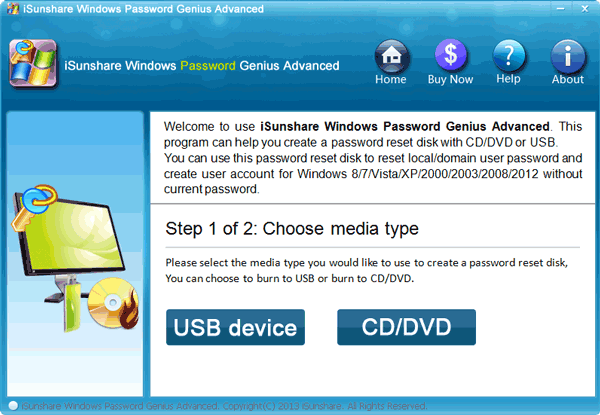 After a white, it will automatically create a boot disk for you. Once you have finished click on the "OK" button and disconnect your USB or CD/DVD.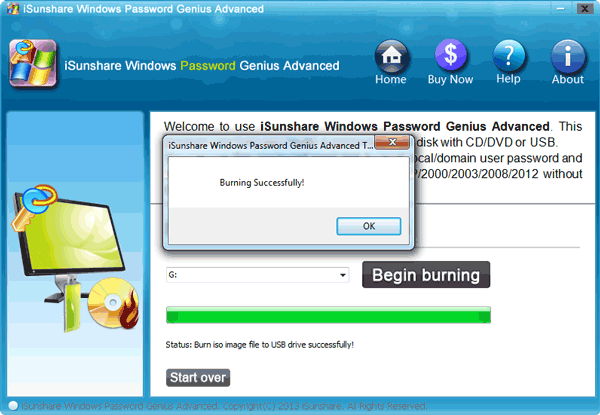 Now, plug the USB or insert the password reset disk in the computer that you want to reset the password. Turn it on and make sure you have configured the BIOS to boot from a USB or CD/DVD drive. You will see a screen to run with Windows Password Recovery Tool.
Now we need to choose the Windows system and user profile that we want to reset the password (if you have several). The program will also show you other details such as which user is an administrator. We select the user and click "Reset Password".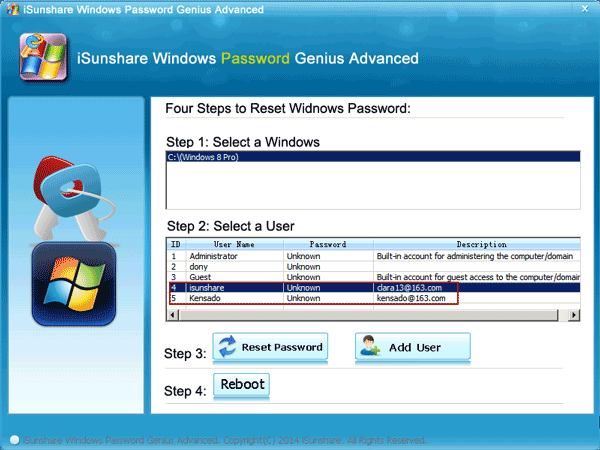 Then we will reach the last step, which it will erase the current password. Now we just have eject the password reset disk and click "Reboot" button, then the computer will restart.
Additional Tips. How to Create a Windows 7 Password Reset Disk While Windows is Operating
If you don't want to use the third-party program, the USB to reset the password can only be created while Windows is operating. You will not be able to do it if you have forgotten Windows 7 password and you can not get into your locked PC. Believe it already in anticipation that one day you will not remember it.
This method will let you indicate a new password if you forget the old one. It is perhaps the most reliable of all available, but it is not 100% infallible. The best option is always to be able to remember your password.
Step 1. Enter the Start menu and type "user accounts" in the search field below. Then click on the link with the same name as the results list.
Step 2. Click on the Create a disk to reset password link. It is on the left, the third.
Step 3. Insert a USB. Only after doing so, press Next on the wizard that is running. Ideally, the USB is empty.
Step 4. If you only have that connected USB, proceed with Next. If there are other USB, you will have to click on the drop-down list and choose in which one to create the disk to reset the password (and then click Next).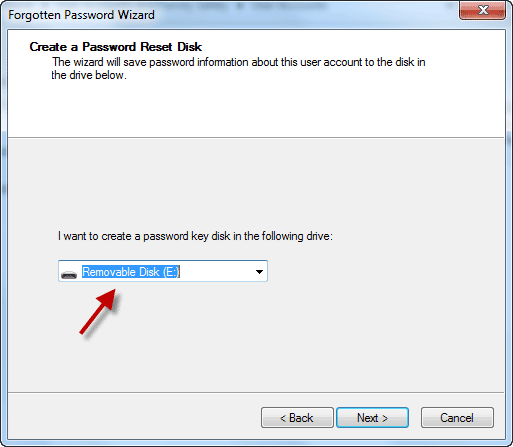 Step 5. Enter your current password Press again Next.
Step 6. You will see a progress bar. When you dial 100%, click Next and then Finish.
Free Download
Buy Now