Getting locked out of your computer is very common these days. Every user wants to use an extra layer of protection and they fail miserably after forgetting the password. We are human beings and we are bound to commit some mistakes once in a while.
But it is quite usual and that's the reason HP has included a Recovery Manager to its Laptops. So, if you got locked you out of your HP Laptop then you can use this exceptional feature to fix it. There are other recovery methods as well. So, in this article, you will find 3 best ways on how to bypass password on HP laptop, without the password. Follow the details below.
How to Bypass Password on HP Laptop with HP Recovery Manager
These days almost all the laptops come with a Recovery Manager. They are very helpful when you need to format the device. You don't have to find a disk anymore. But if you are in trouble and got yourself locked out of your HP Laptop and don't know how to bypass password on HP laptop Windows 10 without the password, just remember that you have HP Recovery Manager to reset the device.
It is a very modern and efficient solution to the said problem. Here's how to bypass password on HP laptop Windows 8 with HP Recovery Manager:
Step 1: Restart your HP Laptop and start tapping F 11. A Choose an Option Screen will appear.
Step 2: Click on Troubleshoot, it will lead you to the Recovery Manager.
Step 3: Now, you are in the HP Recovery Manager. Click System Recovery under Help or you can find it in the I need Immediate Help section.
Step 4: Choose to Back up your files, first or Recover without backing up your files. It depends on your needs but we recommend the first one. Afterward, click Next.
Step 5: Now onwards you have to follow the prompts on the screen. Doing this will wipe out everything you have done so far with the laptop and will also take it to the state when you first bought the laptop. Then, you will be able to log in to the Laptop without the password.
This is the general way to get out of such a situation and you will find it in every HP Laptop these days. It results in data loss, so, use it wisely.
How to Bypass Password on HP Laptop with Windows Password Recovery Tool
HP Recovery Manager is an excellent way to reset the password of the laptop but if you don't like it or having trouble with it, you can always use a professional password recovery program to bypass the password.
Such programs are in trend, these days. A lot of people are using it, so, you can also use it for HP laptop password bypass. There are several similar programs available but without a doubt, Windows Password Recovery Tool is best among them. It is a password recovery tool which can bypass/reset your password in a matter of minutes. Some simple steps and you will be done!
Key Features:
It can recover forgotten password for all Windows in a few minutes.
It can create a new administrator account easily without logon.
It can create USB flash drive disk or CD/DVD Disc.
Support Windows 10, 8.1, 8, 7, Vista, XP, 2000, NT.
Support Windows Server 2016, 2012, 2008(R2), 2003(R2), 2000, NT.
So, here's how to bypass password on HP laptop using this software:
This is a two-step procedure, you have to make the recovery CD and then you are going to use it on the locked Laptop. So, let's begin:
Step 1: Get the program from its dedicated website and run it. Select USB as the medium from the menu.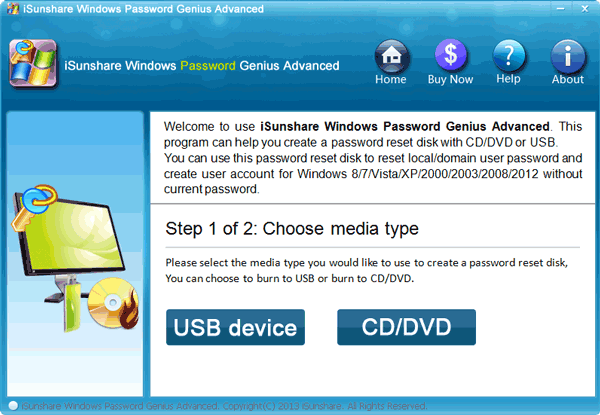 Step 2: Now, connect a black USB drive and click Begin Burning.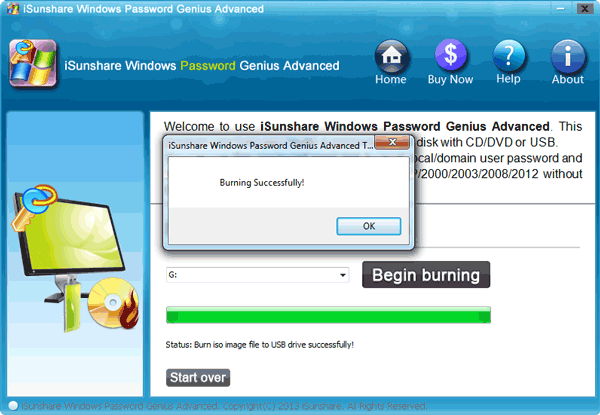 Step 3: After finishing, you will have the complete reset disk on your hands. Click OK to close the wizard.
Step 4: Now, take that USB drive and connect it to the locked Laptop. Restart the Laptop.
Step 5: Access the Boot Menu by tapping ESC or F12.
Step 6: In the Boot Menu, select the USB. Then, use the Arrow keys to highlight the option and Enter to select. The Windows will load the recovery tool.
Step 7: When in the program, choose the Windows System and the locked account. Afterward, click Reset Password.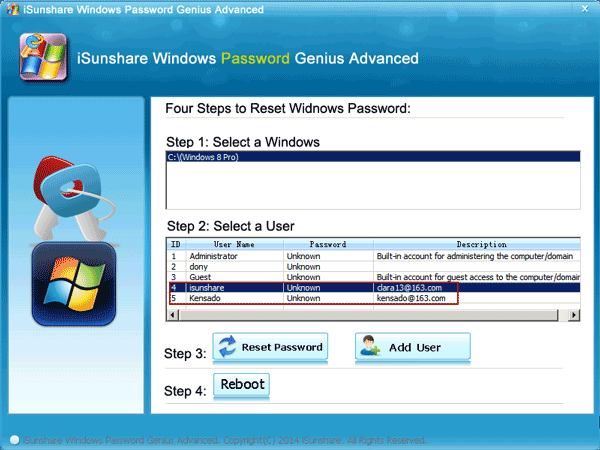 Step 8: When the Reset is successful, click Reboot.
Hopefully, you will not be asking "how to bypass password on HP laptop Windows 7" anymore. The use of Windows Password Recovery Tool is exceptionally easy and effective.
How to Bypass Password on HP Laptop with OphCrack
This is probably the oldest method to reset HP laptop forgotten password in this article, but it is effective. There are actually multiple Linux CDs available in the market that are quite capable of resetting Windows password and among them, OphCrack is the best.
Operating the OphCrack program is very easy. Here's how to get past a password on an HP laptop with the said program:
Step 1: To begin with, you have to download the OphCrack CD image from the internet. It takes about 700MB space, possibly less.
Step 2: Then to use it you have to burn that image onto a CD. Now, insert it into the locked HP Laptop.
Step 3: Then, restart the Laptop to access BIOS. In there, you need to change the First Boot Device to CD/DVD.
Step 4: Now, you will be prompted to choose the Graphics Mode. So, select Ophcrack Graphics Mode-Automatic.
Step 5: Now, just Boot the CD and Ophcrack will be launched automatically and begin its work.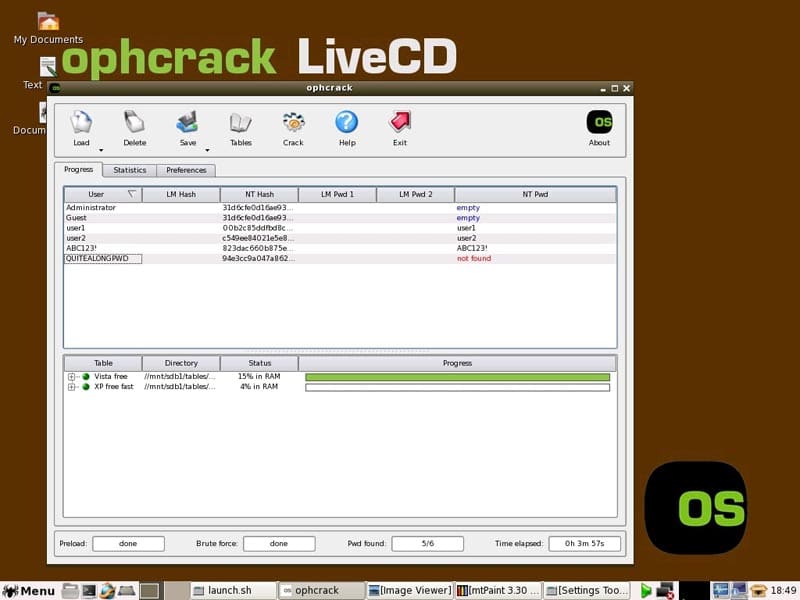 Step 6: The duration of the procedure completely depends on the complexity of the password. It can be minutes but also hours. When it is finished, the recovered password will be found under NT Pwd.
It is a different method compared to any other but it works effectively. Although, it may be a bit slow for today's standard.
Conclusion
So here are 3 of the best methods on how to get past a password on an HP laptop. No matter how you see it, OphCrack is good but it is too old and takes a lot of time to recover the password. So, all you have is the HP Password Manager and if you are not comfortable with it, you have Windows Password Recovery Tool to fix the laptop. In our opinion, it is the best tool for this job and going by the operational procedure it is undoubtedly easy to use and extremely effective. Go for it!
Free Download
Buy Now