Asus has been one of the top players in the field of technology for years now. Asus has one of the best laptops in the market with best in class hardware. The userbase of Asus laptops has been continuously increasing since the last few years and they have been teaming up their laptops with Genuine Windows operating system to provide a seamless experience to the users. However, now and then users often face an issue while accessing their Windows account. The issue seems to be very common due to reasons like users have forgotten the password. In such cases, the user often searches the internet for things like Asus laptop password reset to find the best possible solution for getting back the access to their Windows account. If you are one of them and say, I forgot my Asus laptop password. Then you need to follow this article to learn the best method that reset password on Asus laptop.
Method 1: Reset Asus Laptop Password via Microsoft Account Service
If you set up a Windows 8/8.1/10 Asus laptop, then you need to login to your laptop by using your Microsoft account information. The first thing you can do to reset Asus laptop forgotten password is use the Microsoft account service and reset your Microsoft account password. Follow the below guideline to complete this process:
Launch your browser in an accessible computer and visit this link to proceed to the next step, https://account.live.com/password/reset.
Then you need to select "I Forgot My Password" button and click on "Next".
You will need to provide the email or phone number that you have used to sign up in your Microsoft account before, on the next page of this process.
Then you will get two options from Microsoft – Email or phone number, to receive a one-time password. You will have to provide that one time code to successfully reset your Microsoft account password.
Next enter the code after receiving it one your phone and choose new password for your Microsoft account. This time you must remember the new password that you have set now.

In the end, turn on your Asus laptop and use the new changed password to login.
Method 2. Reset Asus Laptop Forgot Password with Command Prompt
Setting up a complex password for your Asus laptop is very important to make sure that any unauthorized access is prevented. However, one drawback of keeping a complex password for your laptop is that it is very hard to memorize and noting it down somewhere will always have the problem of revealing it. Therefore, this always leads to a problem where users often forget the password. Another reason when people are unable to login to the Windows 10 accounts is when some major updates are installed on Windows 10. During that time, when the Windows restarts, people are unable to login with the same password. No matter the reason due to which you are unable to login, but the major question is "how to reset the password on Asus laptop". One of the most common solutions that you will find online for this problem is by resetting the password on the Asus laptop using the command prompt. Let's have a look at how it's done.
Step 1: Insert the Windows bootable disk and restart the computer.
Step 2: Press the SHIFT key on the keyboard at least 5 to 6 times after the welcome screen is visible. Once you do that, the command prompt screen will appear.
Step 3: Once the command prompt window opens, enter the command.
copy c:\Windows\system32\sethc.exe c:\
Step 4: Hit "Enter" key after the previous command and give a new command on the screen.
copy /y c:\Windows\system32\cmd.exe c:\Windows\system32\sethc.exe
Step 5: After you have entered the two commands, exit the command prompt window and restart the Asus laptop. Once it restarts, make sure to press the SHIFT key again 5-6 times at the welcome screen to start the window for command prompt.
Step 6: Now you need to enter the following command:
net user username password
Here username is the username of your Windows account and the password will be the new password you want to set.
Step 7: Now press the Enter key and restart the Asus laptop. Once restarted, you can successfully login to Windows on your Asus laptop.
If you search online for "how to reset the password on Asus laptop", this might be one of the most common solutions you will come across. The only drawback of this solution is that it does not guarantee 100% success every time and it might be a little complex for people who are technically not that sound. Novice users always look for a solution that is easy to process and does not require any technical knowledge. Simple instruction and easy processes are what they will go for. Since this method needs to use the command prompt, it is apt for people who are technical and know how to use the command prompt window.
Secondly, the process does not guarantee success in this process. A user might or might not be able to successfully reset the password on the Asus laptop. Therefore, you can surely use this method once, and if it works you will have the solution to the login issue.
Method 3. Reset Asus Laptop Forgot Password with Windows Password Recovery
While searching for "how to reset the password on Asus laptop without disk" on search engines, you will often find references and links to many different third party software, which guarantees to reset the password for your Windows account. Most of these software does not have a success rate and you can find a lot of negative feedback online for the same. Also, there are many scam software online that can steal all your important data while they are running on your system. However, there is some genuine software online as well that can help you reset the password on your Asus laptop and also help in other issues.
One such genuine and successful software is Windows Password Recovery. The software has been popular among the users due to its efficient and easy to use interface and answers the most common customer question on how to reset password on asus laptop. This software can be used by not only a technical person but also by someone who is a novice in technology. One simply has to download the free trial software and install the program. After that, you simply need to follow the instruction and click the specific button. Within a few minutes, you will be able to access your Windows account again. Let's have a look at the detailed steps and screenshot on how it can be used.
Step 1: Click on the "Free Download" button to download the trial software.
Free Download
Buy Now
Step 2: Once the software has been installed, start it and choose the Flash Device. In case you do not have a pen drive or flash drive, CD/DVD is also another option you can go for.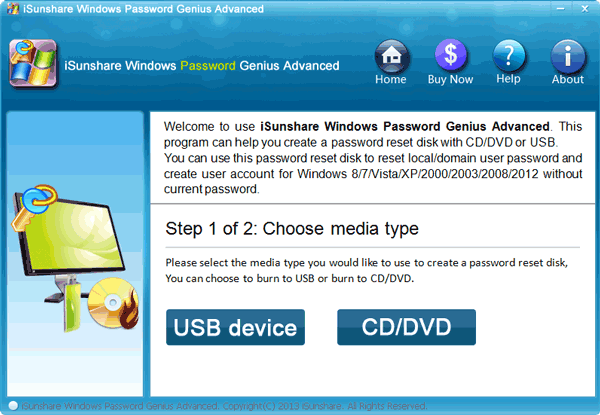 Step 3: Insert the flash drive and click on "Begin Burning". This step will start burning the password reset disk on the flash drive. Once it is completed, you will get a popup window like the image below to show the completion.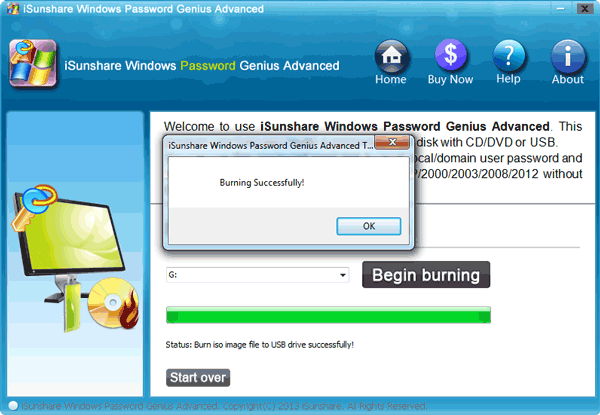 Step 4: After some time, you will see the screen with the message burning complete.
Step 5: After this, you can simply restart the Asus Laptop. Once the laptop starts, you can see the Vendor logo. This is where you need to press the menu key until the boot menu is on the screen.
Step 6: In this step, you will find the name of your USB flash drive or the CD/ DVD drive, you have just successfully burned in the previous steps. Select this option to boot.
Step 7: This will start the Windows Password Recovery software where you need to select the account by clicking it and simply click ok "Reset password". Once done, you can click on "Reboot". You can also create a new user account from the same screen and reboot after completion.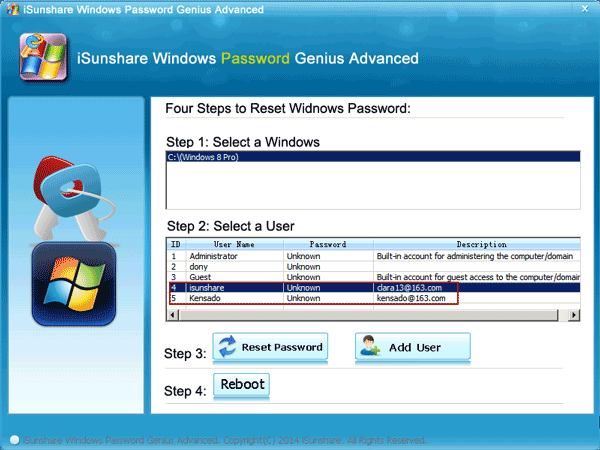 Once, you have completed all the steps as per the instruction, the password for your Windows account on the Asus laptop will be reset. The major advantage of using this software is that does not change or modify your data or Windows settings in any way and will never change the user account preference. Also, the software works every time and on any Asus laptop with Windows operating system Unlike other third party software in the market, Windows Password Recovery can be used by any type of user and is very easy to follow by the online step by step guide. You can always purchase the trial software from their website and later purchase it after you are satisfied with it.
Method 4. Reset Asus Laptop Forgot Password with Admin Account
Another common solution for resetting the Windows password on Asus laptop is through another Admin account on your laptop. If your laptop has multiple user-profiles and one of them is an Admin account, then you can reset the Windows account password through that admin account. This is an easier way for users before they finally decide to re-install Windows. When it comes to how to bypass password on asus laptop, this is one of the best possible wasy to do so. The steps to complete this process is mentioned below.
Step 1: Login to the other admin account and then click on the "Start" button and guide to the "Control Panel" option.
Step 2: Once you are in the Control Panel window, select the "User accounts" options and then select "Family Safety" >> "User accounts".
Step 3: Click on the option "Add or Remove User account", after which you will see the list of all the accounts on the Asus laptop.
Step 4: Now select the account, you want to reset the password for and click on the "Change" or "Remove" button to reset the password or remove it.
Once you change or reset the password, you can restart the laptop and try to login to the other Windows account. This time, you can access your account. This technique can also be used as a preventive measure for the future where you can create an admin account on the laptop, that can be used in a situation like this. Also, the process is very easy and can easily be done by any kind of user. Make sure to keep the password of the other admin account complex and easy enough for you to remember.
Method 5. Reset Asus Laptop Forgot Password with Admin Account
If you are a Windows 10 user then you should know that, Microsoft has added an option in Windows 10 where you can easily reset your computer/laptop. You can access this feature by using UEFI mode or you can enable reset option from advanced functions of your laptop. The most important thing that should remember is that all personal data would be gone forever if you chose this method for Asus laptop password reset in Windows 10/8/7. Here is how to do it:
1. First you need to restart your Asus laptop while holding the "SHIFT" button on your keyboard. You can also go to "Settings" and then choose "Update & Security". Click on "Recovery" and then select "Reset", then click on "Get Started".
2. Next you need to select the option called "Remove everything" and it will delete the password protection as well as personal files on the system drive of your Asus laptop.
3. Finally the laptop will restart and the process completely resets you laptop to factory state slowly. It can take hours to complete the reset process, so don't be impatient and wait till it finishes. You need to keep the power cord connected to your laptop because you don't want your laptop to shut down for lack of power during the process.
Your Asus laptops password is easy to reset when you have a proper guideline to follow. Asus laptop forgot password issue is common among all the Asus laptop users. So if you are one of them, then without worrying too much just follow the guideline from here and use Windows Password Recovery Tool to get the best result. You can use any methods from here but you already know the best tool that you can use to solve your problem.
Free Download
Buy Now