Asus is a big name when it comes to laptops and tech industry. Asus laptops are very famous among all of us who love using laptops. If you are an Asus laptop user and you have been using your laptop for some time, then your Laptop must be very important to you. The data inside your laptop is more valuable because it's important to your professional or personal life. So if you forgot Asus laptop password, then there is no need to panic anymore. With the help of this article, you are going to learn about Asus laptop forgotten password reset in Windows 10/8/7. Man users have this common problem and they get locked out of their Asus laptop. If you are one of them and say, I forgot my Asus laptop password. Then you need to follow this article to learn the best method that reset Asus laptop password.
Method 1: Reset Asus Laptop Password via Microsoft Account Service
If you set up a Windows 8/8.1/10 Asus laptop, then you need to login to your laptop by using your Microsoft account information. The first thing you can do to reset Asus laptop forgotten password is use the Microsoft account service and reset your Microsoft account password. Follow the below guideline to complete this process:
Launch your favourite browser in an accessible computer and visit this link to proceed to the next step, https://account.live.com/password/reset.
Then you need to select "I Forgot My Password" button and click on "Next".
You will need to provide the email or phone number that you have used to sign up in your Microsoft account before, on the next page of this process.
Then you will get two options from Microsoft – Email or phone number, to receive a one-time password. You will have to provide that one time code to successfully reset your Microsoft account password.
Next enter the code after receiving it one your phone and choose new password for your Microsoft account. This time you must remember the new password that you have set now.

In the end, turn on your Asus laptop and use the new changed password to login.
Method 2: Reset Asus Laptop Password with Windows Password Recovery
If you want to know about Asus laptop forgotten password reset in Windows 10/8/7 then you can do it with the help of Windows Password Recovery. This one of a kind software can reset forgotten or lost administrator and standard user password in Windows 10/8.1/8/7/XP/Vista in a very short time. The amazing features and user friendly interface will help you to unlock Asus laptop password in Windows 10/8/7 within a few clicks. Here is how to do it:
Key Features:
It can recover forgotten password for all Windows in a few minutes.
It can create a new administrator account easily without logon.
It can create USB flash drive disk or CD/DVD Disc.
Support Windows 10, 8.1, 8, 7, Vista, XP, 2000, NT.
Support Windows Server 2016, 2012, 2008(R2), 2003(R2), 2000, NT.
1. First you need to download, install and launch the program on a computer/laptop and insert an empty USB drive on that computer. Now from the main interface of the software, click on the "USB device" option and select that USB drive from the drop down list that you will get in your computer screen.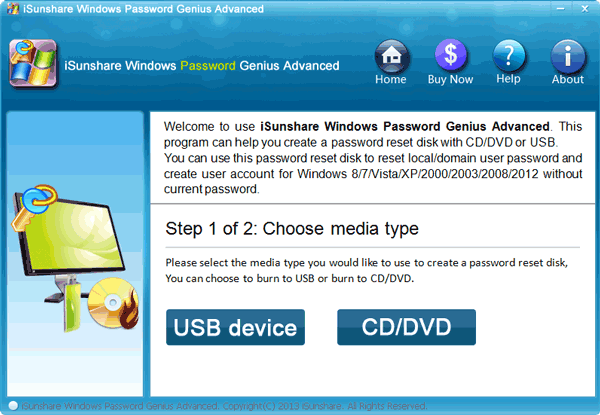 2. Then click on "Begin burning" to burn the password resetting drive. It will finish within 1 minute time.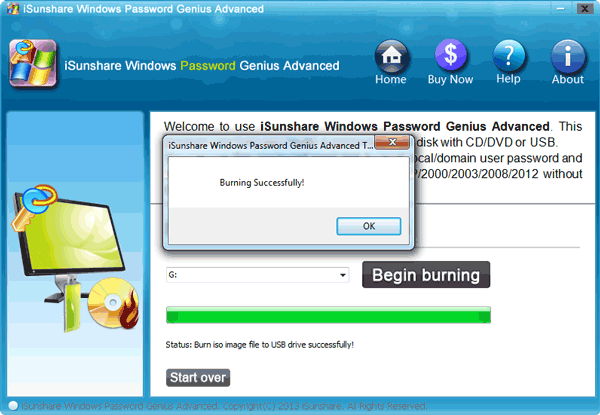 3. Then click on the "OK" button and finish the process.
4. One the next procedure, you need to insert the bootable USB flash drive in your locked Asus laptop. Then reboot it and enter the boot menu by pressing the "F12" or "ESC" button.
5. Then select the USB drive as your boot device and press the "Enter" key.
6. The main interface of the recovery software will come up in your laptop screen.
7. Choose the Windows system and user account that you need to reset the password from. Then click on the "Reset Password" button.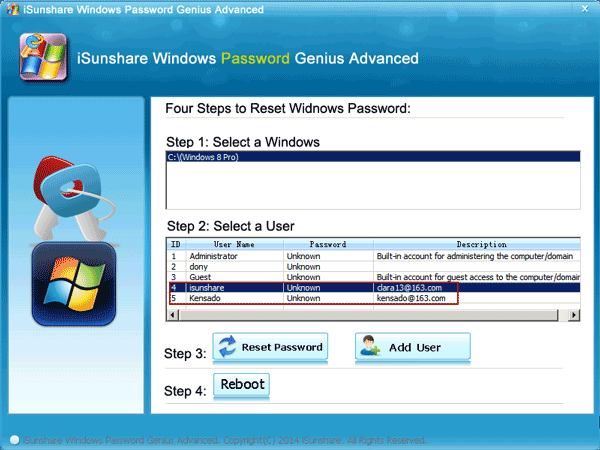 8. Finally, you need to click on "Reboot" button to restart your Asus laptop. You will be able to log into your laptop without any password from now on.
Method 3: Reset Asus Laptop Password via Factory Reset
If you are a Windows 10 user then you should know that, Microsoft has added an option in Windows 10 where you can easily reset your computer/laptop. You can access this feature by using UEFI mode or you can enable reset option from advanced functions of your laptop. The most important thing that should remember is that all personal data would be gone forever if you chose this method for Asus laptop password reset in Windows 10/8/7. Here is how to do it:
1. First you need to restart your Asus laptop while holding the "SHIFT" button on your keyboard. You can also go to "Settings" and then choose "Update & Security". Click on "Recovery" and then select "Reset", then click on "Get Started".
2. Next you need to select the option called "Remove everything" and it will delete the password protection as well as personal files on the system drive of your Asus laptop.
3. Finally the laptop will restart and the process completely resets you laptop to factory state slowly. It can take hours to complete the reset process, so don't be impatient and wait till it finishes. You need to keep the power cord connected to your laptop because you don't want your laptop to shut down for lack of power during the process.
Your Asus laptops password is easy to reset when you have a proper guideline to follow. Asus laptop forgot password issue is common among all the Asus laptop users. So if you are one of them, then without worrying too much just follow the guideline from here and use Windows Password Recovery Tool to get the best result. You can use any methods from here but you already know the best tool that you can use to solve your problem.
Free Download
Buy Now