Need help resetting a Surface Pro 4/3 without password? It might seem to be impossible but fortunately, it is possible to factory reset Surface Pro without password and the device is equipped with the built-in mechanism to perform that task but sometimes it may get stuck during the reset procedure. So, it will be better if you get to know all the other alternate procedures as well, if in case any issue occurs. So let's get started.
Way 1. Factory Reset Surface Pro from Windows Login Screen
One of the best ways to factory reset surface pro 4 without password is from its login screen. This is simply the welcome screen of Windows and it is capable of helping you reset your tablet. The procedure is easy, you just have to follow certain steps and it will be done. The complete user-guide is detailed below:
Step 1: You need to start your Microsoft Surface Pro tablet. At the login page, click on the "Power" icon while holding the "Shift" key on your keyboard and choose the "Restart" option.
Step 2: If you don't have a physical keyboard then you can always use the virtual keyboard, accessible from the login screen.
Step 3: Now, wait for Surface pro to restart. After the tablet starts, click "Troubleshoot".
Step 4: There will be a follow up screen where you need to click "Reset Your PC". Finally, you will have to option to Factory Reset the tablet with or without keeping your files, we recommend without seeking your files.
This is the simplest and built-in mechanism of Surface Pro or any Windows product to Factory Reset the device, if required. But this might fail you sometimes. Read on to find out!
Way 2. Factory Reset Surface Pro with Surface Pro Recovery USB Drive
Unfortunately, there is an issue with Factory Rest mechanism of Surface Pro. It gets stuck, sometimes at 7% or sometimes at 31%.
But don't get worried, there are other ways to factory reset Surface Pro 3 without password and one of them involves using a recovery USB drive. This method works like a charm but you need a USB drive with 8 GB of storage space, at least. Here are the steps:
Step 1: There is a Surface pro recovery image available on the internet. You can get it from "Surface support website". In the website, you need to select the model of your Surface device and type the serial number. Hit "Continue" afterward.
Step 2: Don't try to download the image file directly into the USB drive, it would be better if you save it into the local drive, instead.
Step 3: After downloading the file, format the USB drive with FAT32. Then, extract the image file using WinRAR into that formatted USB drive.
Step 4: Now, you need to shut down your Surface Pro tablet and connect the USB drive to it. After connecting the USB drive, turn on the tablet.
Step 5: After turning on the Surface Pro, it will load the files from recovery USB. First, choose your language and then the keyboard layout. Then, you will be forwarded to "Choose an Option' scree.
Step 6: Here, you need to select "Troubleshoot" and then "Reset Your PC". After that, simply follow the on-screen instructions to Factory Reset the Surface Pro tablet.
This is the alternate way to factory reset a Surface Pro tablet if the built-in method is not working properly.
Way 3. Factory Reset Surface Pro Normally with Windows Password Recovery
If you are having trouble to factory reset your Surface Pro tablet using both of these above methods then you will need the service of a professional password recovery program. So that you can access the device once again!
These password recovery programs are pretty simple to use. There are several of them available but Windows Password Recovery is holding the top position.
Key Features:
It can recover forgotten password for all Windows in a few minutes.
It can create a new administrator account easily without logon.
It can create USB flash drive disk or CD/DVD Disc.
Support Windows 10, 8.1, 8, 7, Vista, XP, 2000, NT.
Support Windows Server 2016, 2012, 2008(R2), 2003(R2), 2000, NT.
This is one of the best programs you can use reset Surface password.
Also keep in mind, this particular method has a 100% recovery rate and is far better than the methods above in terms usability.
Here's how to factory reset surface rt without logging in to your Surface Pro tablet:
Step 1: First, get the program from the internet. Then, install it on a computer.
Step 2: Launch the program and choose USB as the medium from the main interface.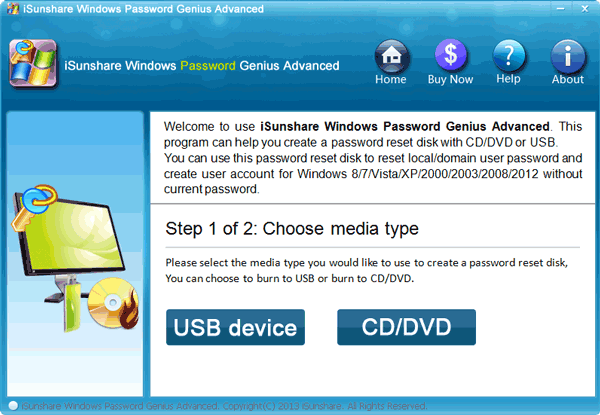 Step 3: Now, click "Begin Burning" to convert the USB into a password reset disk.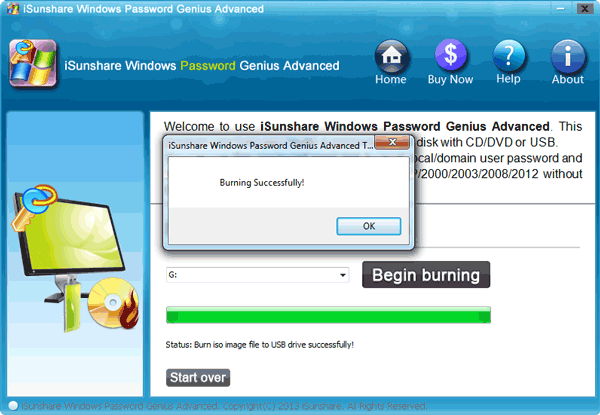 Step 4: It will take only a minute for the procedure to finish. Afterward, click "OK" and close the wizard.
Step 5: Then, connect the password reset disk to the locked tablet.
Step 6: Restart it and access the Boot menu. Use the "Arrow" keys to highlight USB option, then press "Enter" to proceed.
Step 7: The recovery program will load into the locked tablet. You have to choose the Windows system and the locked account to proceed.
Step 8: Lastly, click "Reset Password" to reset the device.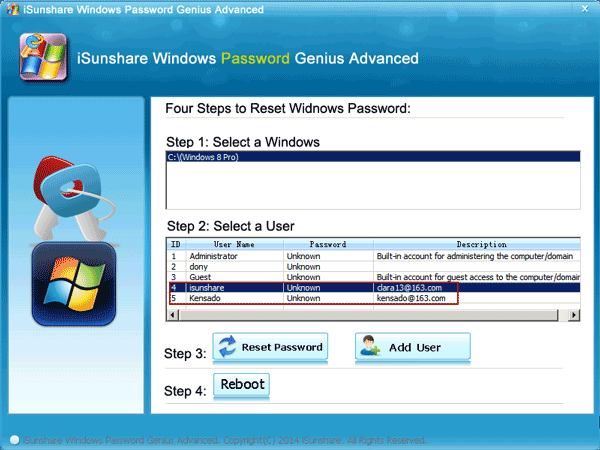 After the reset is complete, you have to hit the "Reboot" option at the bottom to restart the tablet. Now, you won't require any password to access it and you can easily factory reset Microsoft Surface Pro without any problems.
Conclusion
Obviously, the built-in method is very effective but there is the risk of getting stuck during the factory reset. Many users have suffered from it and it is very troubling. So, you can use the alternate USB recovery method, which is equally effective but a bit too complicated. And if neither of them works, you still can use Windows Password Recovery factory reset surface pro without password. And we highly recommend this software!
Free Download
Buy Now