"Unfortunately, the Administrator password for my computer is lost. I forgot it and can't seem to remember it. Is there any way I can reset Windows Server 2003 password, I have some precious project files in that computer."
The new version of Windows are highly secured but there ways to bypass the OS if you are locked out of the system. But here we are talking about Windows Server 2003, which is a much older version of the Windows OS. It is based on a server OS and security is significantly loose. So, it will be easier to fix Windows Server 2003 forgot password. Follow the guide below to solve the problem right away.
Method 1: Reset Windows Server 2003 Password with Install Disk
This particular method provides an insight on Windows Server 2003 password reset. If you have lost the password and trying to find a way into that computer again then using this method you will be able to reset the Administrator password for Windows Server 2003. Keep in mind, this method is only applicable to local and domain users.
Step 1: Boot the Server computer from CD/DVD ROM, where you need to insert Windows Server 2003 installation disk.
Step 2: A black screen will appear where "Press any key to boot from cd…." Message will appear, press any key to initiate.
Step 3: After that, a few options will appear for Windows. You need to choose "Repair Windows by Command".
Step 4: Now, the "Command Prompt" will appear where you need to type "net user administrator password123". This will reset the Administrator password.
Step 5: Finally, type "shutdown –t 0 –r" to restart the computer.
Be sure to take out the installation disk from the computer during the reboot.
Method 2: Reset Windows Server 2003 Password with Windows Password Recovery
One of the best ways for Windows Server 2003 password reset is to use a professional password recovery program. We prefer using Windows Password Recovery! It is a very capable program specially built for this job. It is extremely flexible, effective and very easy to use.
Key Features:
It can recover forgotten password for all Windows in a few minutes.
It can create a new administrator account easily without logon.
It can create USB flash drive disk or CD/DVD Disc.
Support Windows 10, 8.1, 8, 7, Vista, XP, 2000, NT.
Support Windows Server 2016, 2012, 2008(R2), 2003(R2), 2000, NT.
Considering every other password recovery programs on the internet, you can be sure that using Windows Password Recovery Tool you can even recover Windows Server 2003 lost Administrator password. The user guide is detailed below:
Step 1: So, download and install Windows Password Recovery Tool on a computer then run it.
Step 2: In the following page you have to select a medium to create a password recovery disk, choose USB drive, they are expendable.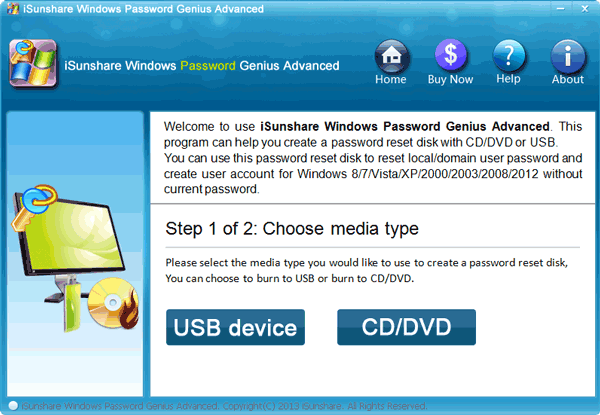 Step 3: After that, connect a USB drive to that computer then, click "Begin Burning" to proceed.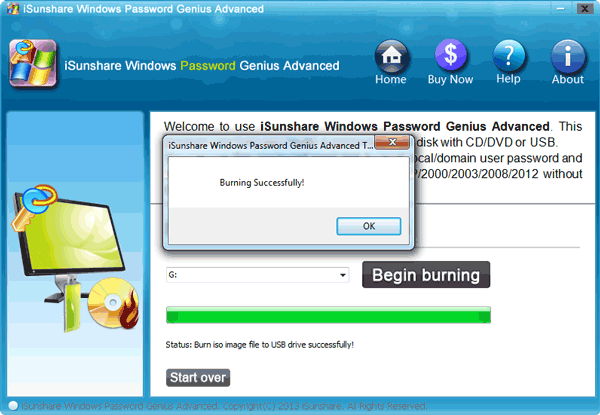 Step 4: The entire process takes only a minute. So, after creating the bootable USB, click "OK" to exit the process.
Step 5: Now, you have to disconnect that bootable USB drive from that PC and connect it to the locked one.
Step 6: Restart the PC and continue tapping "F12" or "ESC" to get access to Boot menu. In the Boot menu use the "Arrow" keys to highlight the USB option and then hit "Enter" to execute.
Step 7: Now, the computer will load the Windows Password Recovery interface. On the interface select the Windows System you are using and the locked account that needs to get unlocked.
Step 8: After that, click "Reset Password".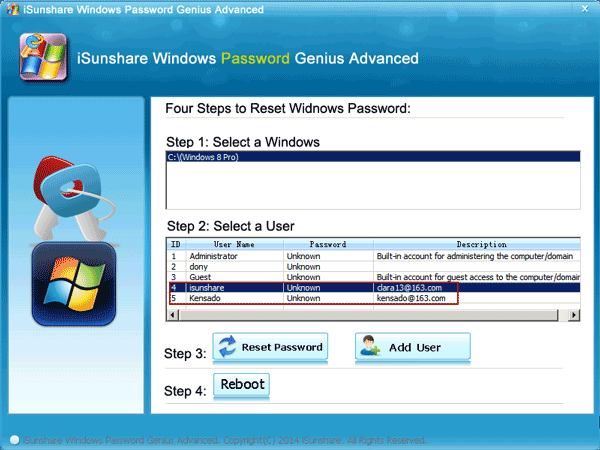 After the password reset is finished, click on the "Reboot" button below to restart the PC. After it starts again you won't be asked to enter a password.
Method 3: Reset Windows Server 2003 Password with Ophcrack
Ophcrack is one of the oldest password recovery tools, it can be used for Windows Server 2003 password hack. The program uses brute force stimulation attacks to bypass Windows password but Ophcrack is only able to crack passwords up to 6 characters. More than that, unfortunately you will have to look for another program.
Implementing the program is extremely easy and simple, just follow the guide below:
Step 1: First, you need to download Ophcrack ISO from its official website. Then, burn the ISO file onto a USB drive.
Step 2: Now, take that bootable USB drive and connect it to the locked PC and reboot. Ophcrack will appear on the screen.
Step 3: From the main interface of Ophcrack select "Ophcrack Graphical Mode-Automatic" and hit "Enter".
Step 4: After that, Ophcrack will start its brute force attacks in order to crack Windows Server 2003's password. Unfortunately, the entire procedure could take a few minutes or even a few hours. Everything depends on the strength of the password you set before.
Step 5: After it is cracked, the recovered password will appear on the main screen of the said program.
Ophcrack is great but quite frankly it's an outdated tool and unable to crack passwords that are more than 6 characters long. Also, you should note that some specific anti-viruses detect this program as a Trojan or virus.
Method 4: Try Re-installing Windows Server 2003
Finally, if any of the above method is not of your preferences then there is only one way left to crack Windows Server 2003 password. You have to re-install the Operating System.
But you need to know that re-installing Windows Server 2003 would mean formatting the primary partition of your hard drive. It will definitely remove the password but all the files and applications will also get erased. So, you need to have a complete backup of your hard drive or you have to be prepared to lose everything for sake of getting access to your computer again.
The installation procedure is pretty simple:
Step 1: Insert the bootable disk containing Windows Server 2003 into the locked computer. Reboot the computer and wait for the Windows to load the files.
Step 2: After a few moments the "Startup" screen will appear.
Step 3: Specify the drive to install Windows Server 2003 Operating System and then click "Install Now" to proceed.
Step 4: Installing the OS may take a while but do not turn off your PC in the meantime, otherwise you have to start from the beginning again.
Again this is not a recommended method as you will lose every file inside the Windows partition, unless you have made a backup beforehand.
Conclusion
As mentioned earlier, compared to other version of Windows it is easier to crack Windows Server 2003 password, due its lack of security and it being an older version of Windows. The method and the mentioned programs are very effective. But there are a few drawbacks, like Ophcrack is unable to crack longer passwords or the re-installing the Windows will erase the hard drive. So, better choice would be to use Windows Password Recovery Tool, it can crack any type of passwords on any version of Windows and quite effective. Highly recommended!
Free Download
Buy Now