"I forgot my surface password can someone show me how to reset surface rt forgot password effectively." Microsoft surface is a hybrid of Microsoft tablet with a touchscreen that are travel friendly. With this Microsoft surface tablet, you can use it to respond to emails, note taking and writing simple sketches when travelling and you do not want to carry your laptop. However, you might forget password of your Microsoft surface and you will need to reset surface tablet forgot password.
In this next part, we will look at each method of resetting forgot password Microsoft surface without using password.
Way 1. Reset Surface Tablet Forgot Password with Microsoft Account Service
You can use Microsoft account service as surface pro password reset method. Here you will have to log into your Microsoft account to be able to reset forgot password on surface pro or Microsoft surface.
Step 1. Visit Microsoft Reset page.
Step 2. Next, you need to choose the reason for resetting your Microsoft service for instance "forgotten password" and then click on "Next".
Step 3. From there, enter your email address or phone number or skype name. Type the capture code and click on "Next" button.
Step 4. You will receive a code on the phone associated with account and you can enter the verification code.
Step 5. Next, you can then enter a new password for your Microsoft surface. Now use that new password to log in on your forgot Microsoft surface device.
Way 2. Reset Surface Tablet Forgot Password from Lock Screen
You can reset surface tablet forgot password from lock screen by following these steps.
Step 1. On the lock screen, enter the wrong password and you will see "Surface 3 login password is incorrect" and you will be prompted to use other sign in options.
Step 2. Choose to sign in with picture code or pin code.
Step 3. Next, you need to enter the four-pin code or the picture code on the screen.
Step 4. Now sign in to your Microsoft surface tablet successfully.
Step 5. From there, you will have to reset system password by running user net command prompt as shown below. From there you can change your password.
Way 3. Reset Surface Tablet Forgot Password by Using Factory Setting
If the above methods do not work you can try to factory reset your Microsoft Surface to reset forgotten password by following these steps.
Step 1. Start your Surface Tablet and then click on "Power" button at the bottom of the screen.
Step 2. Next, click and hold the Shift key and Alt key buttons and then choose "Restore" menu.
Step 3. From there, choose "Troubleshoot" option and select "Reset this PC".
Step 4. Ensure you tap on "Keep My Files" to avoid losing files and then click on "Reset" button.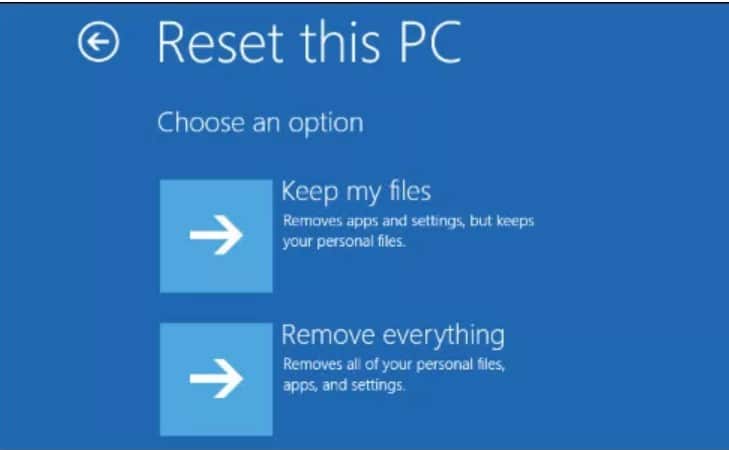 Your Microsoft Surface tablet will reset without having to key in any password.
Way 4. Reset Surface Tablet Forgot Password with Windows Password Key
Despite trying the above three methods, you will notice that in some cases they might not work or you may end up losing files on your Microsoft Surface Tablet. Therefore, for this last method, it is a sure way of resetting forgotten Surface password without losing data. What you need is a third-party app known as Windows Password Key software. This software can reset forgotten password with or without a password. Just follow the steps below once you have burned a bootable disk drive.
Key Features:
It can recover forgotten password for all Windows in a few minutes.
It can create a new administrator account easily without logon.
It can create USB flash drive disk or CD/DVD Disc.
Support Windows 10, 8.1, 8, 7, Vista, XP, 2000, NT.
Support Windows Server 2016, 2012, 2008(R2), 2003(R2), 2000, NT.
Step 1. Go to Windows Password Key website and download this software on another computer.
Step 2. Next, launch Windows Password Key and insert the bootable drive which could be a USB drive or CD.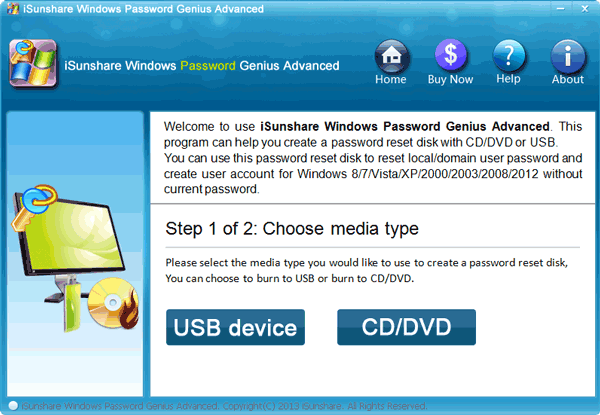 Step 3. On the window that appears choose the media type that you want to burn and click on "Begin Burning" menu.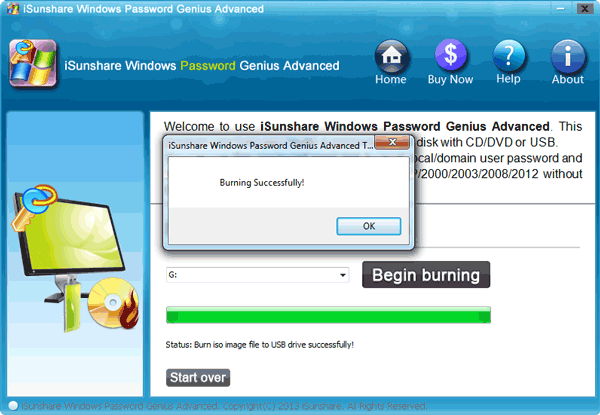 Step 4. On the new window that appears you need to select Surface tablet and choose "Reset Password" option.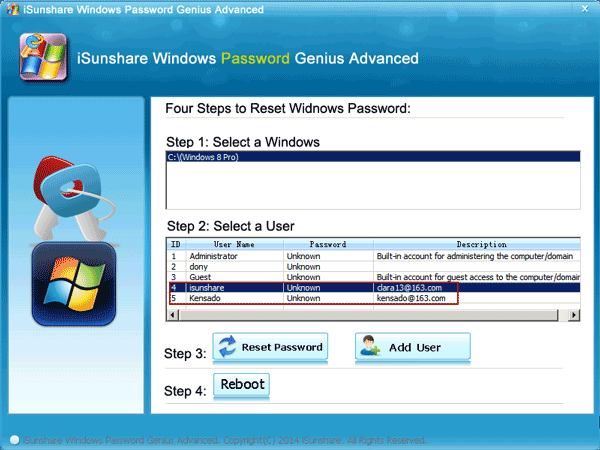 Step 5. Lastly, click on "Reboot" option and the unplug the bootable disk immediately before the computer restart. Now turn to your Surface 3 restart it from hard drive and log in with a new password.
Conclusion
At this point you have seen that you do not need to worry when you forget Microsoft Surface password. You can reset the password at the Microsoft Live account, hard reset or the best Surface reset password tool which Windows Password Key.
Free Download
Buy Now($19.95)