If you are a modern and advanced computer user then the Hiren's boot CD USB serves as one of the most important and crucial tool if you ever want to repair your computer system. It is an All-in-One solution which is very important if your computer system breaks down. It is basically a PC rescue tool with the help of which you can boot into your computer as easy as possible. If your computer system has issues like your virus infection, hard drive failure boot issues, or if you forgot your Windows password, or if you accidentally lost all the data then the Hiren Boot CD disk will be a great help to you.
What You Need for Hiren's Boot USB Disk:
Hiren's boot CD is one of the very few useful toolkits that will help in resolving any type of computer boot issues, scanning malwares, backup and restore PC data, recovering Windows password etc. To create Hirens boot USB you will need following things.
Hiren's boot CD 15.2 ISO
Rufus-bootable usb creator which helps to format and create bootable usb flash drive pendrive memory stick.
USB flash drive with minimum 1GB of storage.
Steps to Create a Hiren's Boot USB Flash Drive
If you are wondering "how to make Hiren's bootable USB"? We are here to help. Here you will find the all the required instructions on how to place Hiren's boot CD on a USB flash drive in order to resolve computer problems right now or in the future.
Step 1: Download Hiren's bootCD 16.2 to your computer system (Official website: http://www.hirensbootcd.org/download/)
Step 2: In the next step download Rufus USB boot creator.
Step 3: Insert your USB drive to the computer system and open the Rufus software in your PC.
From the device dropdown option select your USB drive
Select the MBR partition scheme for bios or UEFI computers
Choose fat32 from the file system option.
Step 4: Select ISO image from the dropdown box and also check format options.
Step 5: Now select Hiren's boot CD 15.2 ISO file option which is next to the ISO image.
Step 6: Select the Hiren's boot CD 15.2 ISO" image file and click the "open".
Step 7: Click Start.
Step 8: Carefully read the warning messages and press ok. This message will clear all the data on your USB drive. Wait until Rufus utility clear all the data of your USB drive and transfers Hiren's Boot ISO file into it.
Step 9: When Rufus utility completed its operation, close the Rufus utility and unplug the USB drive.
And it's done! This is how you can easily create a Hiren's Boot USB Flash Drive and resolve all your PC related issues.
Best Alternative for Hiren's Boot USB Disk: Windows Password Recovery
Hiren's Boot USB is a good choice for recovering Windows password and can go a long way in fixing many computer system issues. If you are stuck with a locked Windows account, there are many other options. The technology has been changing so fast that we have to look for an alternative if Hiren's Boot CD failed to recover the password.
And the best alternative is none other than Windows Password Recovery Tool. Windows Password Recovery from Winpasskey is one of the best Windows account password recovery utility for resetting Windows local or domain account password for various versions of Windows. You can easily recover the forgotten or lost password for your Window.
Free Download
Buy Now
It is an ideal choice for Windows password recovery which you can use any time when you're facing problem in logging to your account because of a forgotten password. It is super easy to use and works flawlessly on every version of Windows. You can expect a 100% recovery rate!
Notable Features:
Capable of removing or resetting Windows Admin and user password.
Can remove any type of domain Admin and user passcode.
It can easily create a brand new local Admin account to unlock the system.
It can also create a brand new domain Admin account in case it is hacked by someone.
It can completely wipe out Windows Admin, user and domain admin passwords with ease.
Steps to Use Windows Password Recovery Tool
Create Bootable Disk/USB
Step 1: Download the software and install it on a computer.
Step 2: Launch and tap "USB device" from the main interface.
Step 3: Choose your USB drive and tap Begin Burning option.
Step 4: After that, tap Ok
https://www.winpasskey.com/wp-content/uploads/2018/03/user-guide-burning-successfully.png
alt: burn bootable usb
Boot the USB drive:
Step 1: Now, insert the newly made bootable USB drive on your target computer.( The one you need to fix)
Step 2: Now, tap the F12 button or ESC key, to get the Boot menu.
Step 3: After that, on the boot menu, choose your USB drive and tap Enter.
Step 4: The software interface will now come up.
Step 5: Select your Windows system and tap "Reset Password".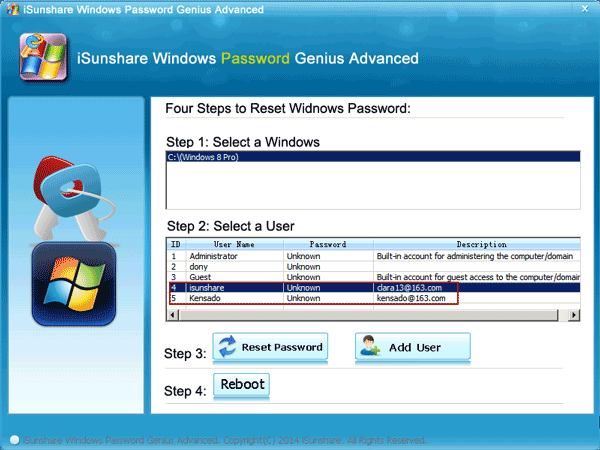 At the final step, you just need to follow the on-screen instructions and reboot the computer. And you are done, the password reset is successful!
Conclusion
Hirens boot USB is quite an effective tool when you find a lot of trouble in your computer system. It is a great problem-solving program that is mainly used as a PC rescue utility. You can use Hiren to reset Windows password but it may not work all the time. Instead, the best alternative would be to use Windows Password Recovery. Highly recommend password recovery utility that claims a 100% recovery rate!
Free Download
Buy Now