We usually protect our most important files with a password. But what if we forget that password? Forgetting the RAR/WinRAR password can be a big problem for users alike. As there are so many passwords we deal with nowadays, it is quite easy to forget one or two. So, in this article, we are here with 3 simple methods on how to bypass RAR password, so that you can get your documents or files back without losing them permanently.
Way 1. Bypass RAR/WinRAR Password with CMD
You can use CMD to bypass WinRAR/RAR password. It is a straightforward yet a very cumbersome method as it needs several commands to be entered if you forgot WinRAR password. You might have to take the help of Notepad throughout the process. Follow the steps below to get it done:
Step 1: Double-click on the bat file and launch CMD window.
Step 2: Enter the WinRAR/RAR file name and tap Enter to type in the file path.
Step 3: Now, straight head over to the RAR file properties and don't forget the name and the path. Finally, enter the required information in the right location in the new window.
Step 4: After that, open Notepad and simply type in the commands and save it as "rar-password.bat". Hit Enter.
Step 5: Finally, tap Enter and the bat file will run to get the password for the specified RAR file.
Remember to specify the path and name of the RAR file in question. Overall it is not a full-proof method and it may not work all the time. If you want results every single time, follow the next method below to bypass RAR password.
Way 2. Bypass RAR/WinRAR Password with Password Recovery Bundle (Best Way)
The best method to get around RAR password is by using a proper bypass tool like RAR Password Recovery in Password Recovery Bundle. It is designed to bypass and recover any type of passwords for WinRAR or RAR files. It comes with different attack modes that can force access to those passwords. You can try all of them until you get the result. It is an easy to use software with a 100 percent recovery rate. Here's how to use it:
Free Download
Buy Now
Step 1: Download and install the Password Recovery Bundle on your computer.
Step 2: On the main interface choose "Recover Passwords for Files and Archives".
Step 3: Now, select "RAR Password Recovery" inside the list.
Step 2: Tap "Open" to import the locked RAR file.
Step 3: Choose the attack you want to use to bypass the password:
Brute Force: This is a method that tries out every possible permutation and combination until you get the right one.
Dictionary: As the name suggests, this attack uses a dictionary with similar and frequent words and checks them one by one to decipher the right result.
Brute Force with Mask: This attack creates a mask of flexibility to get the exact position of a specific character.
Step 4: After choosing the attack, just tap the "Start" button. The program will automatically begin the recovery process.
Step 5: After some time, a new window will be prompted along with the password.
As you can clearly see, it is very easy to use. Just a few steps and you can bypass your locked WinRAR file password with ease. This is undoubtedly the best method around to get past WinRAR password!
Way 3. Bypass RAR/WinRAR Password with Notepad
Most of the times we are not very keen on using any software to recover passwords. Fortunately, there is also another alternative with the help of which you can get around RAR password. This process is quite similar to the CMD one, but this needs some code to be entered inside the Notepad. Don't worry, everything along with the code has been detailed below. Just follow the steps and you will know how to bypass RAR password.
Step 1: Create a brand new folder and name it as 'RARCrack.'
Step 2: Launch the notepad and paste the code below.
TITLE PASSWORD HACKER
ECHO OFF
COLOR 03
SET PSWD=0
SET DEST=%TEMP%\%RANDOM%
MD %DEST%
CLS
ECHO.
ECHO Drag and drop the archive into this window...
ECHO.
SET/P NAME=
IF EXIST "%NAME%" GOTO START
:PATH
CLS
ECHO.
ECHO Cannot find the file specified. Please enter the archive path...
ECHO.
SET/P NAME=
IF EXIST "%NAME%" GOTO START
GOTO PATH
:START
CLS
SET /A PSWD=%PSWD%+1
ECHO.
ECHO GENERATING PASSWORDS...
ECHO CURRENT PASSWORD = %PSWD%
UNRAR E -INUL -P%PSWD% "%NAME%" "%DEST%"
IF /I %ERRORLEVEL% EQU 0 GOTO FINISH
GOTO START
:FINISH
RD %DEST% /Q /S
CLS
ECHO.
ECHO PASSWORD FOUND!
PAUSE>NUL
CLS
ECHO.
ECHO FILE = %NAME%
ECHO HACKED PASSWORD = %PSWD%
PAUSE>NUL
EXIT
Step 3: Save the above code as "RARCrack.bat" into the same folder as above.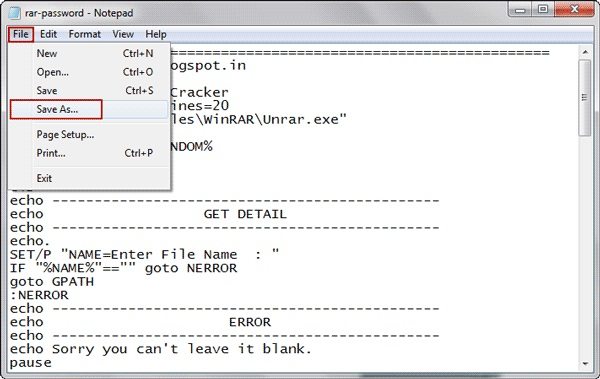 Step 4: Now, go to the WinRAR setup folder on your computer and find a file named "UnRAR.exe". Simply duplicate the file and put it inside the folder you made recently.
Step 5: Now you can start the security password cracker by opening the group file.
This is how to bypass WinRAR password using Notepad. Keep in mind, this will only work on numeric passwords.
Conclusion:
So, here are the 3 effective methods by which you can bypass WinRAR password. Notepad and CMD, both these methods are viable yet they come with limitations. They might work in some cases and they may fail in some. So, in our opinion, we highly recommend you to go for RAR Password Recovery if you want a full-proof recovery rate that is very fast and effective as well!
Free Download
Buy Now