Anyone would get very frustrated if they are unable to access their important MS documents when the time comes. If the provided extra protection becomes the user's downfall then there is nothing worse. But most people fail to acknowledge the fact that, the MS Excel protection can be easily cracked if it is handled with care and precision. So, if you are unaware of how to unprotect Excel Workbook then follow the methods mentioned in the article below.
How to Unprotect Excel Workbook/Sheet With Excel Password Recovery
Among all the third-party methods to unprotect Excel Workbook, Excel Password Recovery is possibly the safest and most effective option. This particular software was designed for this purpose only! So, if you have locked Excel on your hands and wondering "how do I unprotect an Excel Workbook", I would suggest you use the services of Excel Password Recovery. The steps are discussed below in details:
Free Download
Buy Now
Step 1: Download and install Excel Password Recovery on your computer.
Step 2: Launch the program > choose "Recover Passwords for files and Archives" > choose "Excel Password Recovery".
Step 3: Add the password-protected excel file to the program.
Step 4: You can use 3 different types of techniques to unlock excel password: Brute Force attack or Brute Force with Mask and Dictionary respectively. You can choose any one that fits your requirement.
Step 5: Now, that you have selected the mode, click "Start" to begin the recovery process.
This is the most effective third-party option that will unlock your locked Excel File in a matter of minutes. The MS Excel 97-2016 Mode really provides the user the freedom to work with different MS Excel files from various generations.
How to Unprotect Excel Sheet/Workbook with VBA Codes
As you have read, it is very easy to unprotect Excel sheet using a third-party tool like Excel Password recovery but there are also other efficient methods available that you can implement on your locked Excel document.
You may not have heard it before but using the VBA Code to unprotect an Excel file is quite efficient and simple. Here's how to unprotect Excel with VBA Code:
Step 1: It is very simple, just open the locked Excel Document on your computer and press Alt +F 11 to open VBA Window.
Step 2: Then, you have to choose the "Insert" option and "Module" afterward.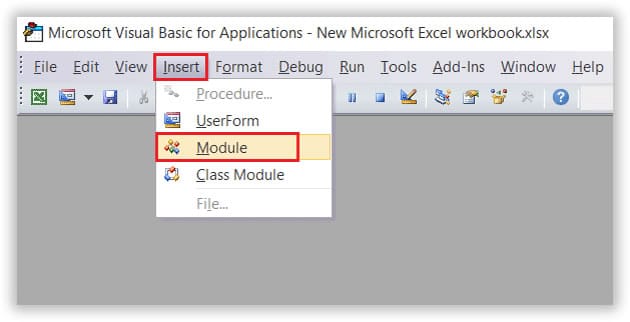 Step 3: Upon, opening the General window you need to type the VBA Code.
Step 4: Now, you just have to run the code and the Excel file will get unlocked in a matter of minutes.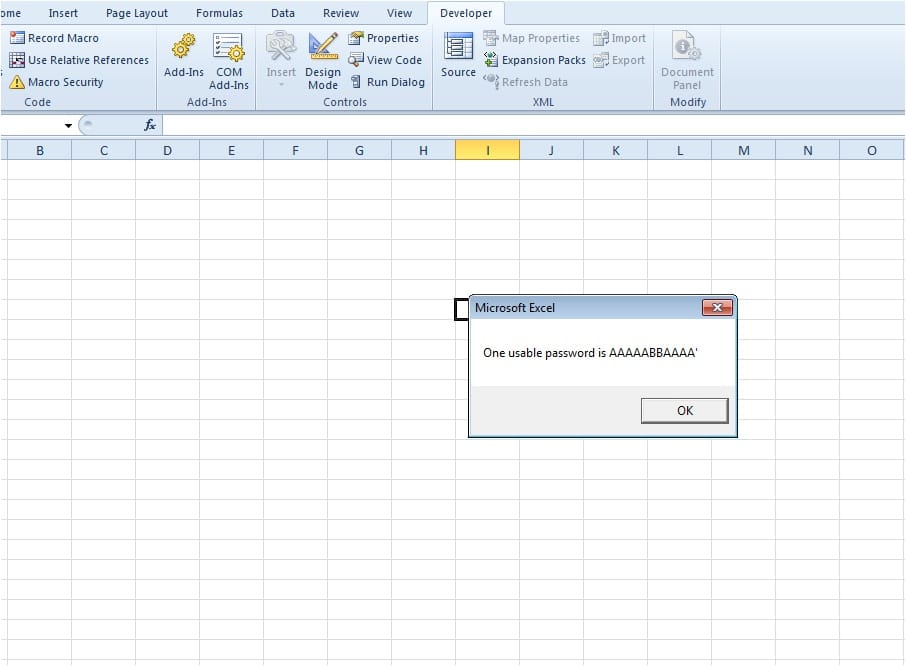 After, finishing the procedure you will get a message containing the actual password for the locked Excel Document.
How to Unprotect Spreadsheet/Workbook with ZIP
If you are still unable to crack excel password then here's how to unprotect Workbook using ZIP. It is an elaborated method but simple enough to use without any prior experience.
The following steps details the use of the ZIP method to unlock any Excel file. Read them carefully:
Step 1: Find the Excel file on your computer and then change ".xlsx" file extension to ".zip".
Step 2: Now, make a right-click on the file and select "Extract All".
Step 3: The files will be extracted into a folder of the same name, and then you need to go inside the "Worksheets" folder.
Step 4: Again make a right-click on the locked document and select "Edit" option. All the information will be opened into a Notepad.
Step 5: Press Ctrl + F and the Find Window will open, and then search for "SheetProtection".
Step 6: Now, you need to select a particular line that is inside a bracket and it includes the word "SheetProtection", you need to delete that line.
Step 7: Then, you have to copy that edited file but don't extract it.
Step 8: Now, go to the original Work Sheet folder, here you will paste the edited document and the file will be overwritten.
Step 9: Again, you have to rename the file from ".zip" to ".xlsx".
The procedure is complete! You won't need any password to unlock the file anymore.
Conclusion
The above article contains 3 of the most effective methods on how to unprotect Workbook and unlock any MS Excel file. Hopefully, you don't have to search elsewhere on how to unprotect an Excel file anymore. The methods are very detailed; the first one is all about the most effective third-party tool ever designed. It can unlock any Excel file. The next two procedures do not include any software but they are very effective when it comes to unlocking locked MS Excel file. Overall, Excel Password Recovery is a clear winner!
Free Download
Buy Now