"I was working on a specific spreadsheet a month ago, back then I saved the file with a password but now I can't open it as I forgot the password completely. I need it for the presentation tomorrow, in serious trouble. Please help!"
Getting stuck with a password protected Excel file is very common. MS Excel is a very sophisticated program and the encryption is hard to crack. But such a mistake should not hold you back from doing your work perfectly. It was an impossible task ten years ago but these days everything is possible, including breaking the encryption of an MS Excel file. It is easy and can be done in a matter of minutes. But for that, you need to know how to open password protected Excel file, the most effective method and its alternatives are discussed below in this article.
Method 1. Open Password Protected Excel File with Excel Password Recovery (Best Way)
Don't get flustered if you have forgotten the password of your Excel Worksheet, it happens to a lot of people. Any MS document is highly encrypted but with the right tools, you will be able to open password protected Excel easily.
Excel Password Recovery is one of those tools that will give you an easy access to your locked Excel document. It is designed for this purpose. There is no need to have any type of technical skill to make this program work. The operating procedure is detailed below:
Free Download
Buy Now
Step 1: Before getting started, you need to download the program on your computer and install it.
Step 2: Launch the program, it comes with many password recovery tools, as for Excel password recovery, just choose "Recover Passwords for Files and Archives", then choose "Excel Password Recovery".
Step 3: Now, import the locked Excel file into the program.
Step 4: You also have 3 types of attacks available: Dictionary, Brute-force Attack, and Brute-force with Mask. Use the one that fits your requirements.
Step 5: When you are done with choosing the Mode, you can click "Start" to begin the Password Recovery.
And it is done! You can copy the password to open the locked excel file.
This is considered the most effective way to open password protected Excel file. But if you are not too comfortable with using a third-party program on your computer then you can use the alternative methods, mentioned below.
Method 2. Open Password Protected Excel File by Modifying the File Extension
File Extension is a very old method that has been used for many years to open password protected Excel documents. It is an outstanding procedure but it might be a bit too complicated for the first time users. Nevertheless, it is worth a try! The steps are as follows:
Step 1: Make a copy of the locked Excel file in a separate folder.
Step 2: Then, right-click on the copied file and rename it.
Step 3: You also need to change the format from ".csv" or ".xls" to ".zip".
Step 4: Then, extract the zip file into a folder and find the file that ends with ".xml".
Step 5: Open that file with XML Editor and then press Ctrl + F to find "SheetProtection".
Step 6: Now, you need to find a line that starts with "
Step 7: Now, just change the format of the file from ".zip" to ".csv" or ".xls".
Now, the locked Excel file will be accessible to you, no password will be needed when opening that specific file.
Method 3. Open Password Protected Excel File by VBA code
This is an even easier method to open encrypted Excel file. You just have to type the VBA Code in the General Window and it will take care of the rest.
Step 1: Open the locked Excel file and press Alt + F 11 on the keyboard. The VBA Windows will be accessible to you.
Step 2: Now, click "Insert" and then "Module" to progress.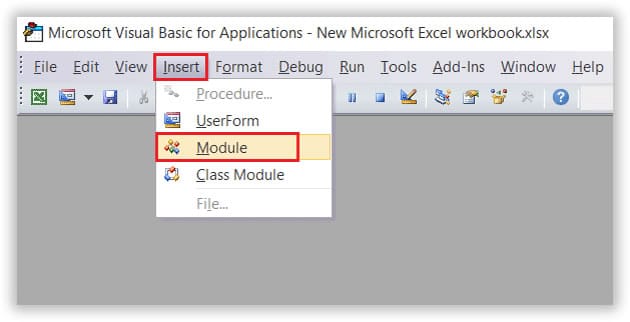 Step 3: When the General Window opens, you can type the VBA Code, just copy and paste the following Code in the window.

     
Step 4: Now, simply run the code and the desired Excel file will be unlocked in a matter of minutes.
It is a very straightforward method that does not use any third-party programs to unlock your Excel file.
Conclusion
Don't panic if you have a locked Excel file on your computer. As you can see, you can easily open encrypted Excel file in minutes. The alternatives are effective but they are a bit complicated to use. Nonetheless, they are also capable of locating or removal of the password. If you want the best method, Excel Password Recovery tool is really excellent. The attack modes are really effective and get the job done. We highly recommend this software, go for it!
Free Download
Buy Now