Surely if you are reading this article is because you have locked out of Windows PC and do not know how to reset or change the password to boot the computer and access the data stored in it.
Method 1. Recover Locked Out of Windows PC in Safe Mode
Well, then we will indicate the detailed steps to be able to reset the password and continue making use of the Windows PC without problems. For this, the first thing to do is to restart the PC to start Windows in a way that is called Safe Mode that is used to solve Windows problems. When restarting the computer in this mode, only the necessary components are started to run the operating system, which is loaded with a basic video driver that lowers the resolution and does not enable other functions such as Internet connection.
To start to reset Windows password in Safe Mode we will have to press any key or combination of them depending on the operating system version that we have installed. For example, to start this mode in Windows 7, Vista and XP it is necessary to successively press the F8, F5 key while the PC starts.
However to do it in Windows 8, Windows 8.1 or Windows 10, the thing is not so simple since this will have to go through the sidebar (Windows + I key) and select the option "Restart now" that is under "Update & Security" > "Recovery", a page with various options will appear, among which you have to click on "Troubleshoot" > "Advanced Options" > "Startup Settings" and the numeric key corresponding to Safe Mode.
Once the system has been started in Safe Mode, you will access the Windows menu where you can see the user or regular users and a new one, Administrator, which is the one that must be selected to access the system configuration that allows recover the Windows password.
When entering as Administrator, a user that will not require a password, the system will perform some tests in order to continue, which is called Error-proof mode and where you must select Yes to the first notification that is displayed, which will be to continue to proof of errors, then accessing a black background desktop.
From that same desktop you should go to the Control Panel> User Accounts> Change Password, where you can write the new password to restart the system in normal mode and reuse the PC as if nothing had happened.
Method 2. Recover Locked Out of Windows PC with Windows Password Key
As compared with the method 1, method 2 is much easier, all you need to do is use an amazing tool called Windows Password Key which is designed to solve the locked out of Windows problem.
Just get the Windows Password Recovery Tool and burn it as a disc with a bootable CD/DVD or USB flash drive, then you can reset the Windows password with this bootable password reset disc and reaccess into your locked Windows computer without password.
Key Features:
It can recover forgotten password for all Windows in a few minutes.
It can create a new administrator account easily without logon.
It can create USB flash drive disk or CD/DVD Disc.
Support Windows 10, 8.1, 8, 7, Vista, XP, 2000, NT.
Support Windows Server 2016, 2012, 2008(R2), 2003(R2), 2000, NT.
1. Inset the bootable password reset disc into the locked Windows PC and start it from the corresponding CD/DVD or USB flash drive.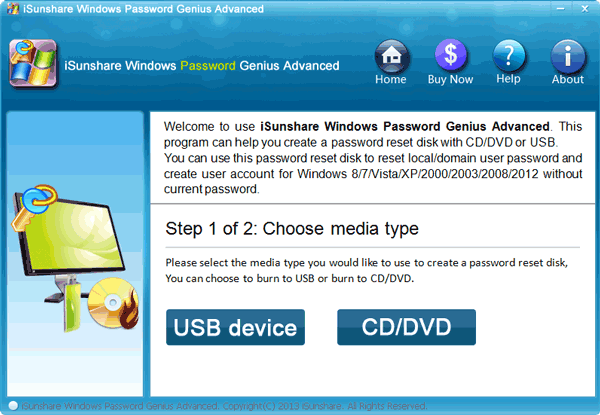 2. When booting the locked Windows PC successfully from bootable password reset disc and Windows Password Key runs on your computer, choose your operating system and the account you want to recover password.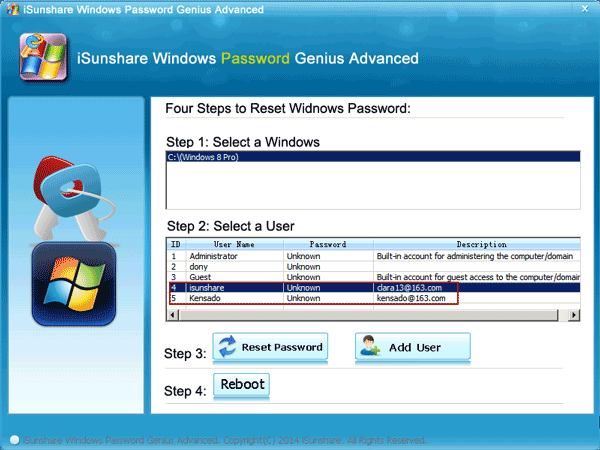 3. Click the "Reset Password" button, instantly the password of your account will be reset to blank. Now you can click the "Reboot" button and restart your computer without password.
With two methods above, you can 100% solve the locked out of Windows PC, no matter Windows 10/8.1/8, or Windows 7/XP/Vista.
Free Download
Buy Now