If you forget your password for the Lenovo tablet, you will not be able to control the tablet. Is there any way to reset the password and assign a new one? Of course, read in this post and learn how to do a Lenovo tablet forgot password reset. This is how your Lenovo tablet can be managed again.
Lenovo Tablet comes with Yoga, Thinkpad Yoga, Thinkpad tablets and more series, some of them built in Android system, some of them built in Windows 8/10, and the rest are built in both Android and Windows system. So if you want to reset Lenovo tablet password, you should follow an appropriate method that according to the system runs on your Lenovo tablet.
Situation 1. Lenovo Tablet Password Reset With Windows 8/10
In case your Lenovo Tablet runs on Windows 8/10, how to do a Lenovo tablet password reset? If you don't want to lose your data, you can't reset the forgotten password by factory reset. So you need to use a third party program such as Windows Password Recovery Tool to help you reset Lenovo tablet password without any data loss.
Key Features:
It can recover forgotten password for all Windows in a few minutes.
It can create a new administrator account easily without logon.
It can create USB flash drive disk or CD/DVD Disc.
Support Windows 10, 8.1, 8, 7, Vista, XP, 2000, NT.
Support Windows Server 2016, 2012, 2008(R2), 2003(R2), 2000, NT.
Step 1. Download and install Windows Password Recovery Tool to an accessible Windows computer (Windows 10/8.1/8/7/XP/Vista laptop or desktop computer supported).
Step 2. Insert a USB device into the computer and launch the Windows Password Recovery Tool, choose "USB Device" on the program and then select the USB device you just plugged in from the drop-down list. Click on "Begin burning" button to create a password reset disk for Lenovo tablet.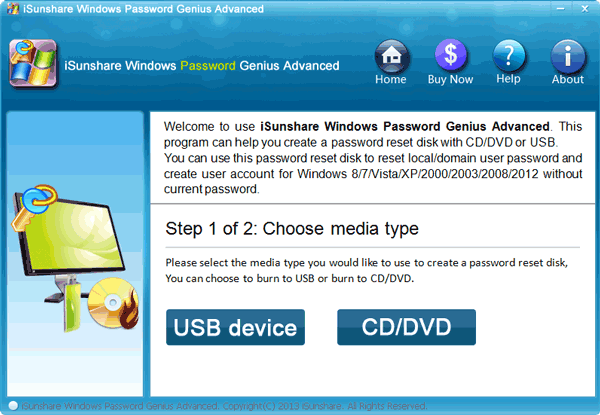 Step 3. Insert the USB device into the locked Lenovo tablet. If your tablet doesn't have a standard USB port, you may need to use a USB adapter which suitable for the locked tablet. Press and hold the "Volume Up" button and then hold the "Power" button in the same time. Choose "Boot Menu" from the next screen and then select the USB device as boot media.
Step 4. Now Windows Password Recovery Tool will run on your Lenovo tablet. All you need to do is to select the system and user account you want to reset password. Then click on "Reset Password" button.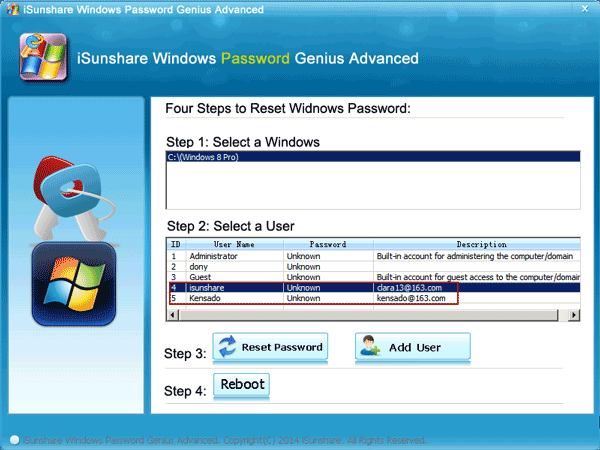 After your Lenovo tablet password is reset, click on "Reboot" button and unplug the USB device. Then you can log in your tablet without password.
Situation 2. Lenovo Tablet Password Reset With Android System
In case your Lenovo tablet runs on Android system, unfortunately, there is no other way you can do but factory reset to reset Lenovo Tablet forgotten password, and please remember that all your data in tablet will be erased after factory reset.
Press and hold on the Volume (+) button first and then hold on the Power button in the meanwhile.
Start loading the Android system and showing the Lenovo logo, now release the Power button and only hold on the Volume (+) button, until it appears some options.
Then it will show the menu of Android System Recovery. To start the factory reset, choose the option "Wipe data/factory reset".

Note: Mobilizing options will be chosen through the Volume (+) and (-) buttons and will be confirmed with the Power button.
A message will appear to be confirmed if you want to start the reset of the tablet "Confirm wipe of all user data?".
Confirm the option "Yes – delete all user data" to reset the tablet.
It will start the procedure, which will take a few seconds. Once it is finished, it will show the same initial menu.
Start the tablet with the option "Reboot system now". And it will start the system automatically.
Now your Lenovo tablet is is unlocked and no more question about "i forgot my lenovo tablet password, what to do?"
Forgot Lenovo tablet password can be frustrating, but the 2 situations we listed above can totally reset lenovo tablet forgot password no matter your tablet runs on Windows or Android system. If you are using Lenove laptop, you can also reset Lenovo laptop password on Windows 10/8/7 with ease.
Free Download
Buy Now