What is NTPasswd for Windows 10/8/7?
NTPasswd Windows 10/8/7 (Offline NT Password & Registry Editor) is one of the oldest password crackers for Windows Operating System. This is also one of the fastest and effective programs you can use to bypass the security.
In our daily life, we use different devices to complete our everyday task and these days with so many cyber crimes and hacking we tend to use an extra layer of security. Only for the sake of our device and the data inside! But it is not impossible to forget the password for one of that device, more likely the Windows laptop or the computer you use every day, which contains all of your backup files and other sensitive data.
Falling in such situation is very easy but at this time you need to know how to access the device again immediately, you need to know about NTPasswd. NTPasswd is a very effective password cracker, and you will find additional detail below:
The best part of the NTPasswd is that it is very fast and without any core knowledge of Windows OS you can break the password almost instantly. It is available for free and you can easily download from its dedicated website. Different versions are available for different versions of Windows like NTPasswd Windows 10, NTPasswd Windows 7, NTPasswd Windows 8, etc. Even version for Windows XP and Vista are also available. This program is capable of removing password from any installation, in case of Windows it is almost instant, works offline and no installation is required.
But similar to any other programs there are a few flaws. They are not actually flaws but more of an inconvenience. As it is a complete text-based tool, it is bound to become extremely complicated for most of the Windows users all over the globe. Other than this one, you will need access to a CD/DVD or a USB drive to burn the ISO file of this program, which can become an inconvenience if you don't have a medium available nearby.
Reset Windows 10/8/7 Password with NTPasswd
Although NTPasswd is capable of removing password instantly from Windows 10/8/7, still the program is massively ignored by the users, mostly because of its text-based execution. But the actual method is not quite that difficult, here' take a look to reset Windows 10/8/7 password with NTPasswd:
Step 1: First you need access to another computer or laptop, whichever is accessible to you. Now, download the program there and make a bootable disk with the program.
Step 2: Now, insert that bootable disk into the locked computer and restart it. After it starts up again, Windows will load the NTPasswd program. You will see the "Boot" option on the screen, click on it and then hit "Enter" to initiate.
Step 3: After that, the program will scan the computer and detect all the partitions, choose the partition where Windows is installed.
Step 4: For the following parts you can choose the default options and hit "Enter". But remember when user data and password panel comes to the screen, you have to choose "Edit" and provide your username and hit "Enter".
Step 5: Then, you need to select the locked user account, whose passwords you need to remove.
Step 6: After that press "Enter". The moment you press enter, the password will get erased immediately. Now, you have to exit the wizard; so, first press "!" and press "Enter" and then press "q" and then press "Enter" again.
Step 7: Finally, you have made the changes but you need to confirm them. SO, press "y" and press "Enter". Press "Enter" again to confirm any further changes you made.
Step 8: Now, just remove the password reset disk from your computer and restart the computer.
After completing this process you will be able to login to your Windows account without using any password.
Best Alternative to NTPasswd – Windows Password Recovery
You have seen how NTPasswd Windows 10/8/7 works and it is quite a simple procedure but not all the users may agree with your opinion. Aside from everything else, the main inconvenience for the users is that NTPasswd is too complicated for them.
So, if you agree with this, you will definitely need a suitable alternative for NTPasswd, which is equally efficient or possibly better. The best one is a third-party program known as Windows Password Recovery. It is a very effective password recovery program and comes with an attractive interface. It works really fast and unlike NTPasswd, this one is easy to use. The procedure is also very simple, and it is detailed below:
Key Features:
It can recover forgotten password for all Windows in a few minutes.
It can create a new administrator account easily without logon.
It can create USB flash drive disk or CD/DVD Disc.
Support Windows 10, 8.1, 8, 7, Vista, XP, 2000, NT.
Support Windows Server 2016, 2012, 2008(R2), 2003(R2), 2000, NT.
Step 1: Get access to a different computer and download the recovery program. Then, install and run it.
Step 2: In the next window you will have to select a medium to contain the password reset disk program, choose USB and initiate.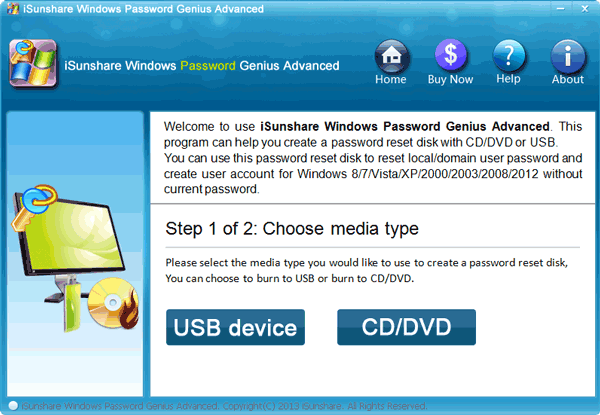 Step 3: Finally, click "Begin Burning" to start making the reset disk.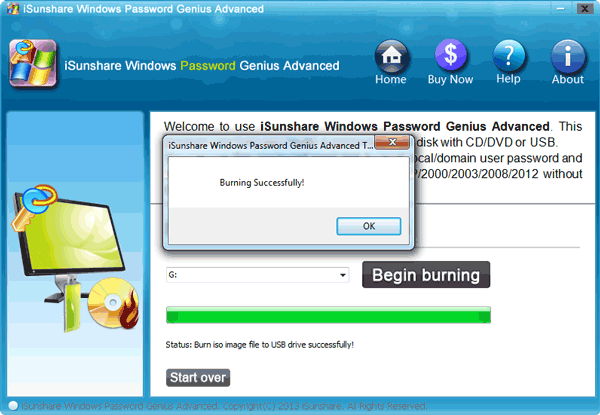 Step 4: The burning process with end within a minute, after that click "OK", to exit.
Step 6: Connect that USB drive to your locked computer and reboot.
Step 7: Continually tap "F12" or "ESC" to enter the Boot menu. Use the "Arrow" keys to select the "USB" option then press "Enter" to proceed.
Step 8: Window will start to load the recovery program, where you need to select the Windows System you are using and the account that need to be unlocked.
Step 10: Lastly, click "Reset Password" to erase it completely.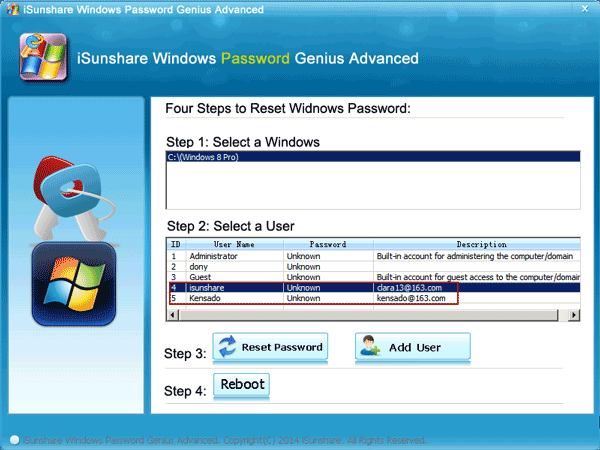 In the end, you only need to click the "Reboot" button and after that when the device starts again, it won't ask a password.
Conclusion
You need to realize that both of them are an extremely reliable and effective program capable of removing Windows account password. Unfortunately, for NTPasswd Windows 10/8/7, not all the users are comfortable with its execution process, it is simply too complicated for them but in this particular region, Windows Password Recovery excels with flying colors. So, if you are not comfortable with text-based commands, your one and only choice to unlock Windows should be Windows Password Recovery.
Free Download
Buy Now