Password lock adds full-fledged security to your administrator account. However, what will you do if you forgot your Windows 10 administrator password and looking for a way to reset Windows 10 password, such as reset Windows 10 password using CMD? In this tutorial, we'll show you three simple ways on how to reset Windows 10 administrator password using command prompt. Rest assured, one of the methods will help you out. Now, let us concentrate on how to reset Windows 10 password using command prompt.
Case 1: Windows 10 is Accessible
Before you go deeper into resetting Windows 10 password using the command prompt, it is imperative to know what is it first. A command prompt is a command-line interpreter application of a Windows operating system utilized for executing commands that you enter. Scripts and batch files prompt the commands to automate tasks. Advanced administrative functions, fix and troubleshooting commands can do specific Windows issues.
When you are signed in Windows 10, you can run Command Prompt as administrator by searching for cmd.exe in your Windows search bar or on your Windows 10 system, press "Windows" + "X" keys together from the menu, choose "Command Prompt (Admin)"
And then reset the password for the local administrator account with the following codes. Replace with your admin account name and replace with a new password you want.
net user <username> <password>
In this short tutorial, we have clarified and disclosed how to reset Windows 10 Password by using Command Prompt.
Case 2. Windows 10 is Locked Out
Forgot Windows 10 password and cannot log on to your PC? Take it easy! You cannot access Command Prompt on your Windows 10 without the administrator password. With a setup disk, you can reset the Windows 10 admin password without software.
Step 1: Get a Windows 10 setup disk
Perhaps, you don't have a Windows 10 setup disk, you can create one with a media creation tool on another workable computer.
Step 2: Boot up password locked computer
Inset the reset disk to the locked network and then power on your PC. When the vendor logo appears, choose Boot Option Key repeatedly until the Boot Options list shows up. Find the right Boot Option Key for your PC and select the USB drive to boot your computer.
Step 3: Change Utility Manager with Command Prompt
Immediately the computer boots up from the installation disk, press "Shift + F10" to bring up the command prompt.
Now you can execute the following command to change utility manager with command prompt
move d:\windows\system32\utilman.exe d:\windows\system32\utilman.exe.bak<br />
copy d:\Windows\system32\cmd.exe d:\Windows\system32\utilman.exe

Take out the setup disk and restart the PC after the commands are effected.
Step 4: Reset Windows 10 local administrator password with command prompt
When the login screen shows up, click on the Ease of Access icon on the lower-right corner, the command prompt will show up.
Input the following password reset command in the Windows and hit the Enter button to set a new password.
net user<br />
net user <username> <password>
Step 5: Restore Utility Manager
Insert the reset disk into the computer and click the Power icon to restart.
When computer boots up from the CD, press Shift + F10 to open the command prompt
Input command copy d:\utilman.exe d:\Windows\system32\utilman.exe, press the Enter key, and then type "Yes" to restore Utility Manager.
Step 6: Login Windows 10 with the local administrator account
Exit the command prompt interface and reboot your Windows 10 computer. Log in with the administrator account you have reset password successfully.
Now, you have learned how to reset your Windows password with Command Prompt. If you think the process is too complicated for you, try Windows Password Recovery, the best Windows 10 password reset tool to help you log in your locked Windows computer easily.
Quick and Easy: Reset Windows Password with Windows Password Recovery
Now you don't need to worry of being locked anymore because with a little effort now you can get your Windows to login details back by using Windows Password Recovery. Just 4 to 5 steps can get back your login circumstances.
Step 1. To reset Windows 10 password using the Windows Password Recovery, you need to create a bootable recovery drive. Download the Windows password recovery tool, install it and like any other Windows software.
Free Download
Buy Now
Step 2. After installation, insert an empty CD/DVD or a blank USB drive and start the application. The user-interface looks quite dated, but it gets the job done. Select the "USB device" button to proceed. If you are making use of a CD/DVD, then click on the "CD/DVD" button.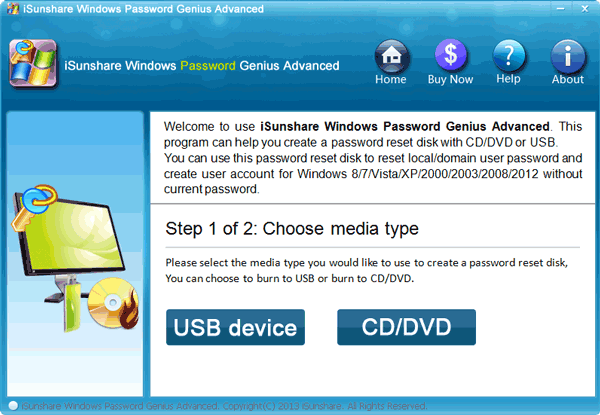 Step 3. Choose the drive from the dropdown menu, and select the "Begin burning" button. Remember that program will format the USB drive before it can create a bootable drive, so back up any data on the USB drive before starting to burn to the desired media.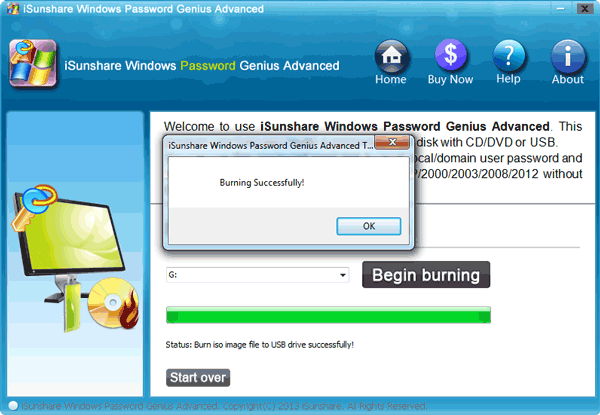 Step 4. Once the process is completed, the program will let you know. Then plug in the USB drive or CD/DVD and boot into locked computer from it. On the main screen, choose the OS, pick the account for which you want to reset the password and press on the "Reset Password" button.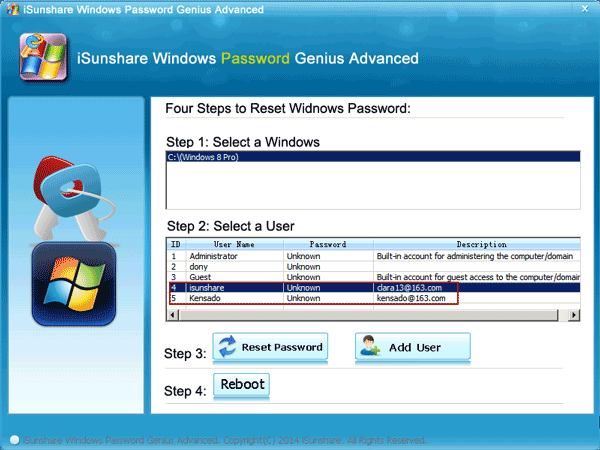 Step 5. In the confirmation, click on the "Yes" button to proceed, and that's all. The other time you try to log in to the user account, you will be logged in automatically.
Using this software is a shorter way to reset the password of a local account.
Conclusion:
From the above, it was clear that resetting Administrator password for Windows 10 using Command prompt is critical. It has limited features and functionalities for Windows systems. When you desire to reset password or unlock a computer apart from the local login, Command prompt has no scope to help you out. For that, you require the ultimate solution Windows Password Recovery.
All in all, Windows Password Recovery is a neat tool to have in your software tool to deal with unforeseen situations. Since there is a free trial, try it out. Remember that the free trial can only list the user accounts in your system.
Free Download
Buy Now