Who has not forgotten the Windows password? The truth is that you use the computer on a daily basis and you have to put your pin or password to access Windows, it is difficult for us to forget, but if we spend a time without using it or use several different users, then maybe at some point we have found that we can not log in to Windows. A very uncomfortable situation, since Microsoft does not offer a simple way to recover it, however, with the arrival of Windows 10 Fall Creators Update, recovering the forgotten password of Windows 10 from lock screen is much easier.
Although it is difficult to understand how Microsoft has not offered this possibility much before, it is finally possible to recover the Windows 10 password from the lock screen. If you are a Windows 10 user and have updated your computer with the last major update – Windows 10 Fall Creators Update, then you can check on the lock screen, a new option "I forgot my password" appears, just below where we entered the password or access password.
Steps to follow to recover your Windows 10 PIN or password from lock screen
Therefore, with just clicking on "I forgot my password" option from lock screen, the first thing will be to indicate the account for which we want to recover the password and indicate that we are not a robot using the security code or Captcha.
The next thing is to verify that we are the ones trying to bypass Windows 10 password. To do this, we chose the way in which Windows will send us a code to verify our identity. It can be through an email or through a message to the mobile number associated with our account.
Once we have verified our identity, then we will be shown the possibility of creating a new Windows password with which to enter with the account we have chosen in the first step. Once this process is finished, we can use the new password to log in to the system.
Step to follow to recover Windows 10 password with Windows Password Recovery Tool
If you can not get the security code since you lose access to your email account or phone number. You may need the second method to reset Windows 10 password. That is to use a powerful Windows Password Recovery Tool to reset Windows 10 forgot password.
Key Features:
It can recover forgotten password for all Windows in a few minutes.
It can create a new administrator account easily without logon.
It can create USB flash drive disk or CD/DVD Disc.
Support Windows 10, 8.1, 8, 7, Vista, XP, 2000, NT.
Support Windows Server 2016, 2012, 2008(R2), 2003(R2), 2000, NT.
Step 1. Download the Windows Password Recovery Tool program. Install and launch the download file, then burn the program to a CD or USB flash drive.
Step 2. Insert the password reset disk into your locked Windows 10 computer. Let the computer to boot from it. To do this you may have to enter into BIOS and set CD or USB as the first boot device.
Step 3. Then Windows Password Recovery Tool will run on your computer.
Step 4. On the main screen of Windows Password Recovery Tool, you can choose the Windows system and account you want to reset password. Click on "Reset Password" button.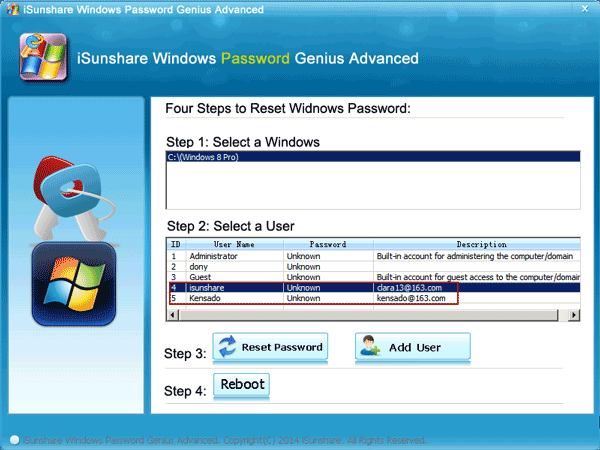 Step 5. Click on "Reboot" button and eject the password reset disk, you Windows 10 computer will restart normally without password.
Free Download
Buy Now