Are you facing a problem of unlocking a password from your word file. It would be a real nuisance and a hectic job for an amateur to remove password from word document. Moreover, it requires a lot of skills and technical knowledge about the word document.
Security becomes the biggest concern of the people, and Microsoft word documents contain a lot of critical business data. So to avoid any mishap, mostly these word files are protected with the Password. However, again, that would be difficult for some people to crack passwords. Let's explore some easy and simple methods in this article to find out how to remove password from word file if you forgot the password.
Passwords are added to ensure the safety and security of data, but sometimes they become a frustrating task and a headache if not open properly you can also encrypt your file permanently and will lose all of your essential data.
Listed below are some of the best methods to remove password from word doc.
Part 1: Remove Password from Word File if you know the Password
Password is a reliable way to protect your data from any threats and unauthorized access. It is an effortless task to remove password from word document if you know the password. However, before doing that, make sure to understand the version of your word file accurately. Because for a different version, different methods are used.
For Word 2007:
Here are the steps to remove password from word document 2007:
Step 1: First of all, start with the opening of your word document which you want to unlock.
Step 2: Now you need to tap on the office icon in the top left corner, "Prepare' option and then tap on "Encrypt Document" option.
Step 3: Leave the Password box blank and click Ok.
For Word 2010/2013/2016:
To unlock a Password protected file of Word 2010/2013/2016, the method is different from the one described above. The step it involves are:
Step 1: Start with the opening of the word document and proceed further with clicking on "File" > "Protect document" button.
Step 2: Click on the "Encrypt with Password" option from a drop-down menu option, clear the password and press OK to complete the steps.
Part 2: Remove Password from Word File without Knowing Password
Passwords are set on a Microsoft file to restrict or limit the opening of the word file or modification of the document. Sometimes documents are locked without the help of any password and refrain its users from any editing. Without knowing a password, it is not easy to open a document. Let's check out the steps to find out how to remove Password from word document without knowing the password.
Method 1. Recover Word Document Password with Word Password Recovery
Word Password Recovery is one of the best and professional method to remove the passwords from all the word files. This is an easy technique to open a Password protected word document if you do not know the password, you can use the word password recovery tool to unlock word document without losing a single bit of your data. This tool is useful for all word documents versions and formats.
Free Download
Buy Now
It is a very efficient method which removes password from word document within seconds and helps you to recover all of your data. It involves the following steps:
Step 1: Start with the opening of the Word Password Recovery and browse your word file which you want to remove Password and add the file into the program. This step involves the importing of the encrypted file.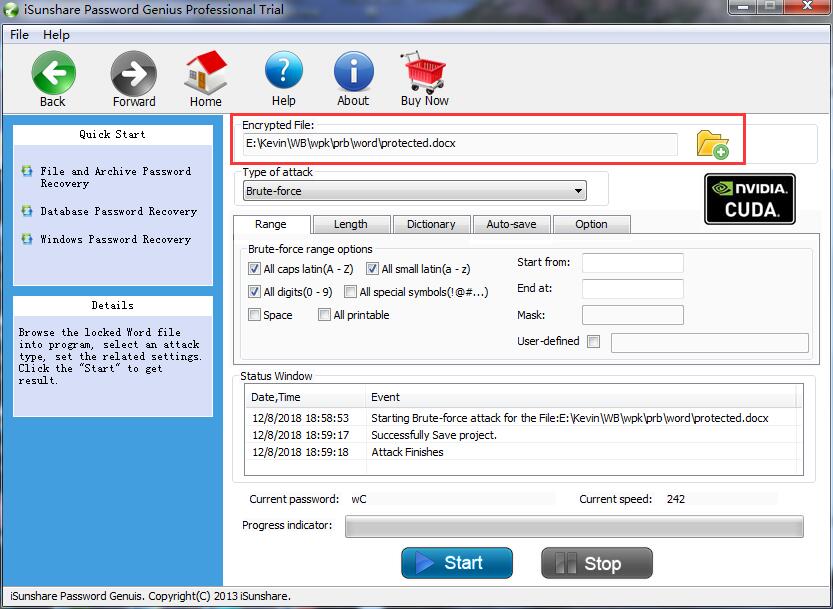 Step 2: Now choose the recovery type according to your need. There are four different recovery options which involve normal, mask, dictionary, and smart. For a different type of recovery types, different setting options are available.
Let's check out the setting of the normal recovery type:
In normal recovery type of setting starts with identifying all the possible types of the character combination in a specified range. The system has highly optimized engines which can help you to crack your password in minutes. However, now start with setting parameters range, length, and autosave and options.
Step 3: Now start the process of automatically finding out your Password by clicking on the start button. After finding it copy and paste the document to open a file.
Method 2. Unlock Protected Word document with VBA code
The other method to remove password from word document is through the use of VBA code. This method works only when the password is limited to three characters. Its steps are:
Step 1: Start by creating a new document. When you are using a VBA code to unlock your word file the process starts when you create a new document.
Step 2: On your keyboard press ALT + F11 to open application of Microsoft visual. You need to open the Microsoft visual application for the VBA code to run and successfully decrypt your file.
Step 3: Click the insert button and after that module button. Once the Microsoft visual application is open press the enter button and after it module button which can help to display the special code for decrypting of the word file.
Step 4: Enter the codes in the module. Software will display special codes which you need to run in the system to unlock your word file. Once the code shows on the screen enter them in module correctly.
Sub test()<br />
Dim i As Long<br />
i = 0<br />
Dim FileName As String<br />
Application.FileDialog(msoFileDialogOpen).Show<br />
FileName = Application.FileDialog(msoFileDialogOpen).SelectedItems(1)<br />
ScreenUpdating = False<br />
Line2: On Error GoTo Line1<br />
Documents.Open FileName, , True, , i &amp; ""<br />
MsgBox "Password is " &amp; i<br />
Application.ScreenUpdating = True<br />
Exit Sub<br />
Line1: i = i + 1<br />
Resume Line2<br />
ScreenUpdating = True<br />
End Sub
Step 5: Press F5 button to run the code. After finding out the password system needs to run a special code on the word file to decrypt its password.
Step 6: Open a protected document in a file explorer in a read-only mode, and password will be displayed in a box. Once you open the word file password will be display in a small box copy and paste it to decrypt word document.
Method 3: Removing a Password from Word Document Online (Not Recommended)
Different methods are available to decrypt or remove Password from word document online.
Step 1: This process involves the essential step which is uploading of the word document which you want to unlock. You can select the online tool you want to use and then upload your encrypted document.
Step 2: Enter all the detail regarding the password which one sets. How many characters are there whether there is any numerical value or any special character tell every detail of password.
Step 3: In last enter your email address so that recovered Password will be emailed to you. Your email is required because once the password is retrieve its setting will be emailed to you by the team to reset it.
Why this method is not recommended?
You can also avail the option to remove password from word document with the use of online methods. There are a lot of tools available online to decrypt your word document but keep in mind that this is not a recommended method. The biggest concern attach with the use of this method is the security. This is entirely an online system which means there is a lot of threat from hackers and you might lose your critical information. If your data is very critical make sure that it is safe and is not misused and for that you have other method as well you can use to remove your password from word document.
Conclusion
All these are one of the best methods to decrypt your word file and successfully unlock word document whether you knew Password or not. However, always try to make a copy of your document so you will not lose all of your critical data in the first place. However, if still, you facing the problem of removing Password from word doc then use any of the above methods and have the best results. However, do let us know how much efficient these methods are for you.
Free Download
Buy Now