In this era of technology, you will never find the word "impossible." The technology has been grown so far and things that seem impossible in the past now can be solved just in minutes. With day to day increasing burden, data loss has become the most common occurrence.
If you have lost a file on your computer or you accidentally modified or deleted a folder, the very first option that comes into your minds is to recover it from Windows backup but this method is only applicable if you have backed up your data before deleting the folder. If you don't have a backup then definitely you will look for a way to find how to recover deleted folder. I can remember when the first time I accidentally deleted a folder on my computer I did the same, went to the google to find how to recover deleted folder.
There are many websites on the internet that commits to completely guide on how to recover accidentally deleted folders in Windows and when you open them they left you hanging around other things. So, if you are searching for how to recover deleted folders then you are at the right place we will provide you with a complete guide to easily recover deleted folders in Windows.
What Causes Folder Deletion or Loss in Windows?
Before searching for how to recover deleted folders you must know that what was the cause of deletion of folders so that in the future, you can avoid from that mishappen. There are many factors accounting for lost or deleted files or folders from your system are as follows:
The corrupt hard drive can causes folder deletion
Some kind of Virus Attack
Due to Software Conflict
Because of Voltage fluctuations
Power shortage/outage
Shift + Delete action
Accidental formatting/deletion
Can We Retrieve Deleted Folder from Computer?
If you have intentionally or unintentionally deleted a file/folder using Shift + Delete keys, this indicates that specific file or folder has been permanently removed. However, in actual, the same is not deleted permanently. This approach just removes the pointer for that particular file or folder and marks the position available for reuse instead of deleting it. Thus, there is an opportunity for recovery. The reason being, to remove data permanently from the computer we need to overwrite it.
Note: Always strictly keep in mind, when you remove data or folder, do not attempt any action for recovery on own because it will overwrite the file and it makes impossible to recover your lost file or folder.
Now the question is what to do to retrieve accidentally deleted file in Windows and how these methods work to make it happen. We have some best of best methods for you to recover your deleted folders no matter which window version have you installed. So let's start with our first method.
Method 1. Recover Deleted Folder in Windows from Previous Versions
In this first method, we will see how to use the Windows feature to Restore Previous Versions of files to retrieve deleted folders. It enables the user to access a back-dated version of a file/folder which was altered over time.
Actually, this feature uses the Shadow copy service to restore a previous version when requested by a person. The Restore Previous Versions feature is an efficient tool when you have accidentally deleted some major file or folder, or its parts were overwritten by a virus. It increases the reliability of your data and can save you the time that you would spend on third-party tools to recover your deleted folders.
Restore from previous version method only works if you had already turned on the Windows Restore Point feature. If you had enabled it then you must know what is it and how it is used but if you never enabled it before I am showing you how to enable it so that at least in future you can save yourself from deleted folders recovery problem. Moreover, if haven't enabled it then this method isn't for you. However, let's see how to enable it to prevent future loss. But you can use one of the below-described methods.
Go to your Windows search bar and search for Create a Restore Point and you will find the result as:
Simply open this and click on Configure option. Where you will find two options. Click on Turn on System Protection option and then press ok to apply the changes.
Follow these easy steps to recover deleted folder in Windows.
To make you sure I will perform the whole process in front of you so that you don't think this method doesn't work.
Let's suppose a folder on my computer which is named as New Folder.
Here you can see, the folder contains many subfolders. I will intentionally delete a folder and then we will see rather this method works or not.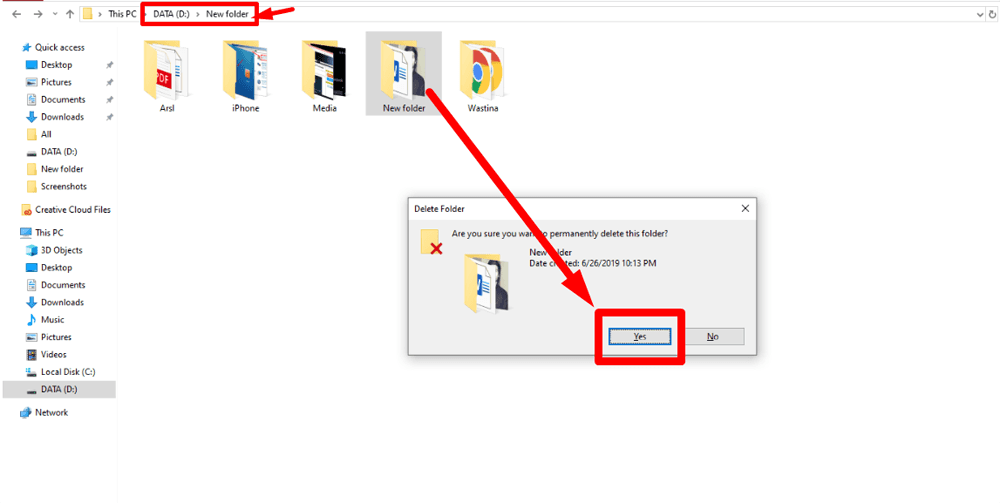 Case 1:
By clicking Yes, the folder will be permanently removed from the computer, Now we will see How to recover this deleted folder using previous version method.
Go back to your Main folder and Right click on it. From a lot of actions, click on Restore previous versions.
A new window will appear on the screen listing the previous backup regarding that folder. Here you can clearly find the previous version.
To check rather this folder contains your deleted folder or not, simply Double click on it.
After making sure you can still recover your accidentally deleted folder, go back to the previous window and click on restore to get your deleted folder back.
Case 2:
In case, if you didn't turn on your Windows restore point.
Then you will show a window like that on your screen listing there are no previous versions for this folder. It means this method won't work for you.
Don't lose hope, there are hundreds of ways which can lead you to success. Follow the below-described methods to recover deleted folders in Windows.
Method 2. Recover Deleted Folder with a Windows Data Recovery – AnyRecover
If the above method doesn't work for you then you must go for a third-party software capable of recovering deleted files and folders quickly. Whenever you look for a software which can completely recover your accidentally deleted folders, AnyRecover comes at the top search of the best Windows Data Recovery. Yes, I highly recommend it to those who have lost their important files and are unable to recover them from recycle bin or previous versions.
No lengthy procedures at all, no time taking steps; now you can efficiently recover deleted folders on your Windows operating system using one of the most desired data recovery solutions on the internet which is named as AnyRecover. No matter what the cause, you can retrieve lost, missing, or deleted files using AnyRecover Data Recovery Solution. It is 100% secure and easy to use.
Download its trial version or Purchase its fully functional version.
Get It Now
Follow these easy steps:
Install AnyRecover software into your computer and launch the program. You will find a list of actions on the home screen. Choose the option which is more likely to your situation. We are discussing here how to recover deleted folder using AnyRecover, so choose the first option.
A new window will open with some selections. Choose the way to recover your data. Either you want to recover a whole drive or just a simple folder. Also, you can browse a specific target location to recover deleted data for only that folder.
After clicking Browse option, pick a folder to recover.
After doing all these things click on the Next button to start the recovery process.
Here is the most important point of the recovery process. Sometimes, the folder contains a very large amount of data may be some kind of media plus important files. So, only choose that platform which is very close or relatable to your deleted file type. It will reduce recovery time as well. But that's not necessary you can mark all options and it will give you 100% satisfactory results.
After you are done with the selection, click on scan option to immediately scan your deleted files.
It will take a while to scan lost data. A success prompt will appear on the main screen indicating that all of your deleted data has been scaned successfully. Click on OK to continue.
Now we have to recover these folders into our computer back. So mark the folders that you want to recover and click on Recover option.
Congratulation! you have done, it will recover your whole data in a matter of minutes.
Method 3. Recover Deleted Folder in Windows 10 from Backup
If you are not comfortable with using any other external software or had turned on your File History feature before deleting that folder then you would be happy to know that luckily you didn't miss the opportunity to retrieve that folder again. In this case, instead of using AnyRecovery, you can try a free Windows 10 File History feature to recover deleted folder on Windows 10.
It is very easy to recover deleted file and folders from Windows 10 Backup option. The only requirement for this method is you must have turned on your Windows 10 backup option. Let's see how Windows 10 backup feature helps us to recover our deleted data.
Follow these following steps to recover deleted folder in Windows 10 from backup.
First of all, go to the Windows search bar and search for the control panel.
From different options, choose System and Security option.
A list of actions will appear on the window screen, to recover deleted folders click on File History option.
You are almost done, find the Restore Personal Files option from the left pane of the screen.
That's it, Enter the path of the folder for which you want to recover deleted folder and then restore it again.
Conclusion:
Now that you know 3 methods that you can use to recover accidentally deleted folder in Windows, starting from the Windows previous versions method, you can try them one by one, and see which of them works great for you. Before you buy the full licensed version of AnyRecover, you can take a free trial and see how it works. If you have still any questions or confusions related to deleted/missing folder recovery in Windows, please feel free to share your thoughts. We'll get back to your query as soon as possible.
Get It Now