Getting locked out of your own laptop has become a very common issue these days.
The reason can be many! Whether you have forgotten the password or lost it, it is very troublesome to get into laptop without password.
A large number of Windows users face this same problem, and in the end, they turn to the internet, asking certain questions like "How to open laptop without password?"
As mentioned before, this is a widespread issue, and there are available fixes. But they vary depending on the version of Windows you are using, the moment you lost the password.
A few effective fixes are detailed below in this article for your convenience.
Method 1: Get Into Laptop Using Command Prompt
One of the best ways to open laptop without password is using Command Prompt. The Command prompt comes with every version of Windows, and it can be used to bypass Windows password to get into your laptop again. In this particular method, we will use the Safe Mode along with Command Prompt. Here are the steps:
Step 1: Firstly, you need to restart your laptop. When it boots up again, you need to hold the "F8" key to access the "Advanced Boot Options."
Step 2: Now, use the "Arrow" keys to select "Safe Mode with Command Prompt" and then hit "Enter" to execute.
Step 3: Now, the hidden Administrator account will be available. You need to log in with that account.
Step 4: After accessing the system, the Command Prompt will be launched immediately with Admin privileges.
Step 5: Type the following code in the Command Prompt and run it:
"net user username new_password"
Please note that this is an effective method, but this method won't work without a hidden Administrator account.
Method 2: Get Into Locked Laptop with Other Admin Account
This is another effective way to access your laptop without password. But it will require a built-in Administrator account. If you have one, you will be able to use that account to unlock your locked laptop. Here's how to get into laptop without password:
Step 1: You need to type "lusmgr.msc" in the "Start" then hit "Enter" to execute.
Step 2: Now, the "Local Users and Groups" will pop-up on the screen.
Step 3: Expand the Users to view all the user accounts. Then, find the locked account, right-click on it, and select "Set Password."
Step 4: Then, click "Proceed." After that, you need to type your new password in the boxes to confirm them.
After you hit "Enter," the password for your user account will get reset, and you will be able to open your laptop using the new password.
Method 3: Get Into Locked Laptop with Windows Password Recovery
It will be extremely easy for you to access laptop without password if you are open to using a third-party professional password recovery program to unlock the laptop.
Some users are not okay with using an outside program on their device but you can be sure that Windows Password Recovery is an excellent program designed with the sole purpose of unlocking a Windows device.
Key Features:
It can recover forgotten password for all Windows in a few minutes.
It can create a new administrator account easily without logon.
It can create USB flash drive disk or CD/DVD Disc.
Support Windows 10, 8.1, 8, 7, Vista, XP, 2000, NT.
Support Windows Server 2016, 2012, 2008(R2), 2003(R2), 2000, NT.
The operating procedure is straightforward, and the interface is also very user-friendly. It is specifically designed for the job at hand, and you can expect a stellar recovery rate. Here's how to open laptop without password using Windows Password Recovery:
Step 1: First, you need to download the program on a different computer and launch it.
Step 2: On the main page of the program you will be asked to select a medium to make the password reset disk. You need to choose USB.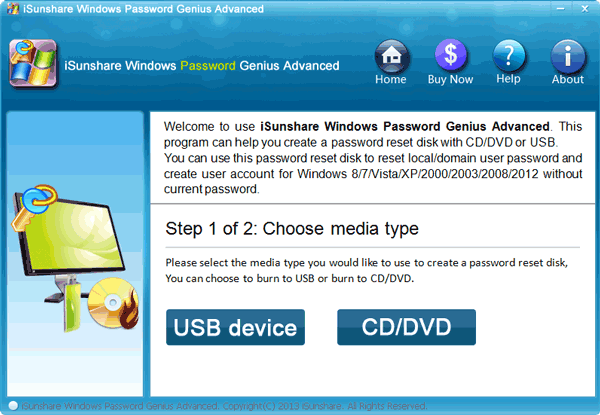 Step 3: Now, connect a blank USB drive to that computer and click "Begin Burning" from the main interface.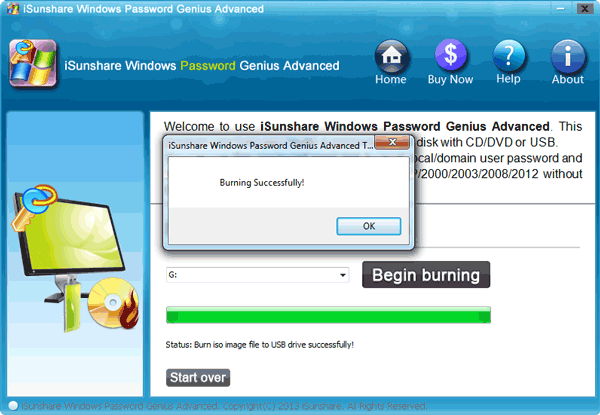 Step 4: The burning process ends in a minute, and then click "OK" to exit.
Step 5: Now, you need to connect that USB drive to the locked laptop.
Step 6: Now, restart the laptop and then access the Boot Menu. Select the USB option in the Boot menu and then hit "Enter" to execute.
Step 7: Now, the recovery program will load on your laptop from the USB drive. You need to choose the Windows System you are using and the locked user account.
Step 8: After that, click "Reset Password."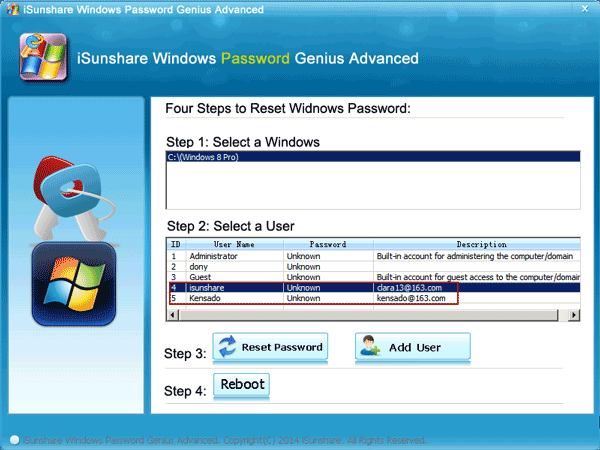 The program will start working immediately. After a successful reset, you need to click "Reboot" on the program interface to restart the Laptop.
Method 4: Reset the Locked Laptop to Factory Settings
These days Windows 10 devices are equipped with a built-in Factory Reset procedure that even works if you don't have the password for your user account. This is a very subtle and effective addition to the new version of Windows.
It is quite effective in certain situations, but it also resets the device, changing everything the same as the day you bought the device. So, keeping in mind the data loss factor of this method, here's how to get into laptop without password by factory reset:
Step 1: Open the laptop, reach the login screen. While pressing the "Shift" key on the keyboard, restart the device.
Step 2: Keep holding the key until the "Troubleshoot" screen pops up.
Step 3: Click on "Troubleshoot" and then hit "Enter." In the following panel, select "Reset this PC."
Step 4: Again, you will be faced with 2 options, but choose "Remove Everything."
After selecting this option, the computer will reboot everything, and when it starts again, it will start resetting the device.
Conclusion
All the above procedures will be extremely effective to login into laptop without password, and you won't have to ask, "how can I open my laptop without password" anymore. Although the methods are effective, there are limitations with almost every one of them. Take the Factory Reset as an example, it is great, and it will probably take only 20 minutes to reset the laptop, and then you will be able to access the laptop again. But all your saved files will be lost forever. So, compared to all of them, using Windows Password Recovery Tool will provide you with better security for your files and effective password recovery.
Free Download
Buy Now