"These days I mostly use WinRAR to organize my important documents as it helps to keep all of them in a single file with the added benefit of reduction of the overall size. But I have forgotten the password of a set of documents and I can't seem to remember it. I never had the need to unlock a RAR file without the password. So, can I get some help, please? I don't know how to decrypt RAR password."
This is a very common problem and fortunately there are solutions available. Yes, it is possible to decrypt WinRAR password. The methods are effective if you follow the steps perfectly. So, calm yourself down and follow the procedures discussed in the article below.
Guess RAR Password with your Frequently-Used Ones
It is not unusual to forget WinRAR file password! We are human beings and mistakes can happen! Naturally, you go looking for password recovery programs or similar solutions for the situation in hand. But before doing that you should calm down first and try to remember the password.
Necessarily, there is no guarantee that doing it will decrypt RAR password but there is a chance that you may guess the right password and don't have to use any password recovery methods at all.
So, here's what you need to do:
Step 1: So, you will be basically making guesses of the actual password for the file. Then, open the locked WinRAR file and click on "Extract" at the top. You will be asked to provide a password.
Step 2: You can make several attempts to open the file. You should start with universal passwords like 1234 or 0000 etc. If they are not working then move on to your most common password options. After typing the password, click "OK".
Step 3: If your guess was successful then the file will be extracted.
We are not saying that this is the most effective way to decrypt RAR file password but there are good chances that you might guess the right one. The method will definitely work for the first few times, but you have to keep in mind you will be leaving things on chances.
Decrypt RAR Password with RAR Password Recovery
Unfortunately, if the guessing is not really working for you or you are just sure that you don't actually remember the password, then you can use the available password recovery tools to decrypt WinRAR file.
An independent program like RAR Password Recovery is very effective. This software was specifically designed for password recovery and it is more than efficient at its job. It comes with several attack modes with which you can get your password back in minutes. It is extremely easy to use and you won't need any technical knowledge to make it work.
Free Download
Buy Now
Here's how to decrypt RAR password with this software:
Step 1: Download Password Recovery Bundle on your computer. Click on set up exe to install it.
Step 2: Then, run the program and select "Recover Passwords for Files and Archives".
Step 3: In the following window you have to select the specific recovery tool. There are 7 available on the page, you need to select "RAR Password Recovery".
Step 4: Now, import the locked RAR file from in the program.
Step 5: There are 3 attack modes available with the capability to unlock the RAR file but you have to select one as per your requirements.
Step 6: It will take only about a few minutes to recover the password. A pop-up window will inform you about it, where you will also find the recovered password. There is also a "Copy" option available.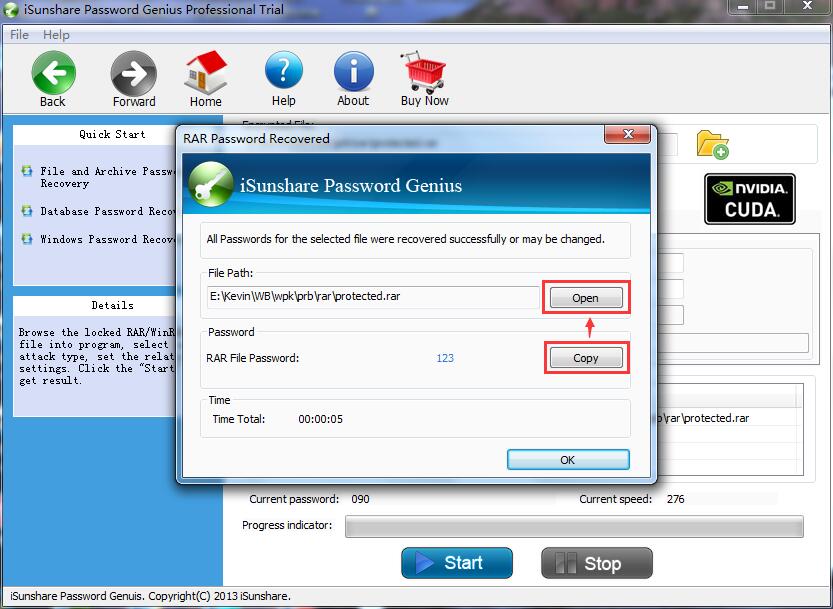 This is the simplest password recovery option you will ever find with a guaranteed recovery. You won't face any issues operating the software. Don't miss it!
Decrypt RAR Password Online
Using this last method you will be able to decrypt RAR file without password. Basically, you will not be doing anything, just sit back and relax, the password will be delivered to you.
You will be using a website to unlock RAR file without password. There are many of them but we found LostMyPass website very convenient. You just need to upload the RAR file and the website will hack it and provide you the unlocked file. Here's how to use it:
Step 1: Simply open your computer and visit the website through your browser.
Step 2: Then, you need to navigate to this, "unzip-online.com, lostmypass.com/file-types/rar/ or password-online.com/RAR_Password_Recovery_Online.php."
Step 3: Upload the locked RAR file and then click "Unlock". You have to wait until the website finishes its job.
After the file is unlocked, you will get a notification and a download link. Download the file back to your computer and you will be no problem accessing it. Keep in mind; you may face size limitations while uploading the files. Also, if you have a very sensitive document then you might stay away from this method as this involves complete online exposure and uploading a sensitive document online is not recommended!
Conclusion
Therefore, all the methods discussed in the article are effectively capable of decrypting the password of a WinRAR file. But as you can see, guessing the password will not help you most of the time and with the online method, there is almost no guarantee that the file will be recovered. So, the only option that remains is RAR Password Recovery and it is an excellent choice. Highly recommended software for any type of RAR file password recovery!
Free Download
Buy Now