Protecting an important file on the computer is recommended for every user. The main reason behind this is to protect the file from hackers and unknown third-party intruders. But the user gets frustrated if that extra layer of protection is even stopping the user from accessing his own files because he or she has forgotten the password. Most users often think that it is very difficult to break the Excel password, which is true but if you have access to the proper procedures then you don't have to wonder how to break Excel password. The effective methods are detailed below.
How to Break Excel Password with Excel Password Recovery
One of the best Microsoft Excel password breaker is Excel Password Recovery. It is fast, user-friendly and you don't need any technical knowledge to use the program. It is an exceptional password breaker Excel 2010, and it can also be used on other versions of Microsoft Excel as well.
Free Download
Buy Now
Here' how you can break Excel password with Excel Password Recovery:
Step 1: To get started, you need to download and install Password Recovery Bundle on your computer.
Step 2: Run the program and choose "Recover Passwords for files and Archives", then "Excel Password Recovery".
Step 3: Run the program and then click the folder icon to import the locked excel file.
Step 4: There are 3 types of recovery modes available: you can use Brute-force attack, Brute-force with Mask and Dictionary respectively. So, you can choose any one of them that fits your requirements.
Step 5: After selecting the mode, you can click "Start", it will initiate the recovery process.
This is going to recover the lost password of your MS Excel file. This is how you can break password of Excel file.
A quick info, the name MS Excel 97-2016 means that this mode supports any Excel files created within 97-2016.
How to Break Excel Password by Modifying the File Extension
Another way you can get access to your locked Excel file is by modifying the File Extension. This is a very efficient way to break excel password, that you will be able to use, at ease. The steps for Excel file open password breaker by Modifying the File Extension is discussed below.
Step 1: You need to make a copy of the locked Excel file.
Step 2: The, make a right-click on the file and tap the "Rename" button.
Step 3: You need to change the format of the file from ".csv" or ".xls" to ".zip".
Step 4: Now, just unzip the content and search for a file that ends with ".xml".
Step 5: Make a double click on that file to open it using an XML Editor.
Step 6: Press Ctrl + F to get the word "SheetProtection".
Step 7: Then, look for the line that starts with "<sheetProtectionalgorithmName="SHA-512″ hashValue=".
Step 8: Eliminate that line form the file and save it.
Step 9: Now, you need to change the ".zip" file to ".csv" or ".xls".
Now, you will find that the locked Excel file is now unlocked and you will be able to access it without using any password. A bit complicated procedure undoubtedly!
How to Break Excel Password by VBA Code
One of the best ways to break Excel Workbook password effortlessly is to use VBA Code. It is very irritating when you lost the password that was intended to keep other people away but it is now keeping you from getting access to your own worksheet.
Don't worry, VBA Code will break password of excel file very easily; just follow the instructions below:
Step 1: Open the locked Excel file and press Alt + F11to access VBA window.
Step 2: Select the option called "Insert" and then "Module".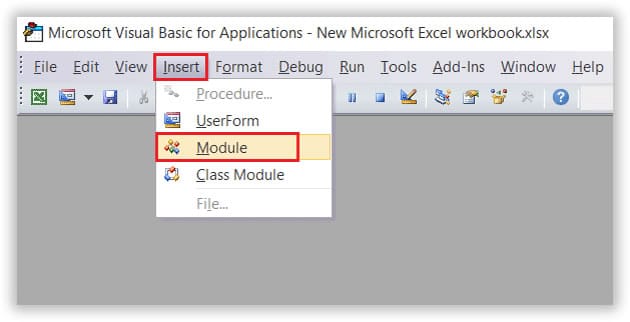 Step 3: When the general windows open, you need to provide the VBA code.
Step 4: Now, run it, and within a few minutes the code will crack the lock and you will get a message from the program that will state you the actual password of the locked Excel Sheet.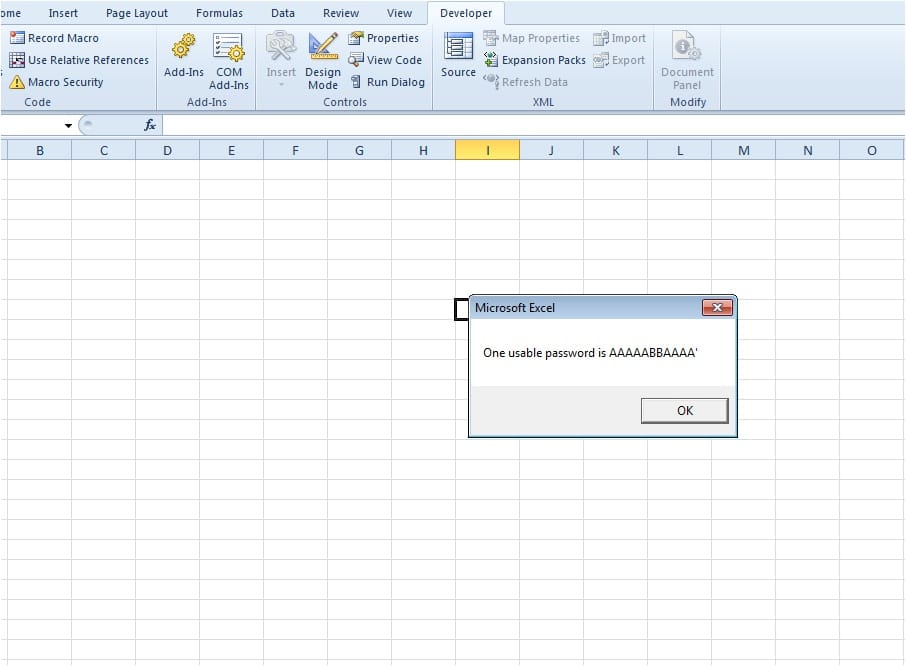 This is probably one of the easiest ways to break the password of a Microsoft Excel file sheet. Keep in mind, you can only use this method on single sheets. If you have multiple sheets you will have to run the code multiple times manually.
Conclusion
Considering that the Excel file contains a very important part of your work, you shouldn't have been that careless about it. But now, you don't have to worry about your Excel Spread Sheet anymore. You have the means to break Excel file password in your hands. Just make sure that you are using them properly. We highly recommend using Password Recovery Bundle, as it is the best method here and extremely effective as well.
Free Download
Buy Now